The Serenity
Cruises: Nov 2009, Dec 2012, Dec 2013, Nov 2015, Apr 2017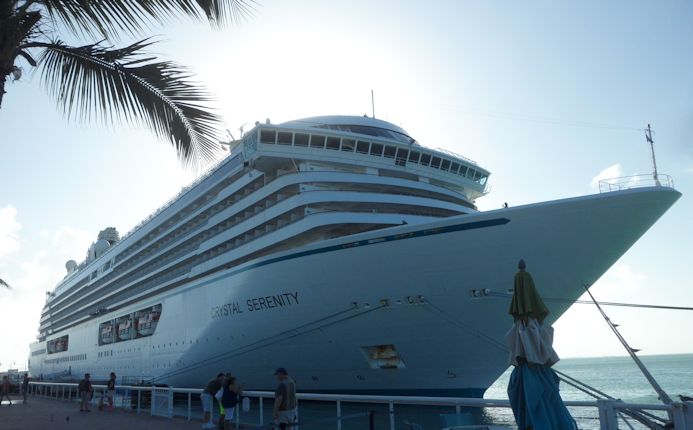 The Crystal Serenity in Key West, Florida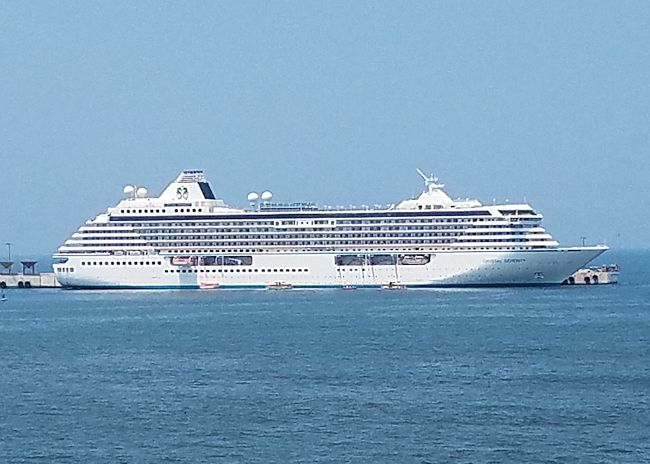 The Crystal Serenity in Acajutla, El Salvadore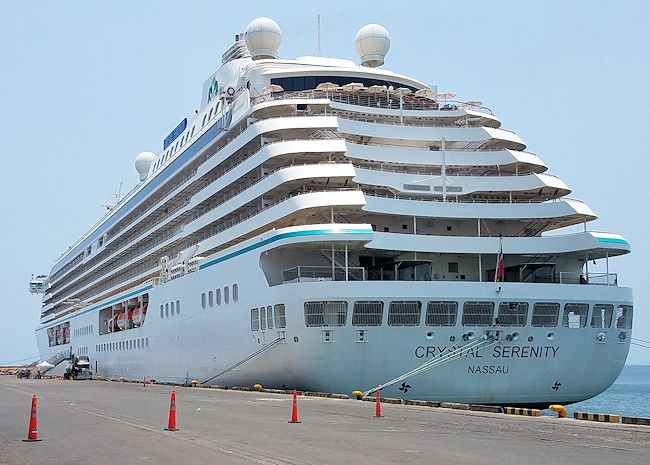 The Crystal Serenity in Caldera, Costa Rica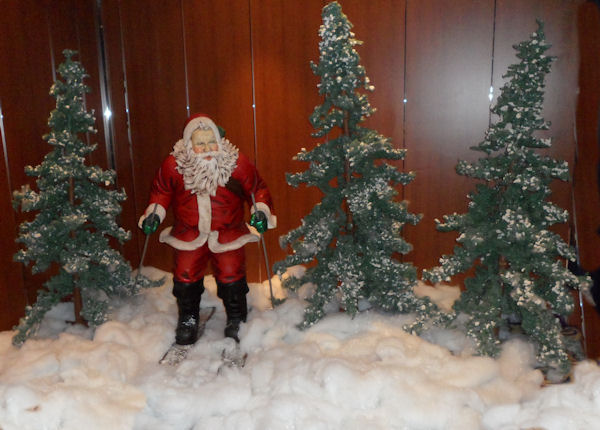 Cruise 4 - Christmas aboard the Serenity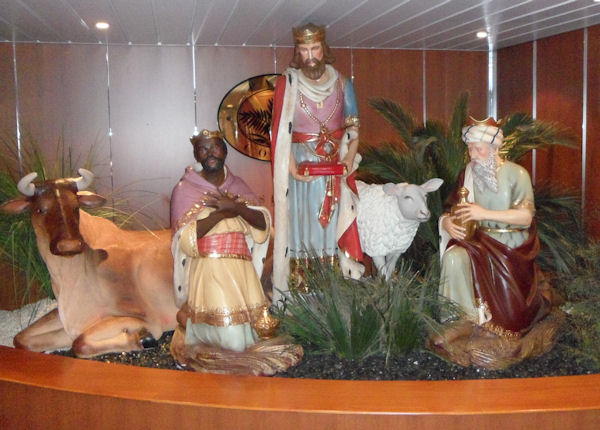 Cruise 4 - Christmas aboard the Serenity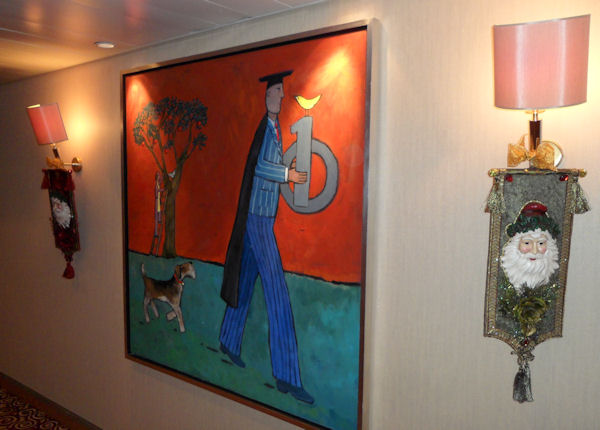 Cruise 4 - Christmas aboard the Serenity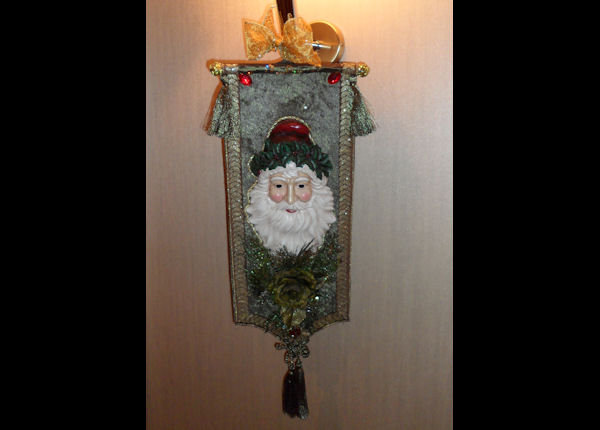 Cruise 4 - Christmas aboard the Serenity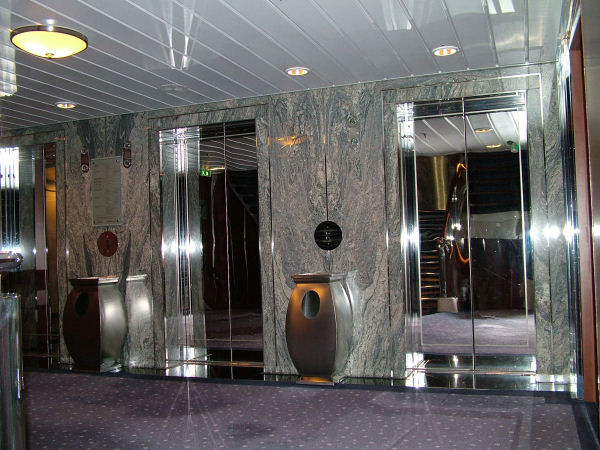 The elevators are forward, midship and aft. Yes, that's real marble.
Our Cabins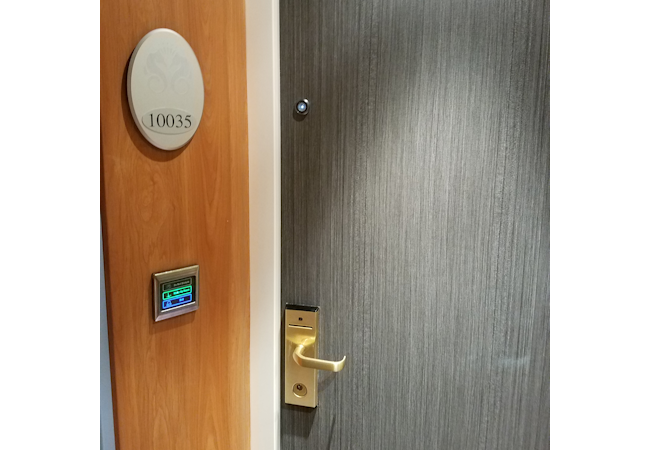 Our Cabin on Cruise 10, was on Deck 10, next door to a Penthouse Suite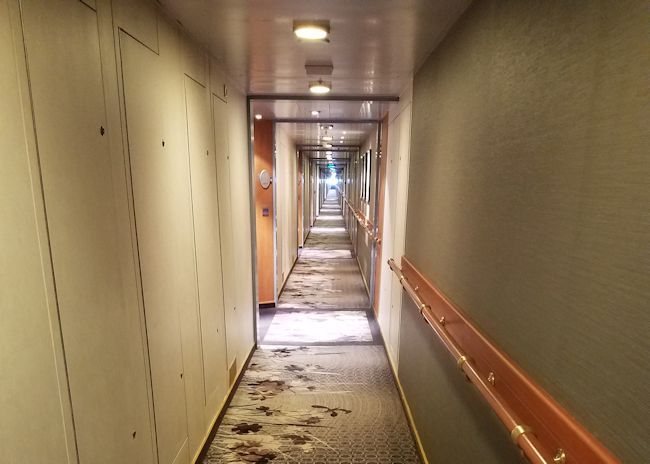 The midship cabins on deck 10 are "Penthouse Suites." There are a few standard veranda cabins fore and aft. The guest laundry on deck 10 requires your key to get in.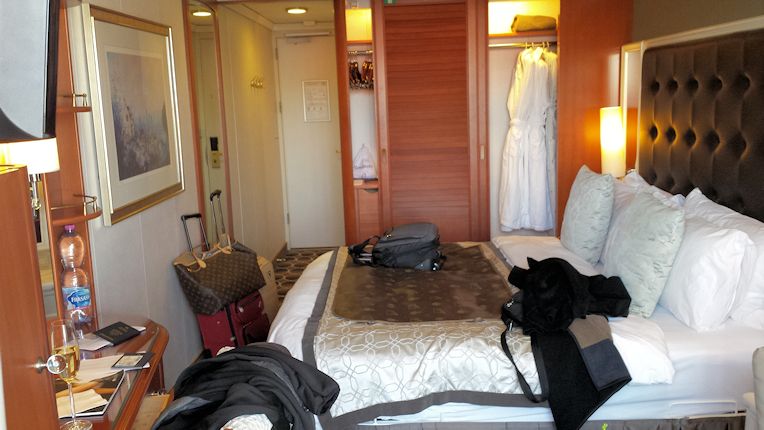 Our cabin for back-to-back cruises 7 & 8 was on deck 8, #8125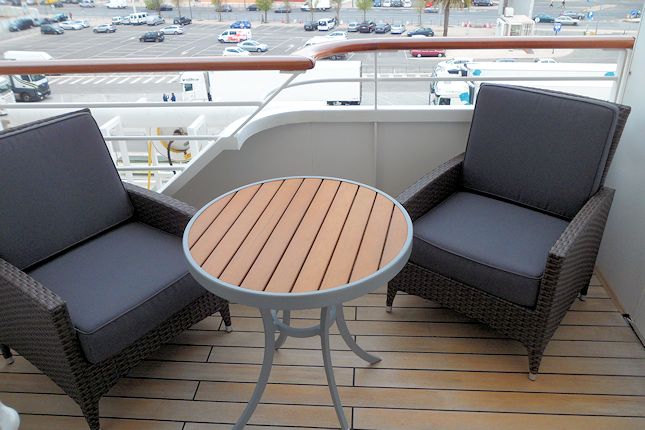 The cabins forward and aft have slightly larger verandas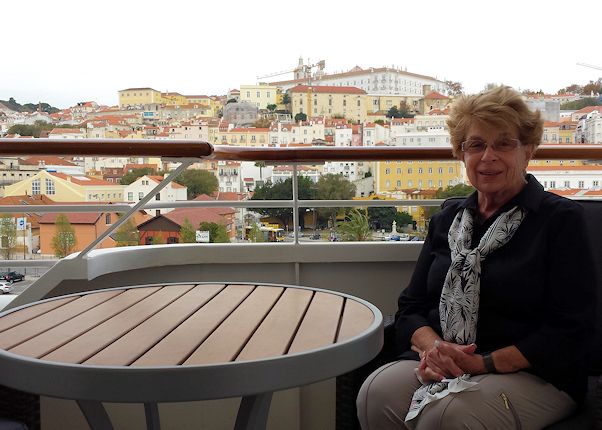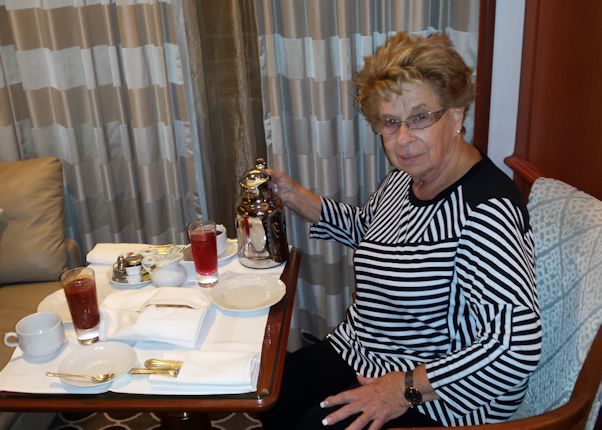 Room service is available 24 hours a day at no charge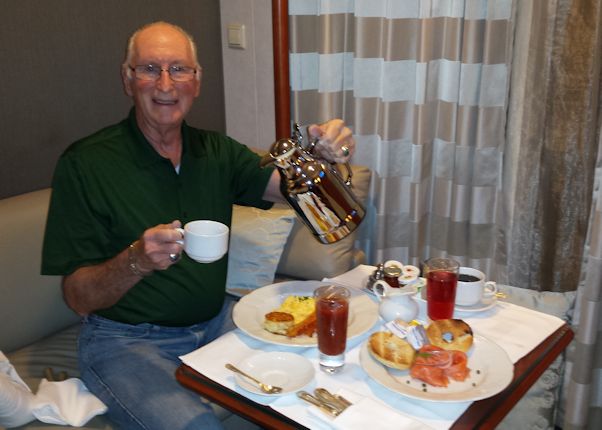 Room service at breakfast lets us get an early start on tour days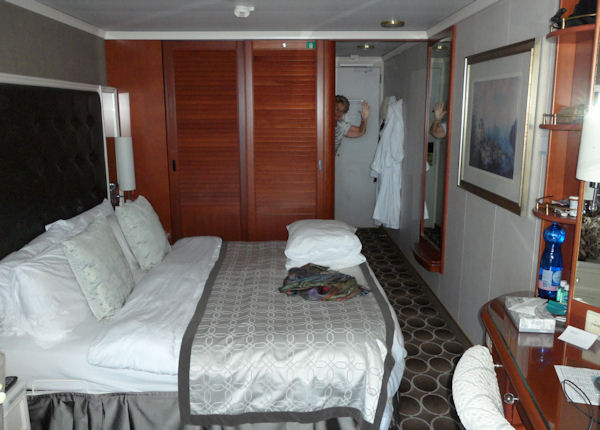 This was our cabin on Cruise 5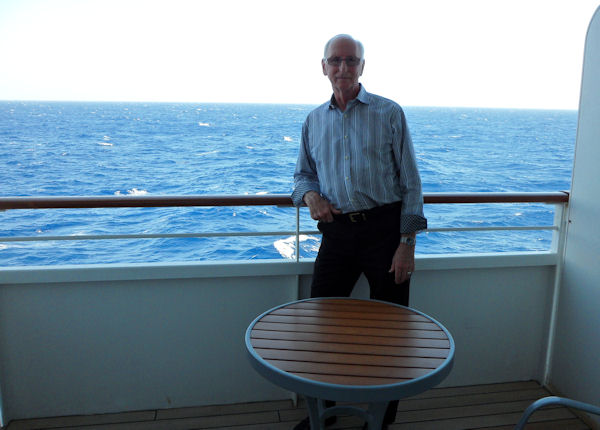 Our veranda on cruise 5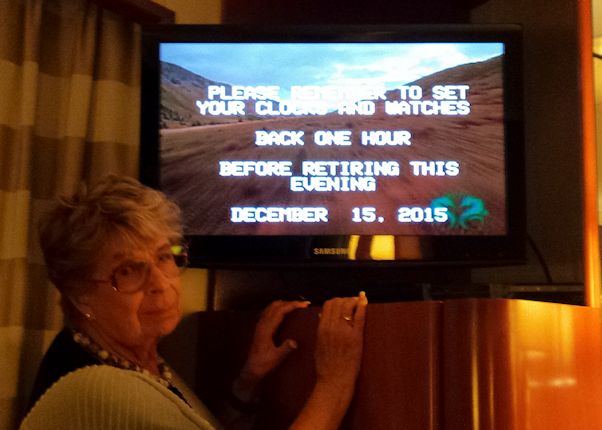 One channel on the room TV keeps us posted on all activities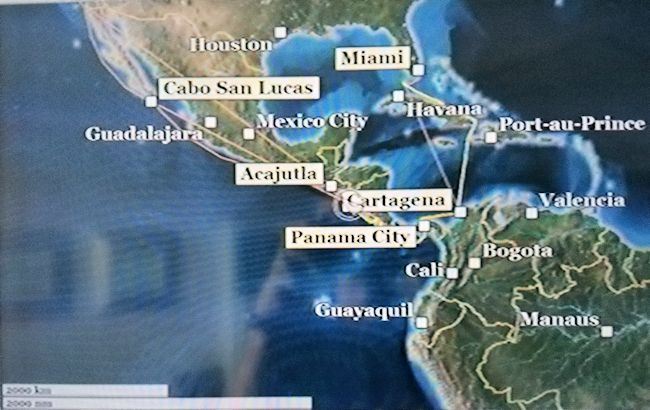 One channel on the room TV keeps us up-to-date on our itinerary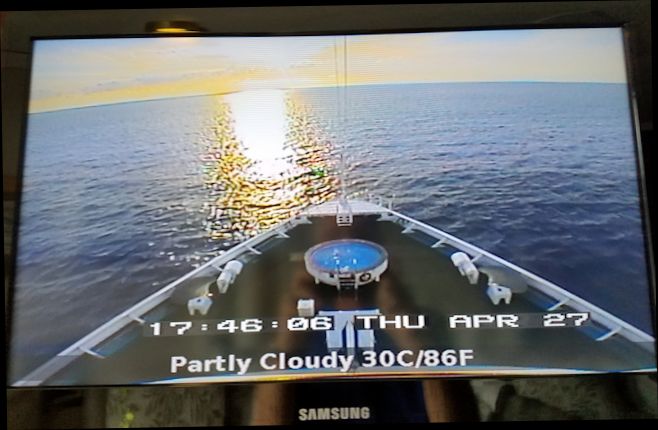 One channel on the room TV provides a view from the bridge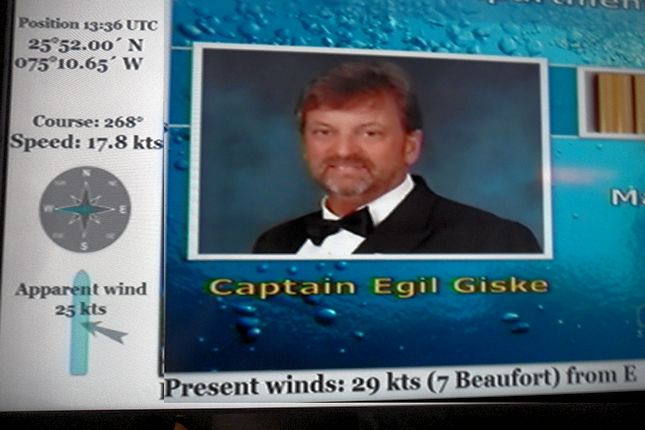 One channel on the room TV keeps us fully informed, Position, Speed, Weather & Ship's Time
Crystal Dining Room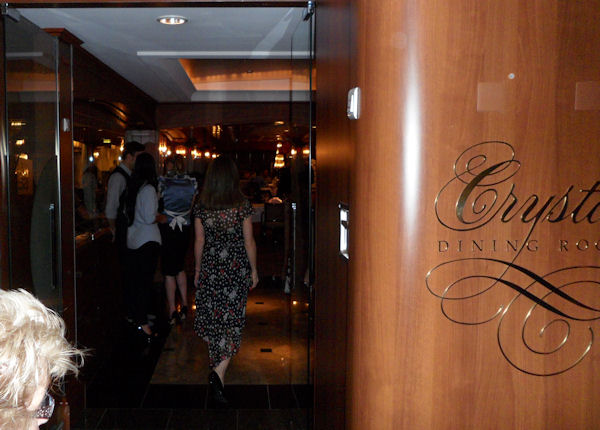 Crystal Dinning Room - Elegant dining for breakfast, lunch and dinner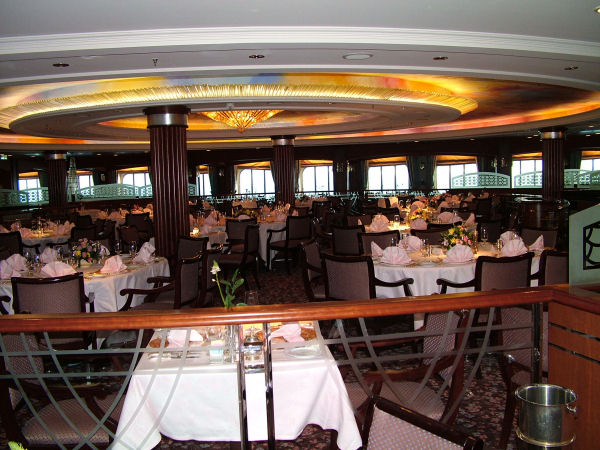 Dinning Room, center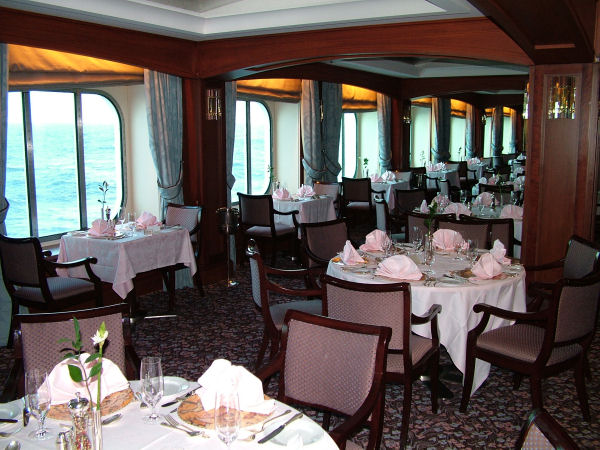 Dinning Room, starboard side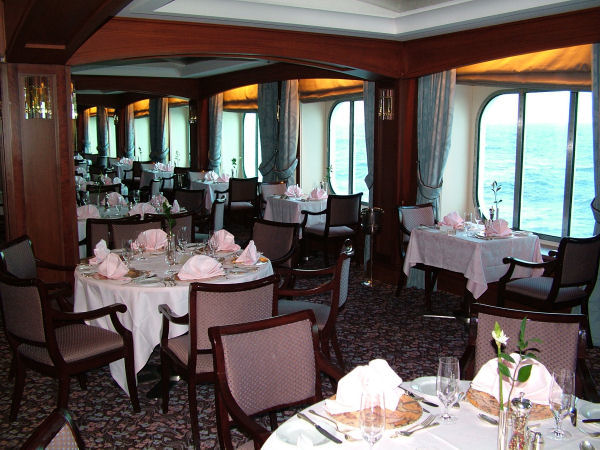 Dinning Room, port side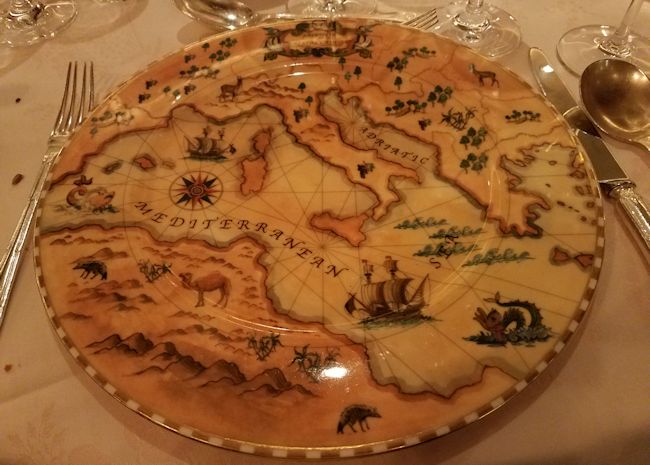 A Variety of Elegant Chargers Decorate the Tables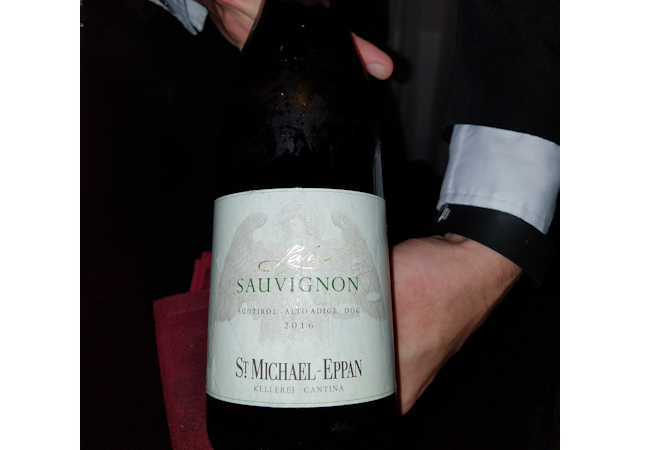 There is always a selection of very fine wines at no extra charge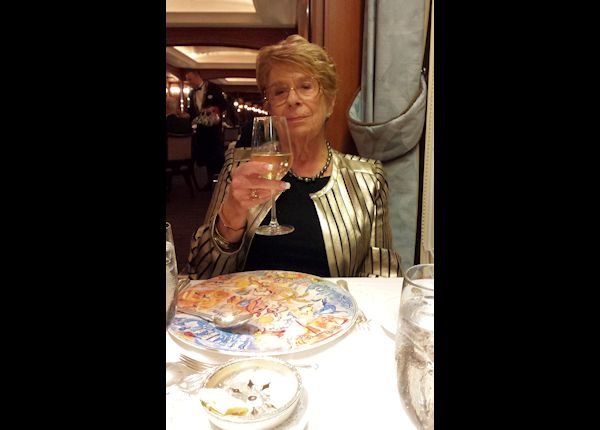 Perfect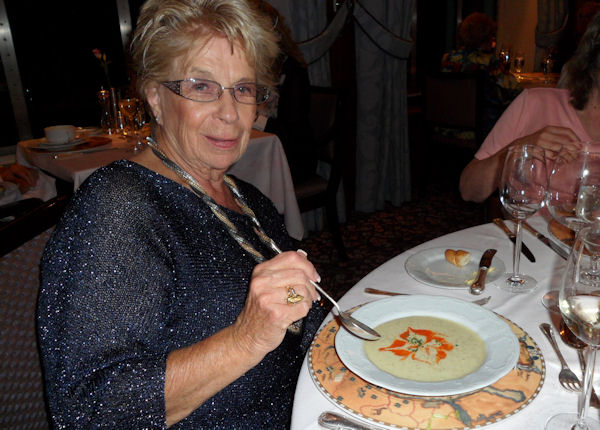 Vichyssoise. One of my very favorite cold soups.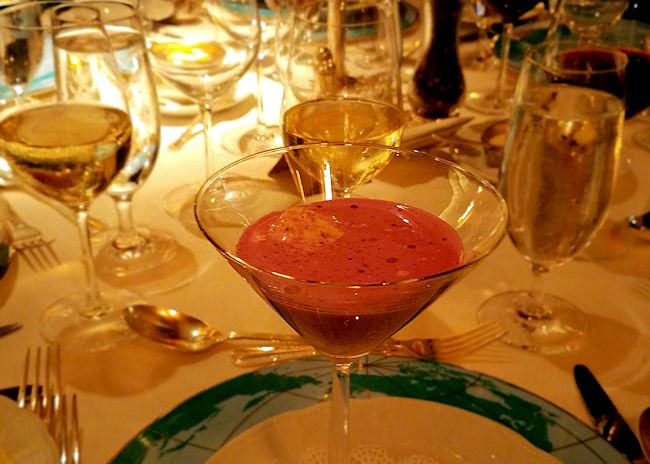 Cruise 10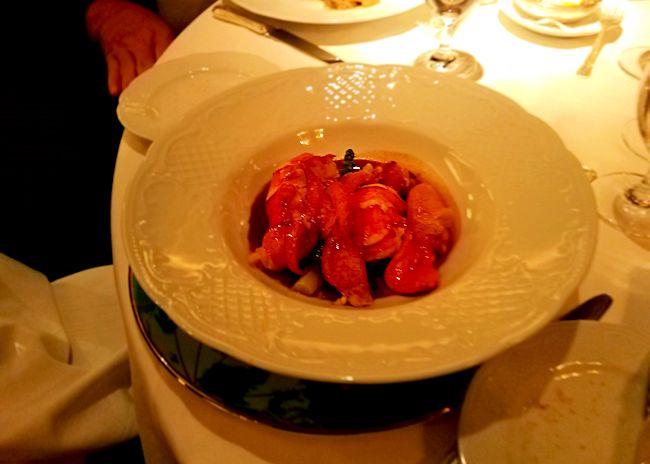 Cruise 10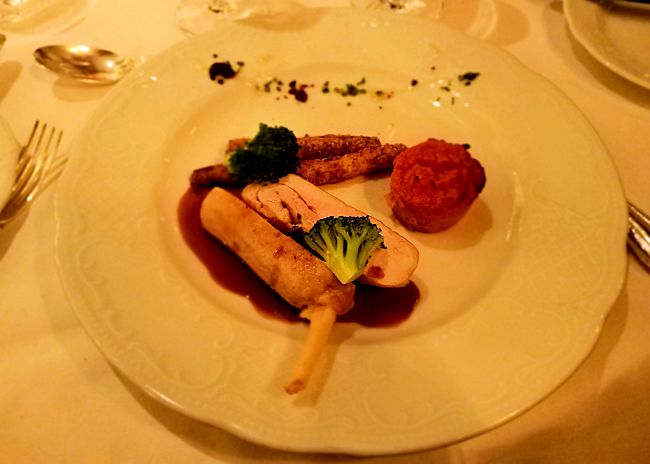 Cruise 10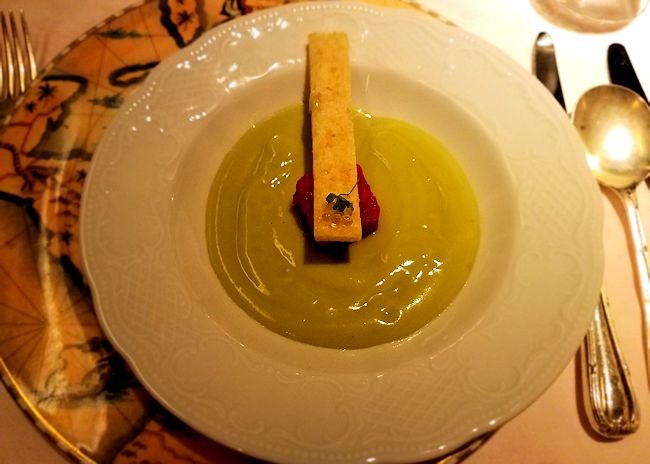 Cruise 10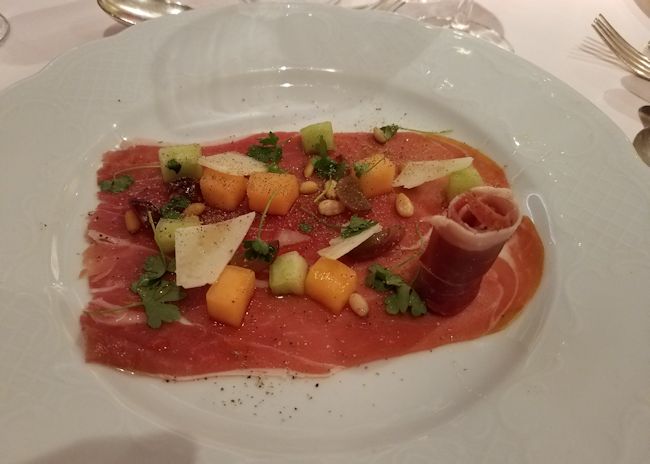 Cruise 10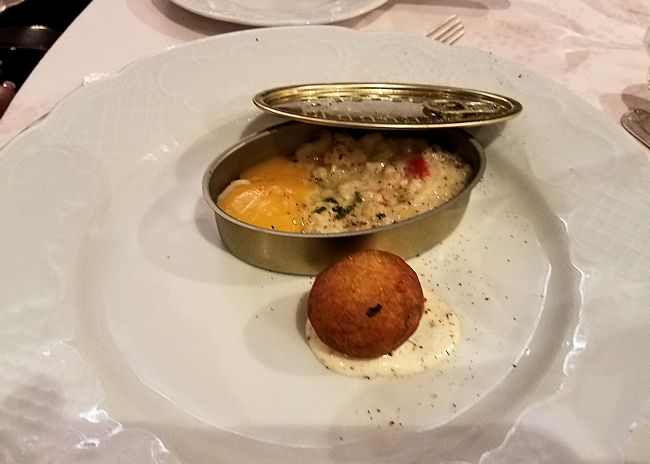 Cruise 10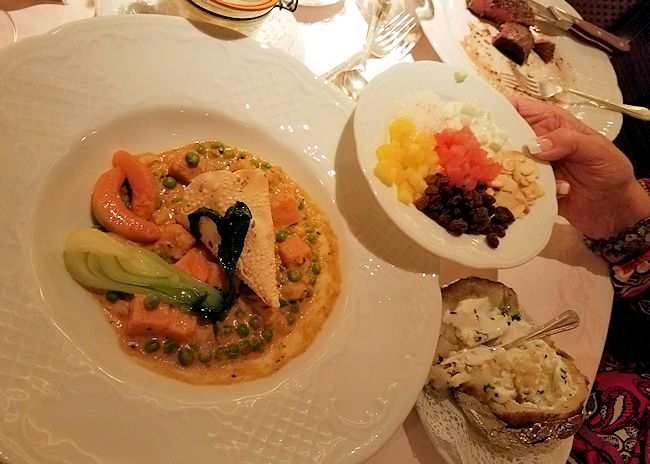 Cruise 10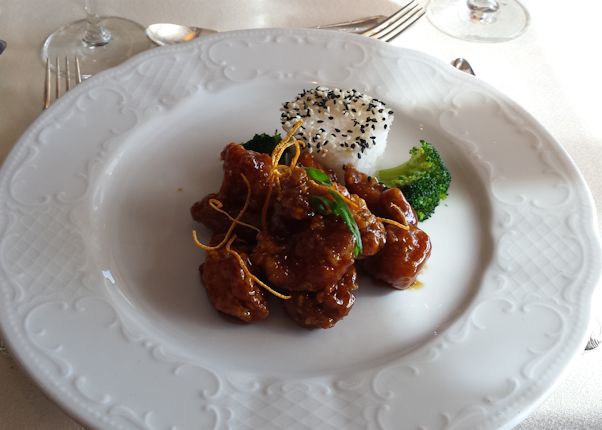 Cruise 7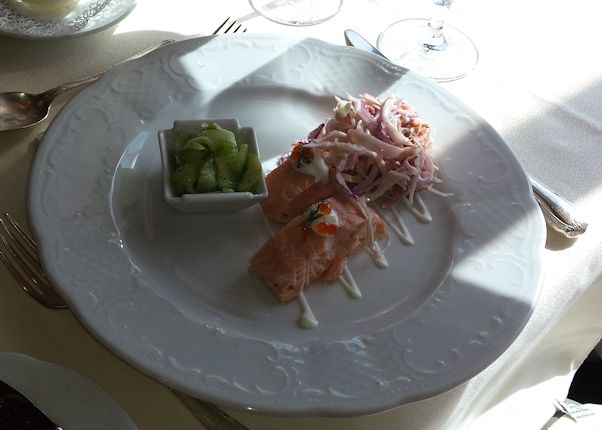 Cruise 7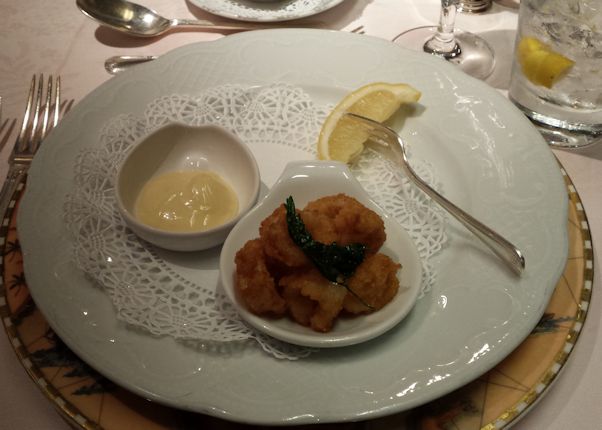 Cruise 7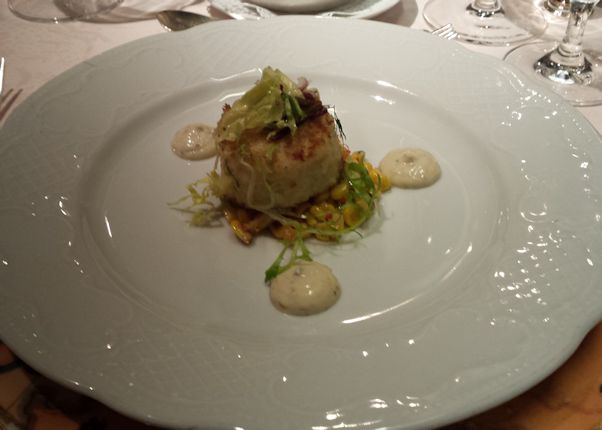 Cruise 7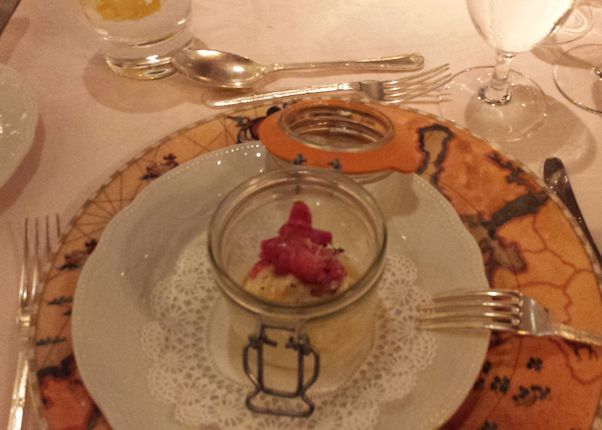 Cruise 7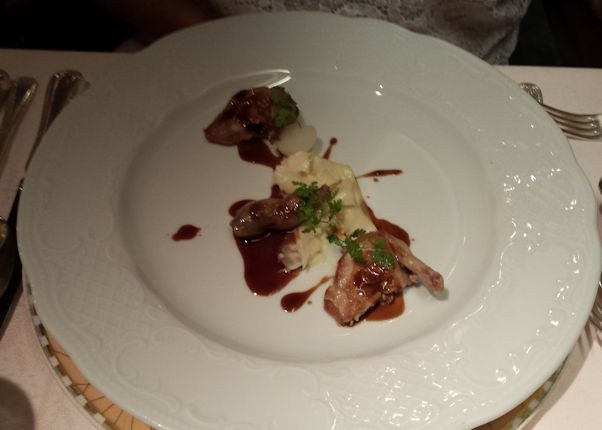 Cruise 7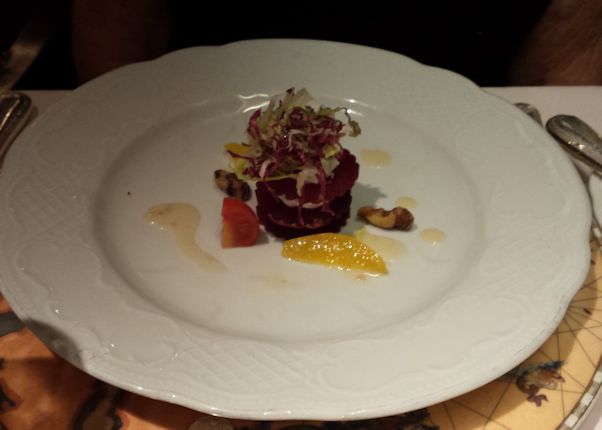 Cruise 7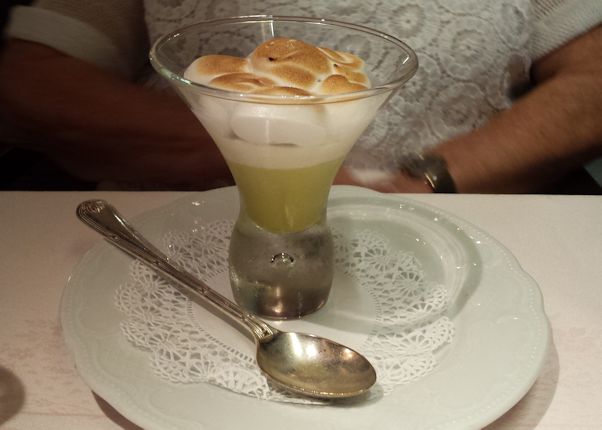 Cruise 7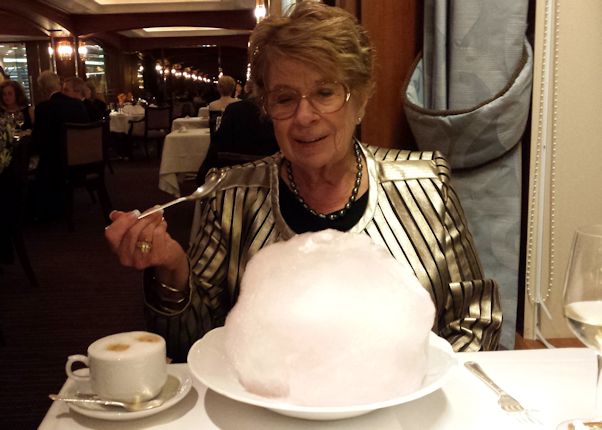 This dessert transfoms from its cotton-candy form to cherries jubilee!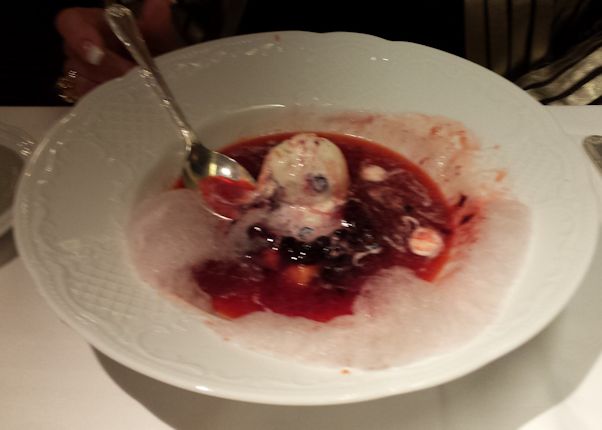 When the cotton-candy melts!
Click Here To Watch The Video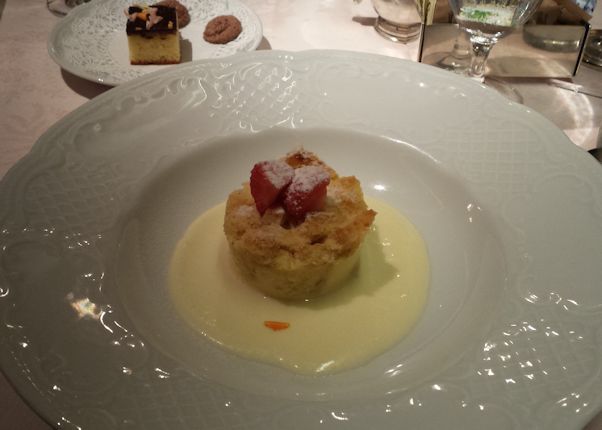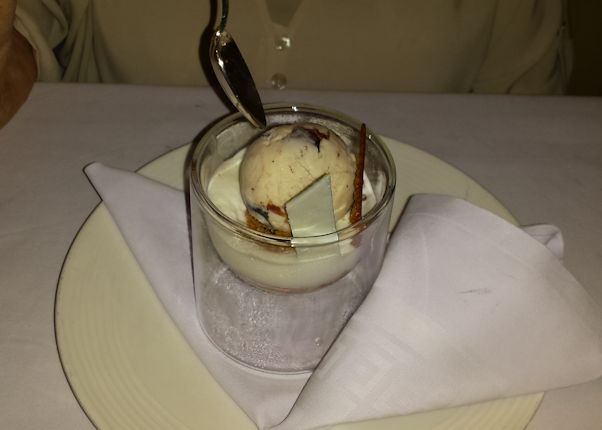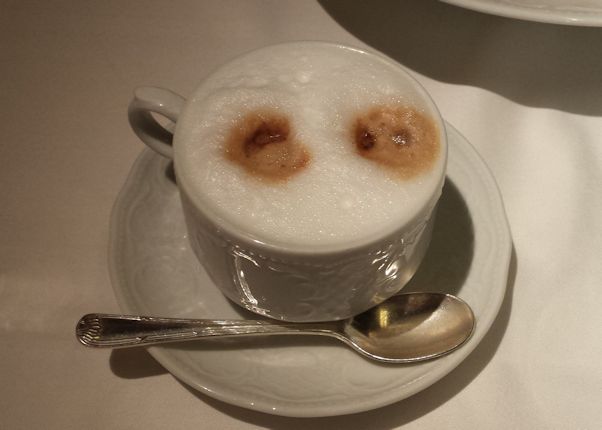 Joan loved the dinning room's "skinny capuchino"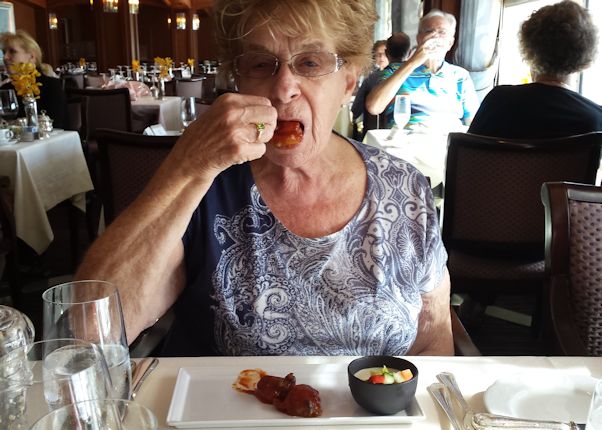 Lunch in the Dinning Room. Yummmmmy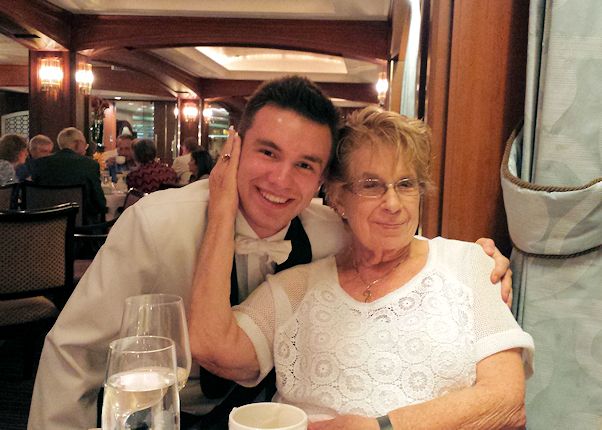 Cruise 7 Assistant Waiter, Igor. Joan wanted to bring him home!
Prego
Gourmet Italian Speciality Restaurant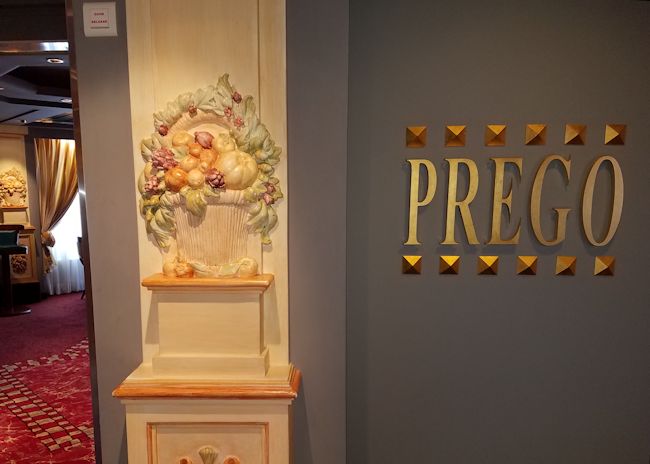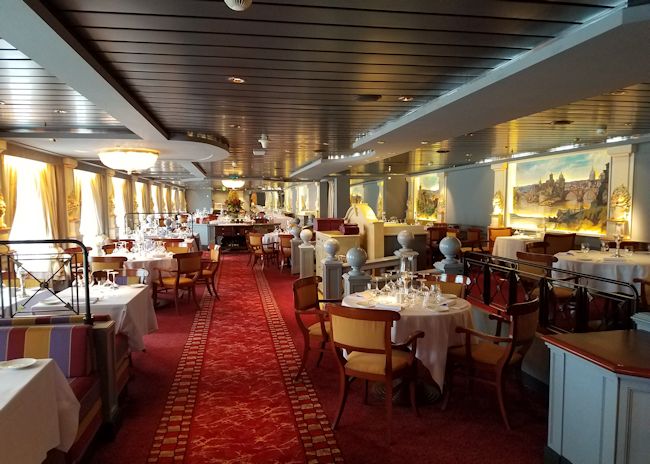 Prego Restuarant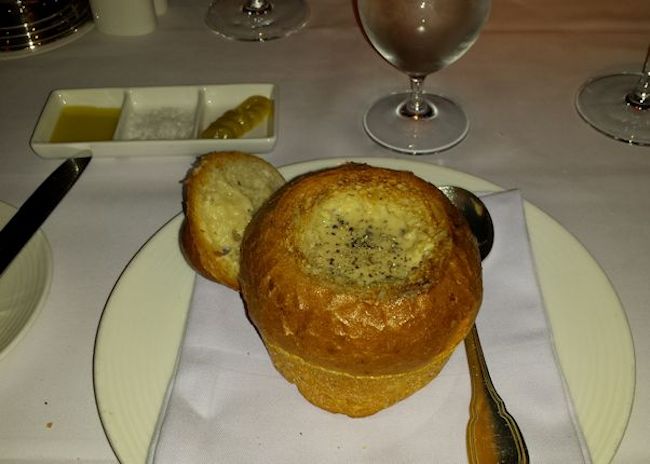 Prego's Breadbowl of Mushroom Soup is a "must have" on every cruise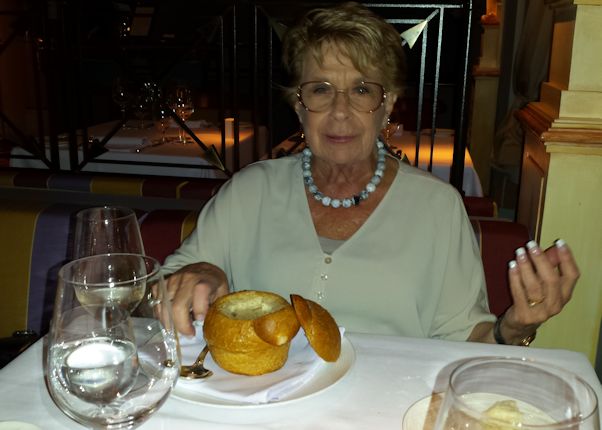 Breadbowl mushroom soup at "Prego"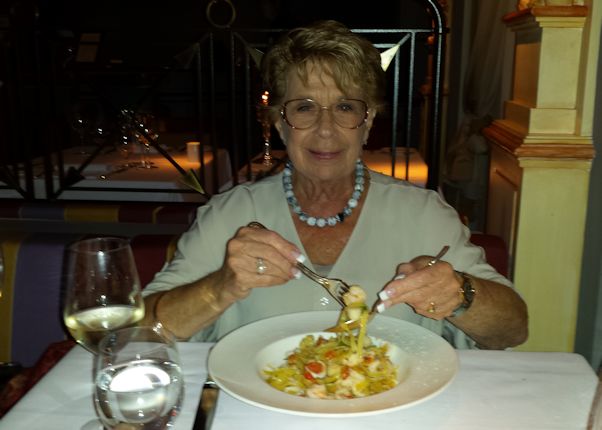 Cruise 7 - Prego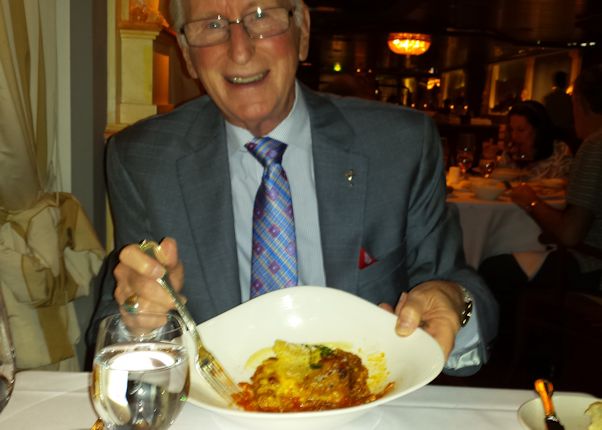 Cruise 7 - Prego
Silk Road & Sushi Bar
Chef Nobu Matsuhisa's only sea-going restaurant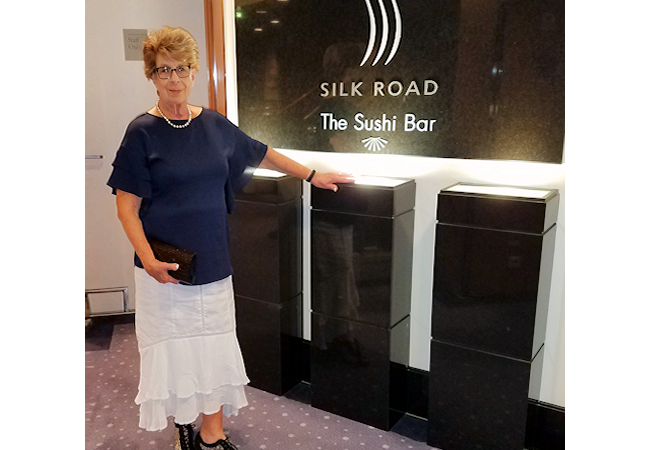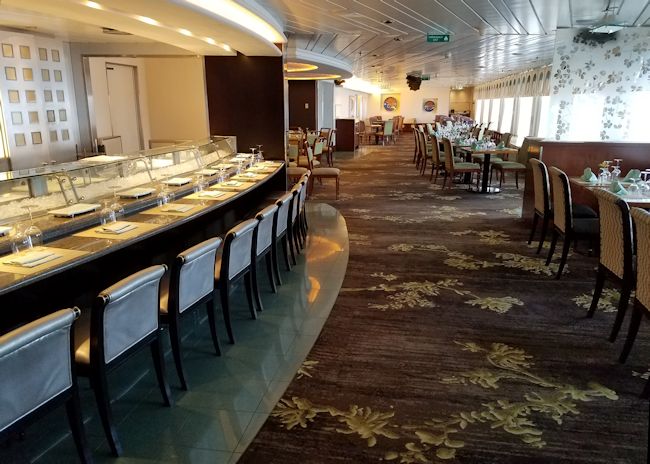 Silk Road Restaurant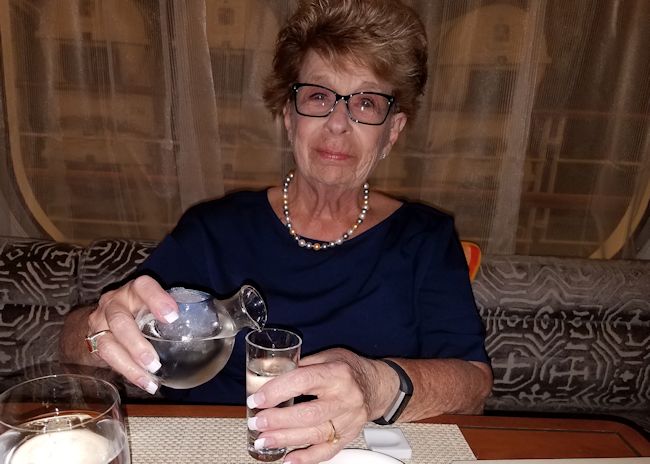 Chilled Saki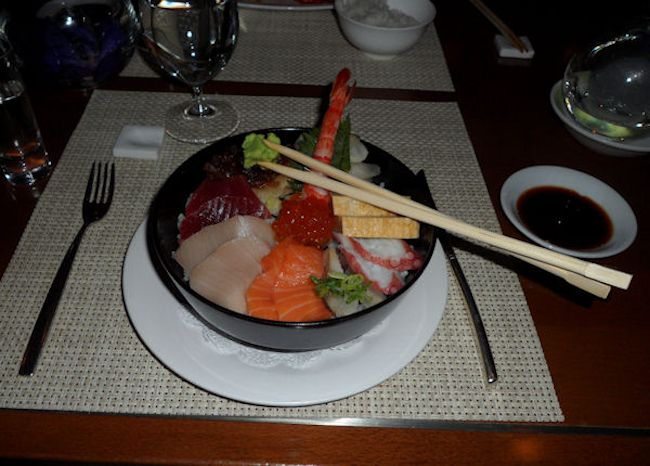 Sushimi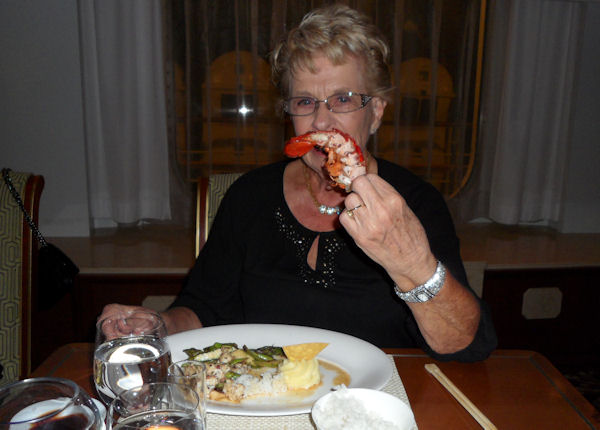 Lobster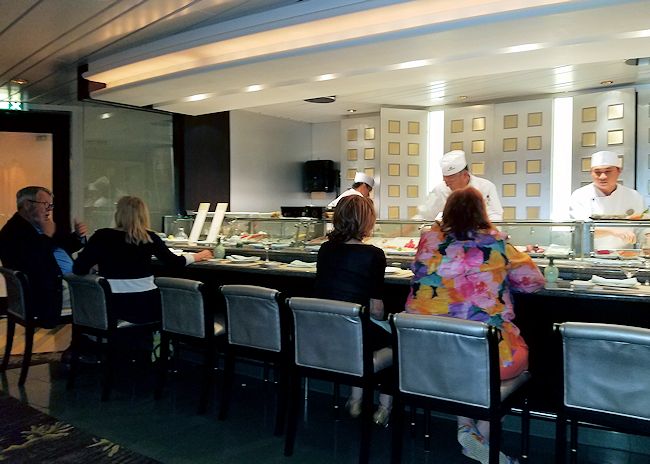 Sushi Bar
The Vintage Room
A Unique Concept In Wining and Dining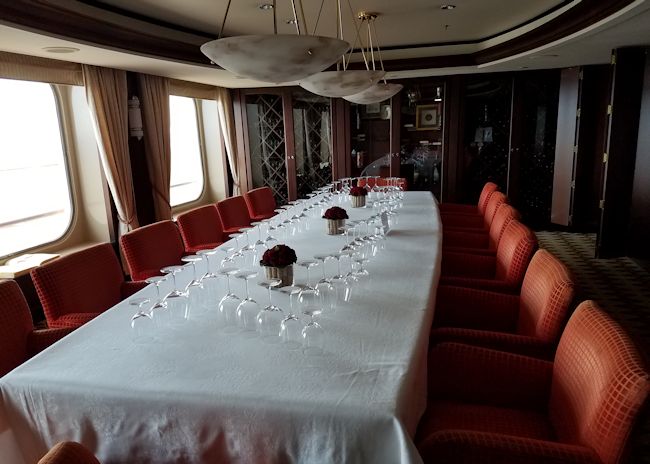 An exclusive evening of dining with family and friends
Four or five wines are chosen and appropriate food courses are presented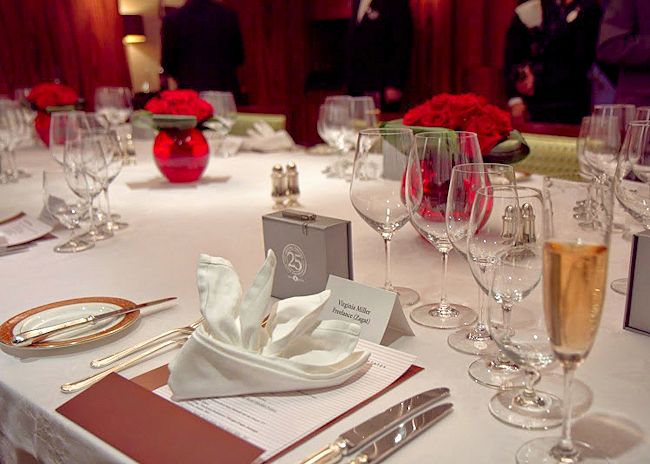 There is a minimum charge of $2,500 for these private diners that include wines and gratuity
Lido Cafe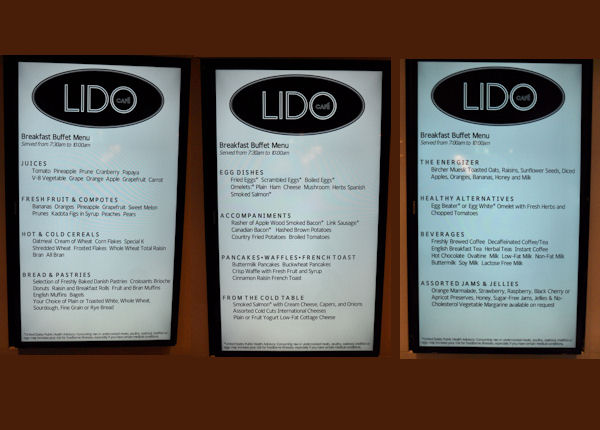 The chic, new flat-screen menu keeps changing to display the entire Lido breakfast menu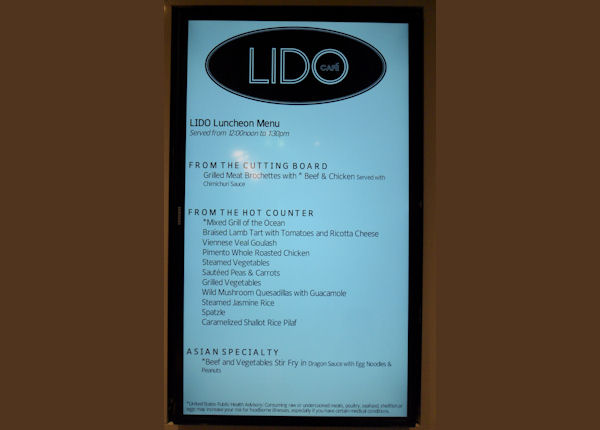 Later it changes to the Lido's buffet lunch menu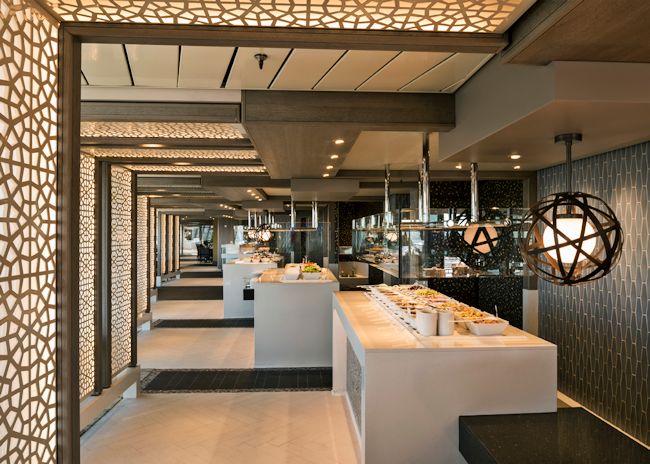 Cruise 10 - The New "Lido Cafe"
Serving an impressive variety of breakfast and lunch offerings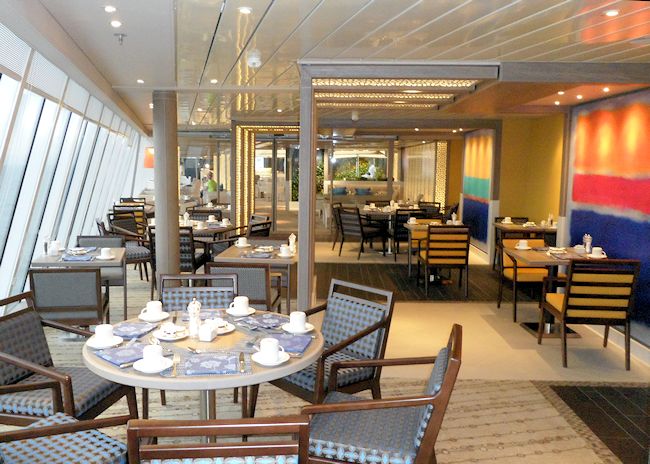 Cruise 10 The Lido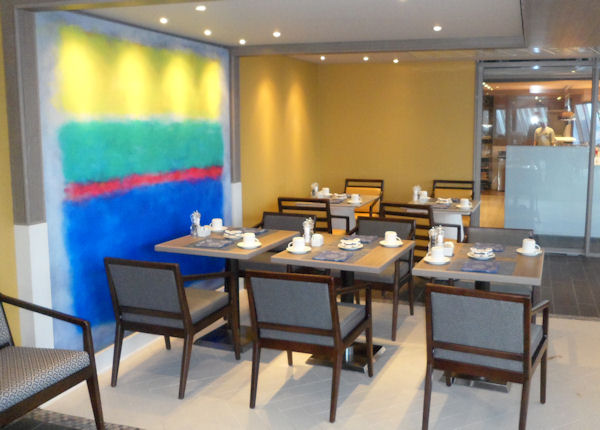 Cruise 10 - The Lido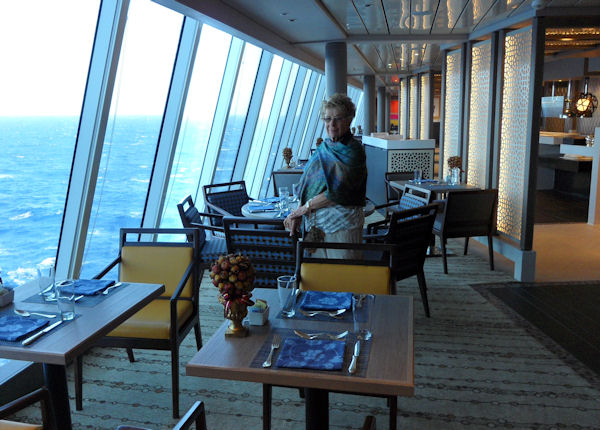 Lunch in the middle of the Atlantic Ocean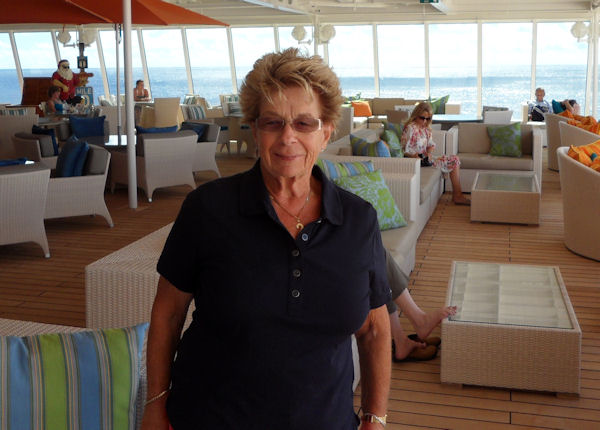 Relax with a glass of wine or maybe an ice cream sundae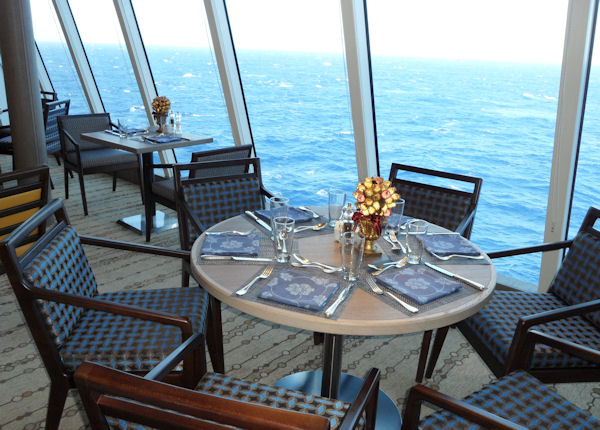 You're never far from food here on Crystal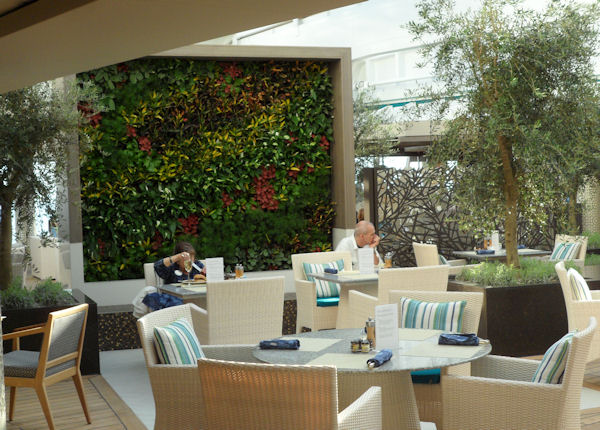 Lido Deck (12) is all new including its "Living Walls"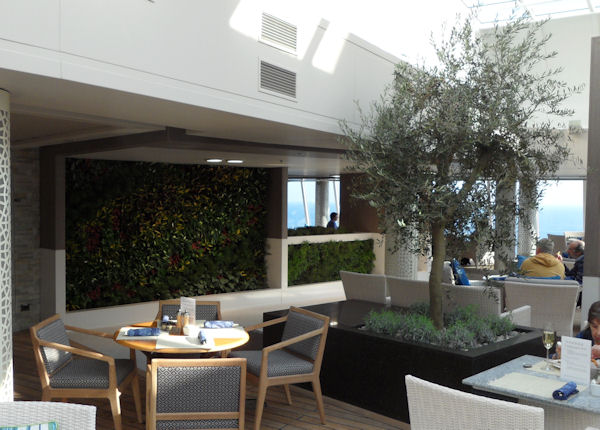 "Removing the indoor pool gave way to this sunny dining area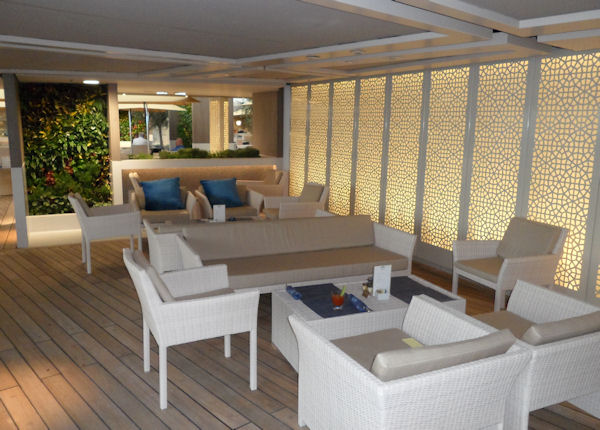 How's this for comfort while sipping a Bloody Mary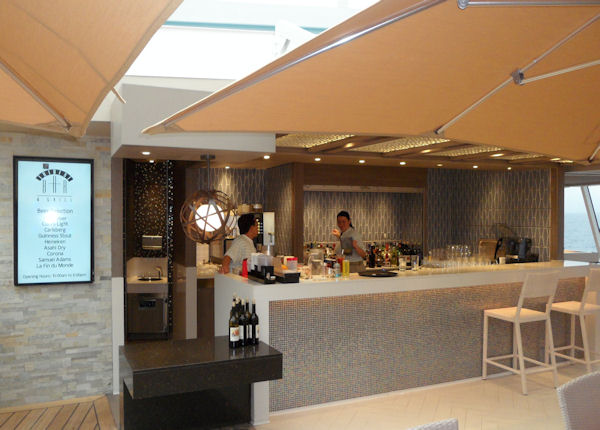 The Lido Bar
Wine, beer, alchohol and speciality drinks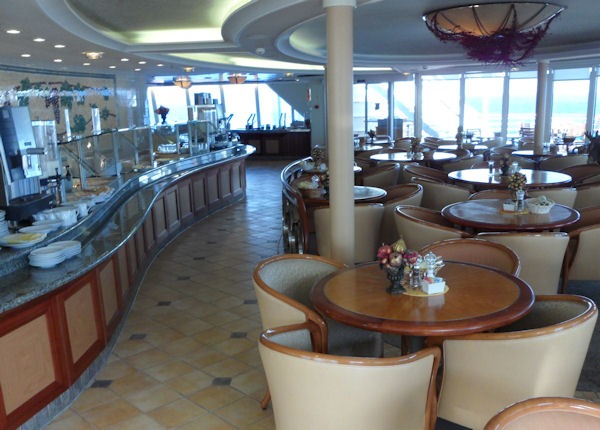 Cruise 4 - The Lido Cafe Aft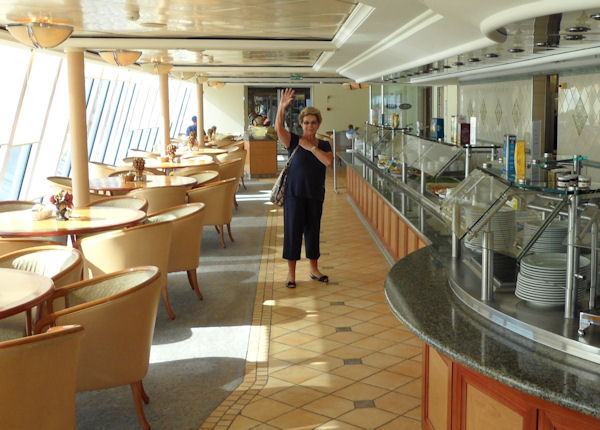 Cruise 4 - The Lido Cafe Port and Starboard sides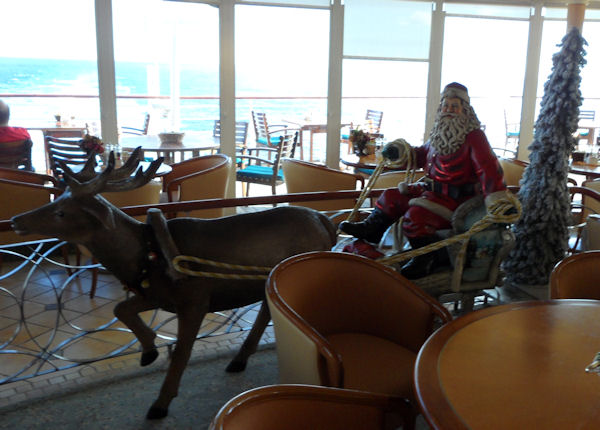 Christmas in the Lido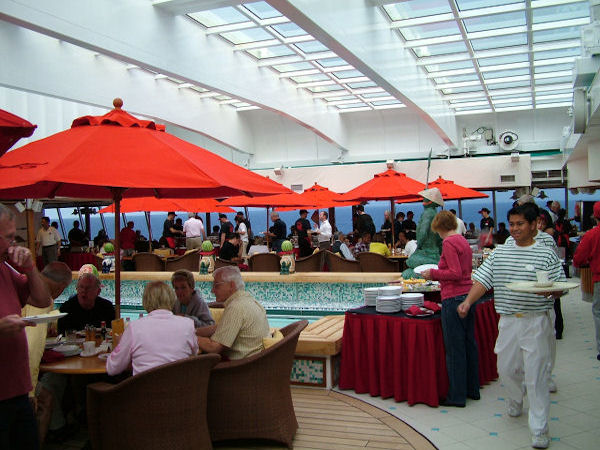 Cruise 1 - The Lido Deck
Lunch around the indoor pool (now gone) sometimes had a special theme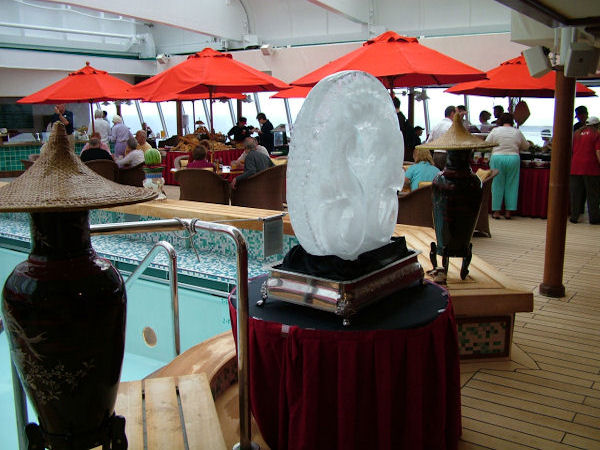 Cruise 1 - The Lido Deck
This was a special oriental luncheon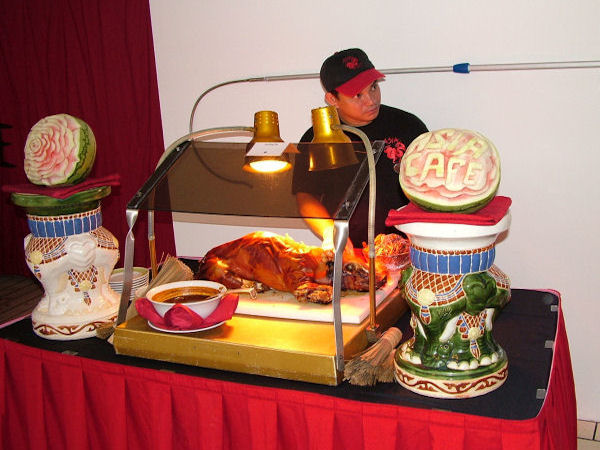 Cruise 1 - A roast pig
The Lido Deck oriental luncheon
Tastes
At night Lido transforms into family-style street-food creations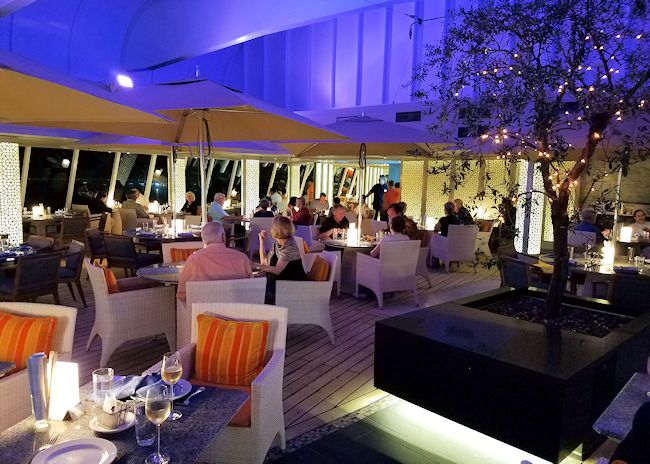 Tastes - Dining Under The Stars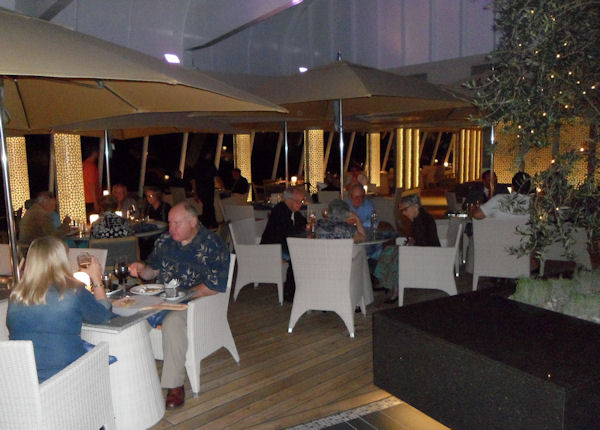 Dinner at "Tastes"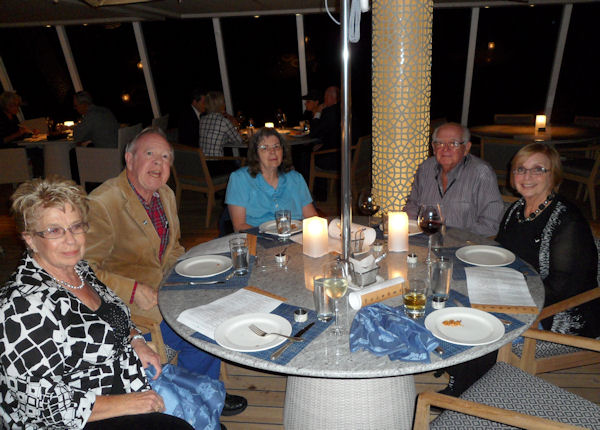 Tastes 'Global Street Food' offers the opportunity to explore international flavors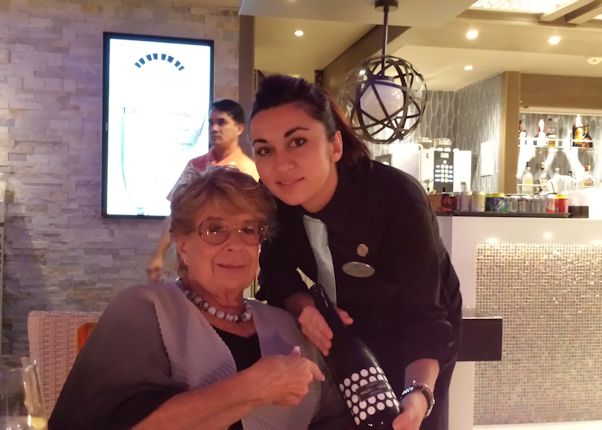 A wine to compliment dinner at 'Tastes.'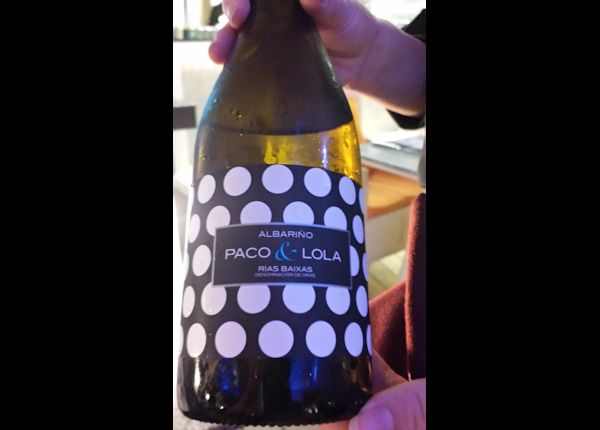 How to remember a good wine in the day of 'smart phones!'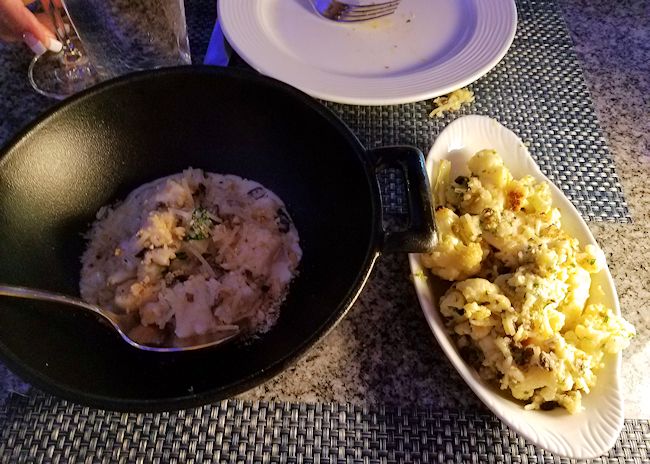 Roasted Califlower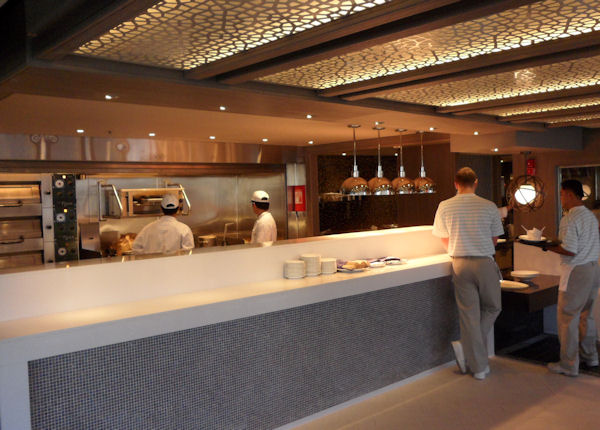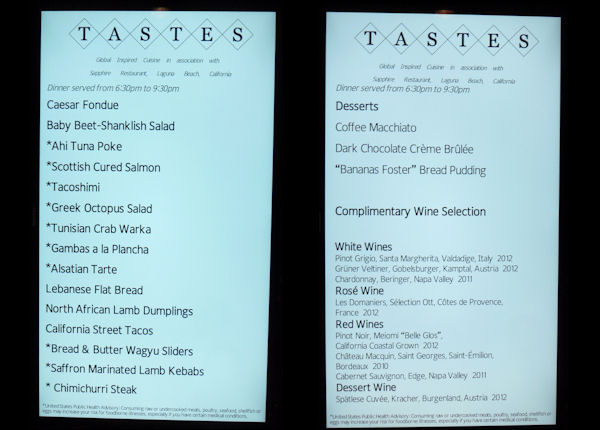 Tastes menu
A partnership with Sapphire Restaurant, Laguna Beach, CA with Chef Azmin Ghahreman
Trident Grill
Hamburgers, Hot Dogs, Chili or Soup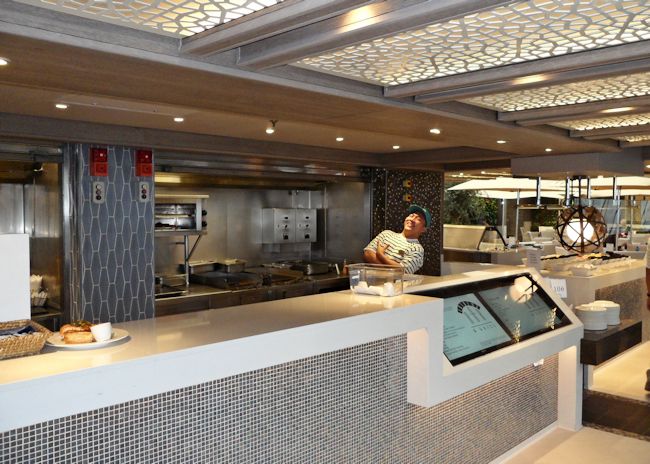 Cruise 10 - Trident Grill - Serving hamburgers, hot dogs, soup, chili and other lite bites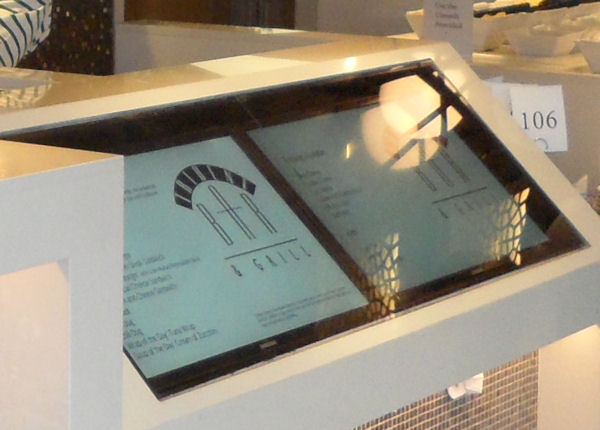 The Trident Grill menus
New "flat screen" menus and information boards appear throughout the ship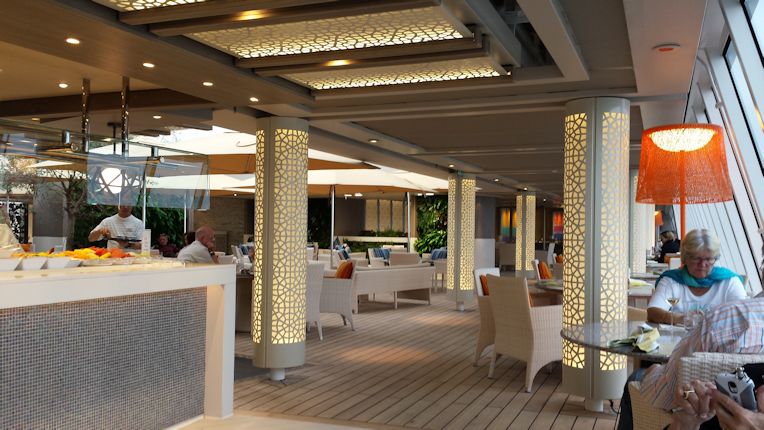 Cruise 7 - Trident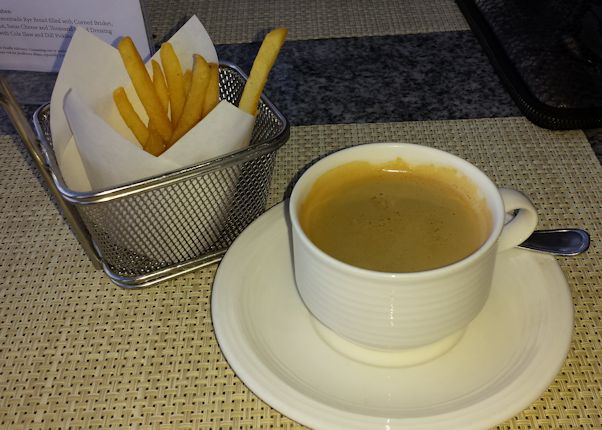 Best french fries and coffee at "Trident Grille"
Scoops Ice Cream Bar
Open 10 to 10 Daily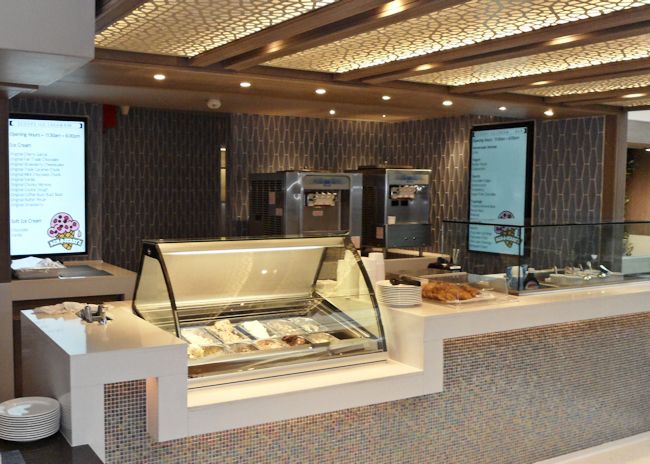 Ice Cream Bar open daily 10:00 to 10:00
All-You-Can-Eat Ben & Jerry's Ice Cream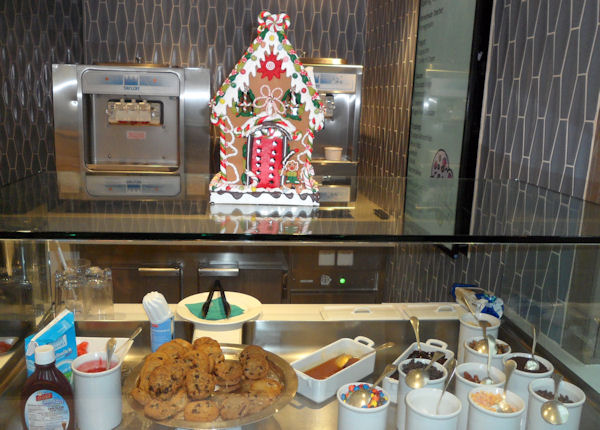 Scoops has fresh waffle cones, cookies and all your favorite toppings
The Bistro
Speciality Teas, Coffee, Espresso & Wine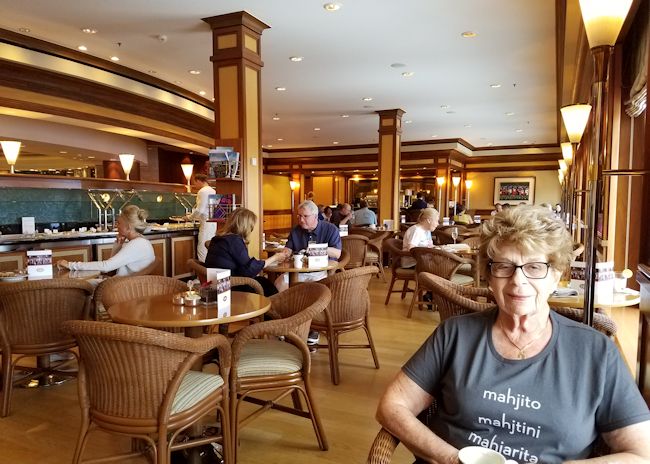 The Bistro is open 11:30 A.M. to 11:00 P.M.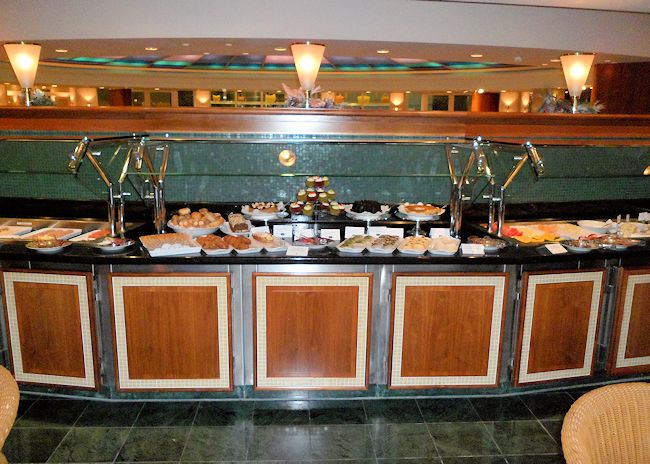 Snacks, tarts, pastries, petit desserts and cheeses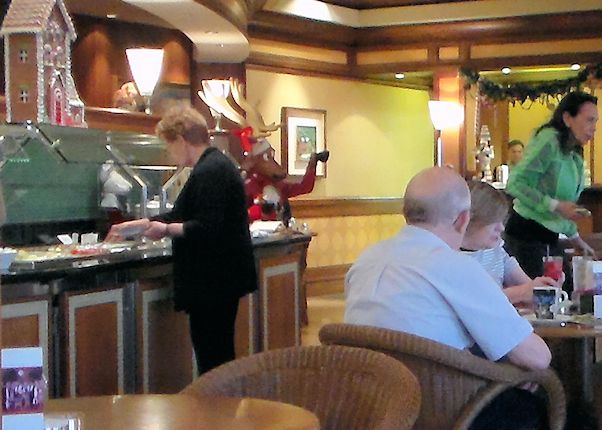 The Bistro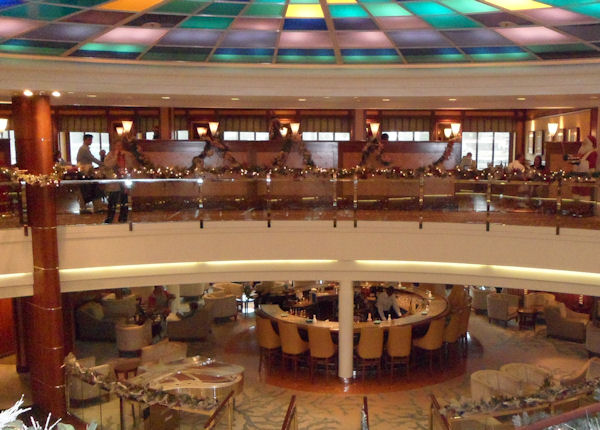 The Bistro, balcony
Crystal Cove, lower deck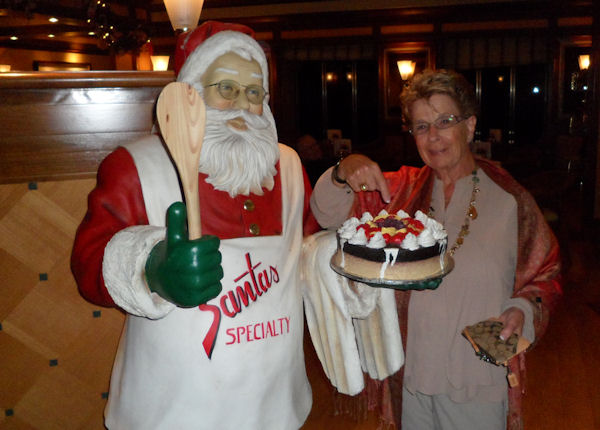 Hi from Santa & Joan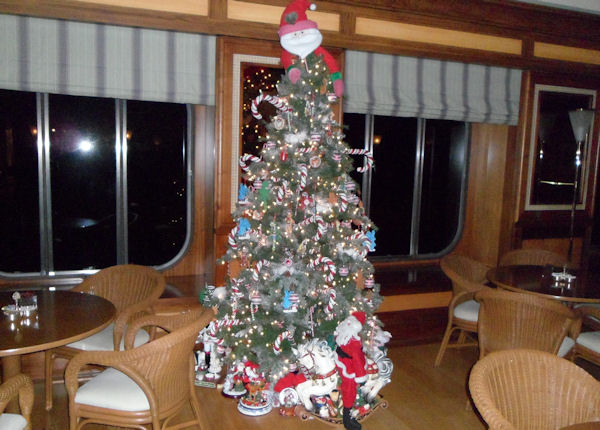 A Christmas in the Bistro
Crystal Cove Deck 5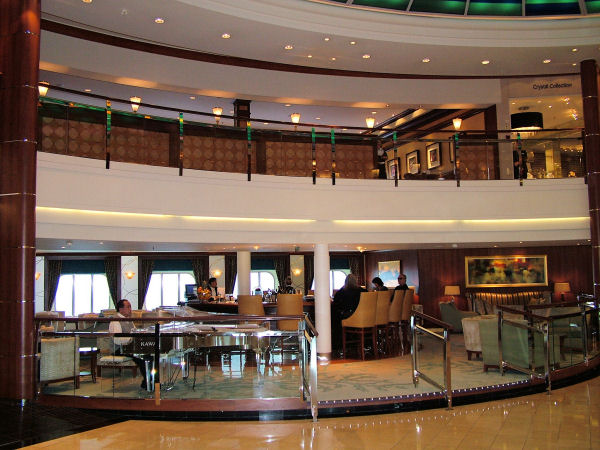 Crystal Cove is located off Crystal Plaza. It's our favorite place for Happy Hour cocktails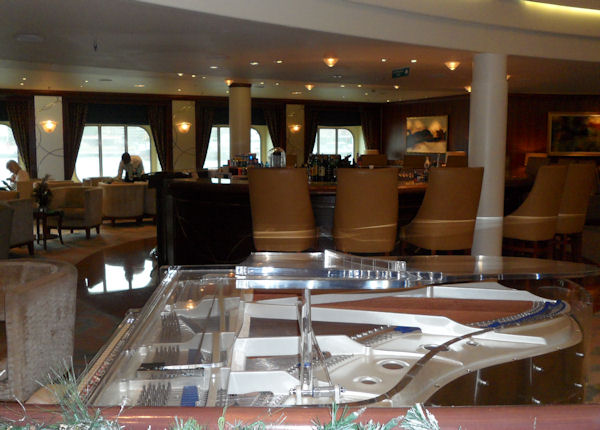 The Crystal Piano in Crystal Cove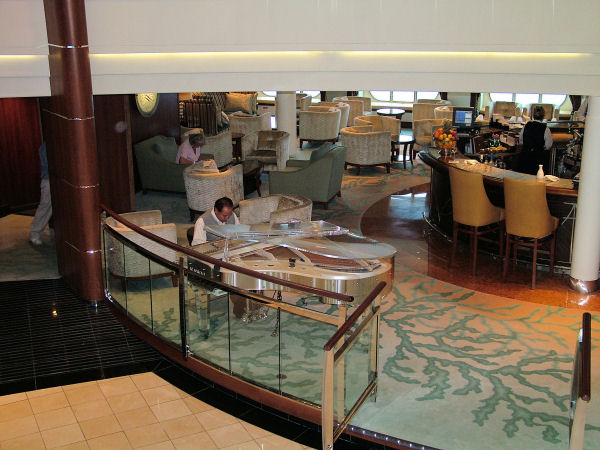 Music every afternoon and evening in Crystal Cove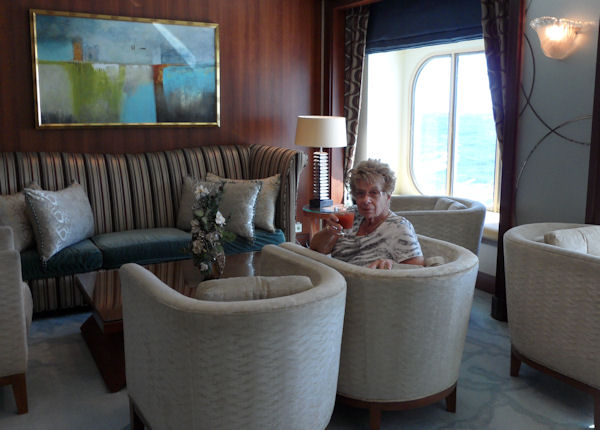 The Crystal Cove is a great place to relax for an afternoon champaign or a Bloody Mary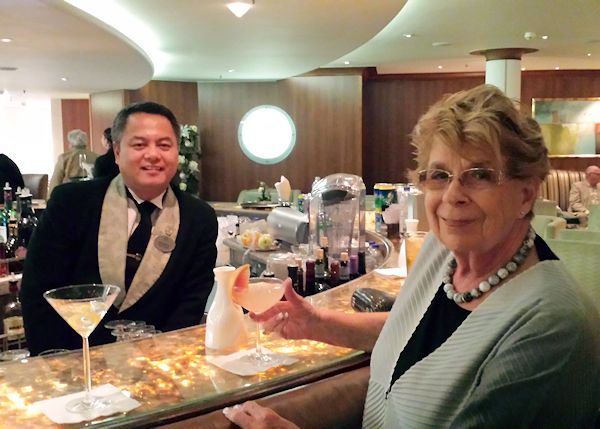 Edwin, our favorite mixologist who cheerfully served us for Happy Hour and every night until midnight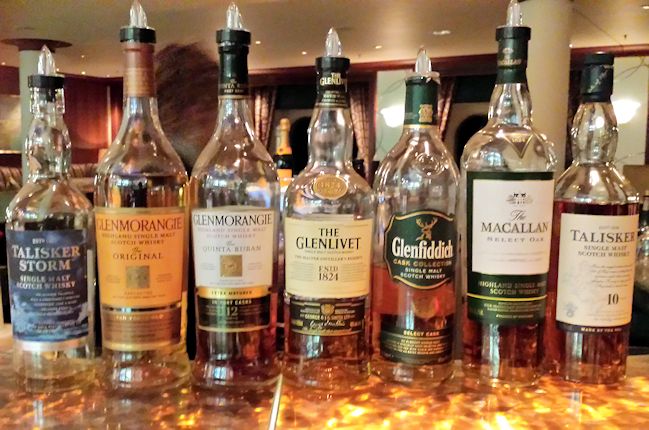 Malt scotches available at the Crystal Bar At No Extra Charge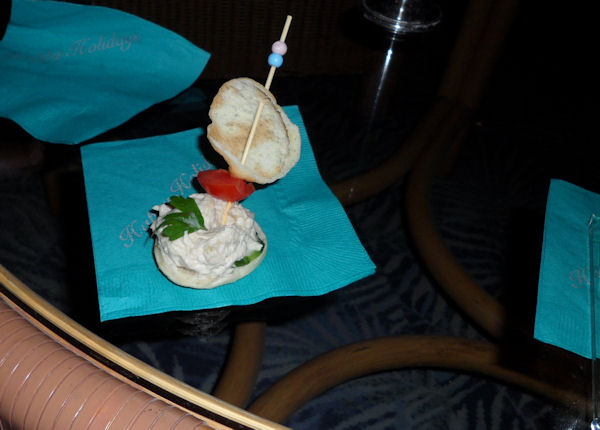 A variety of hors d'oeuvres are always served before dinner and again until late night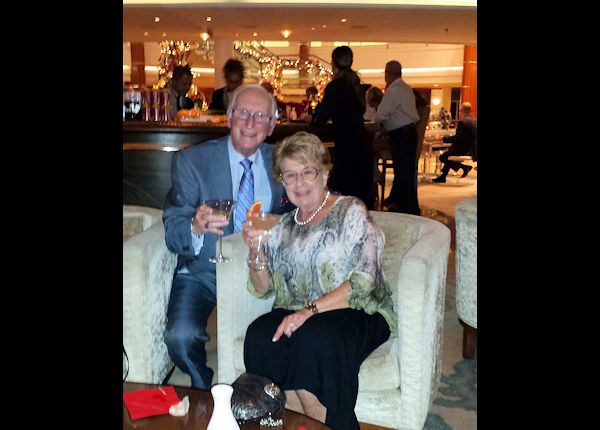 Happy Hour in Crystal Cove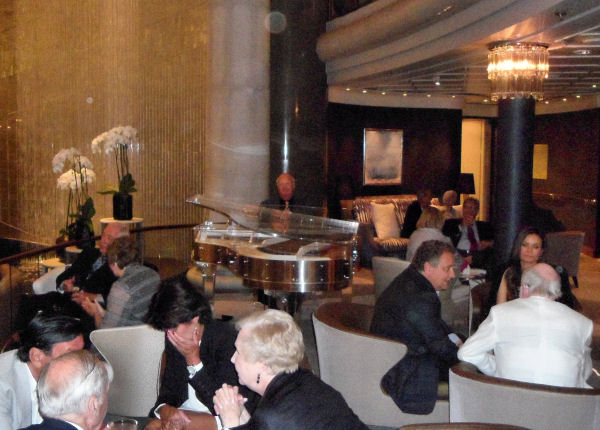 Bruce Johnson plays in Crystal Cove during Happy Hour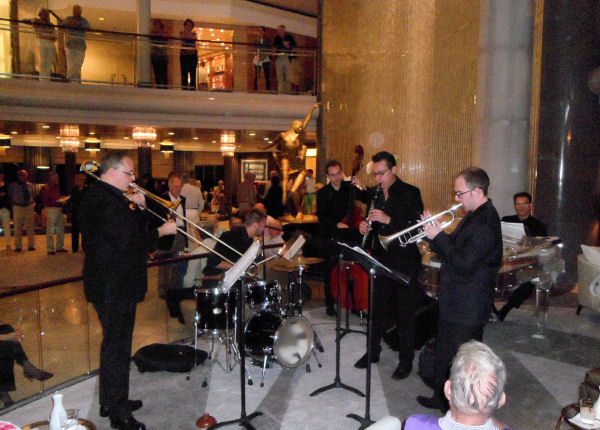 The Galaxy Orchestra entertain in Crystal Cove
Palm Court
Beautul View and Beautiful Dance Floor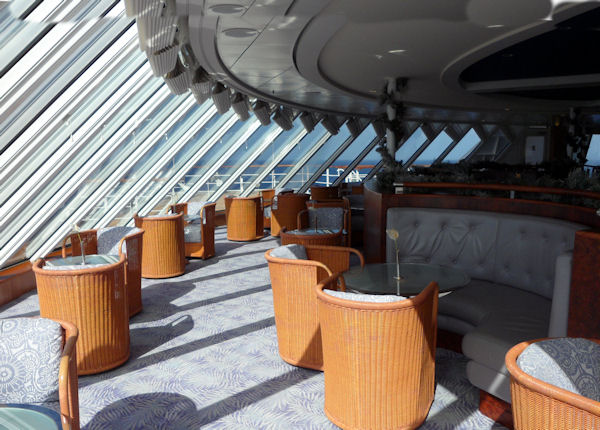 Get a 'bridge-eye' view from Palm Court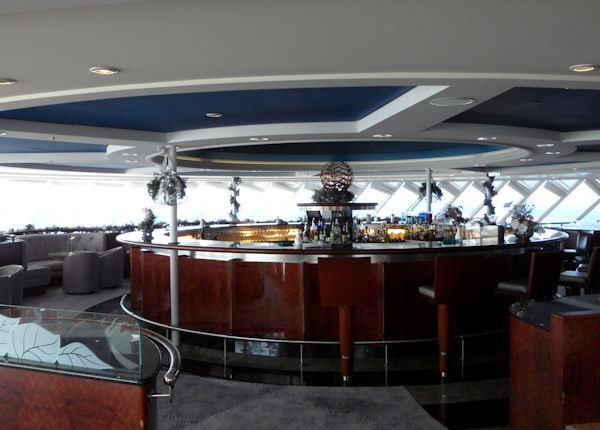 Palm Court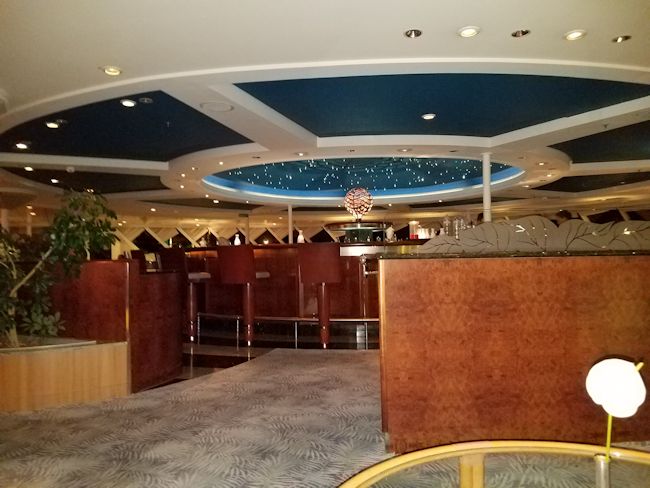 Palm Court Bar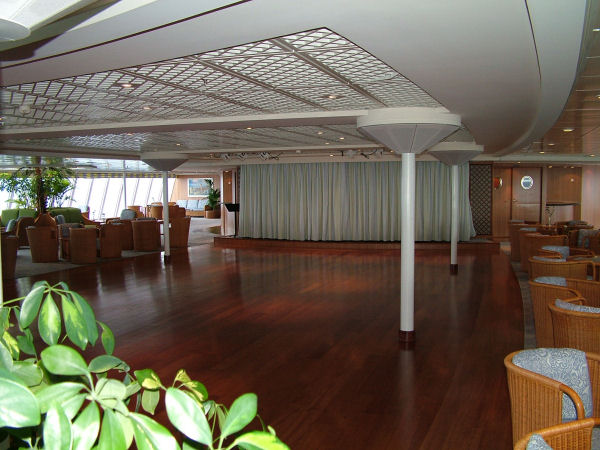 The Palm Court dance floor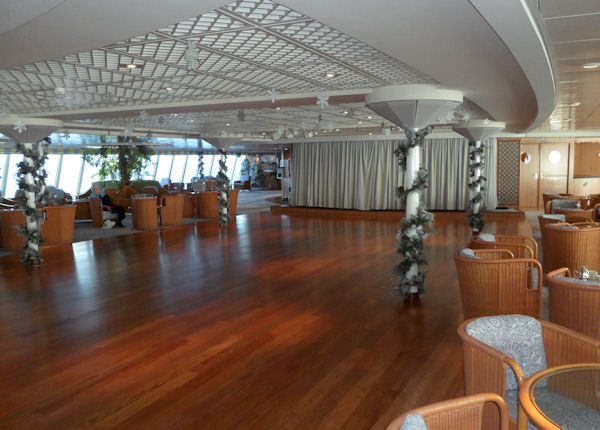 Palm Court dance floor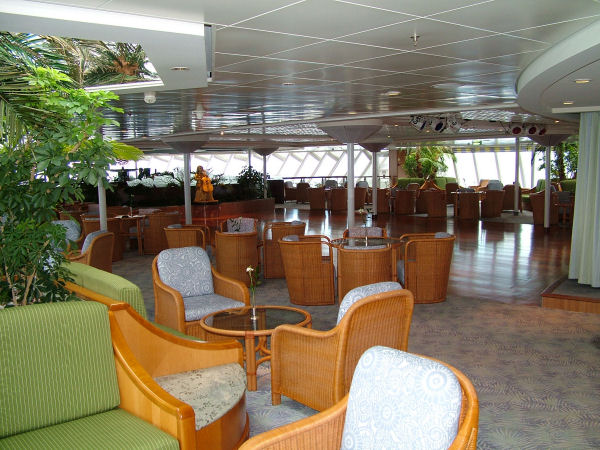 Palm Court is a beautiful room with a 270º view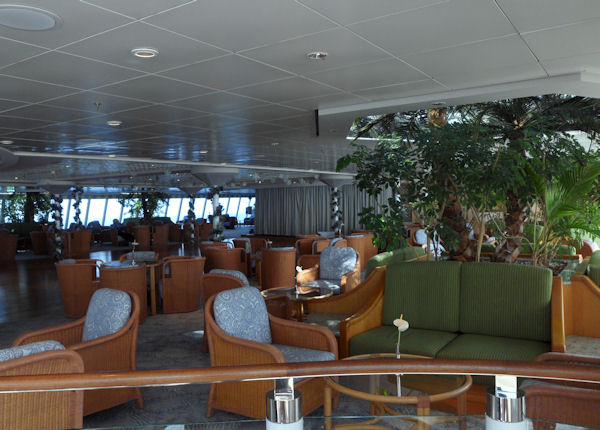 Palm Court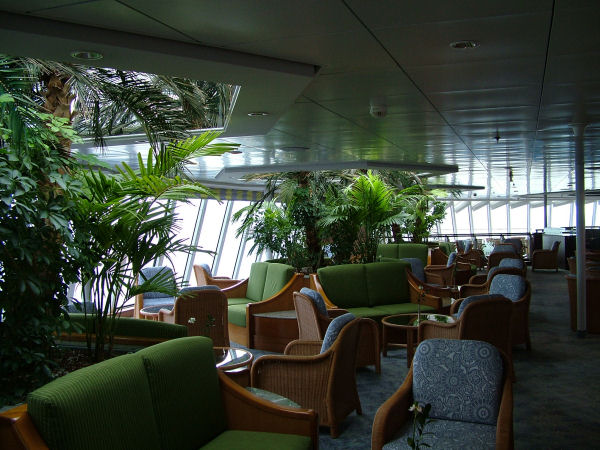 Palm Court offers a view from above the bridge and skylights over the live the palm trees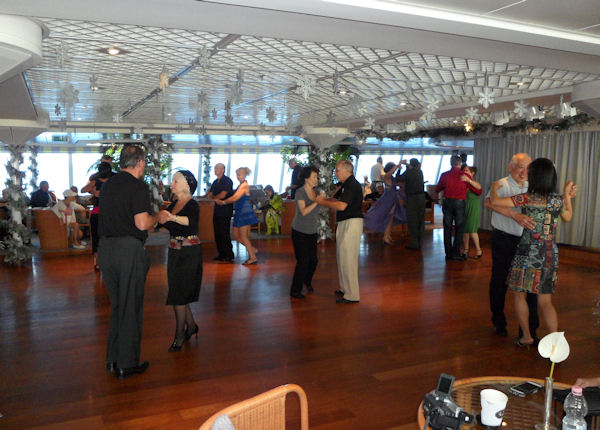 Dance classes every morning and afternoon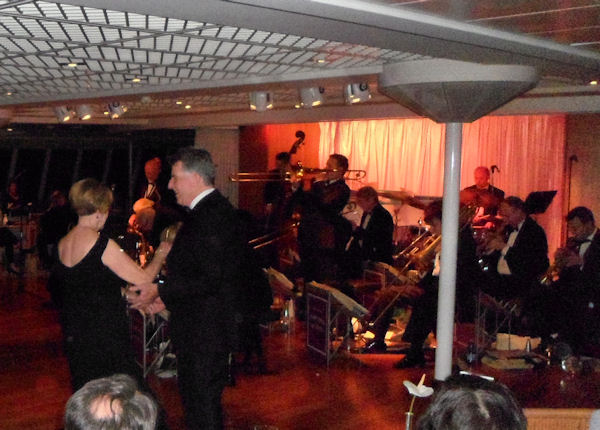 Big Band Orchestra for nightly dancing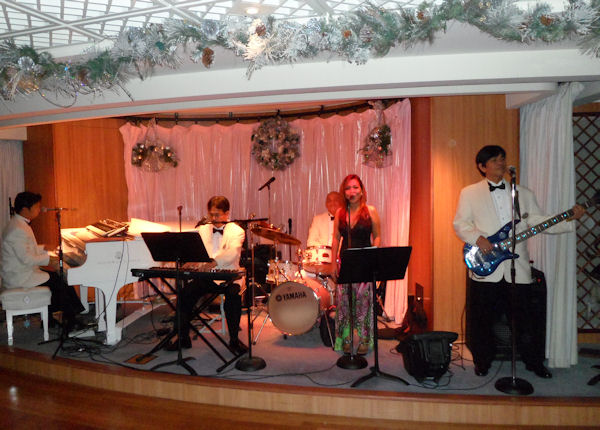 Crystal Sextet for Latin and Ballroom nightly dancing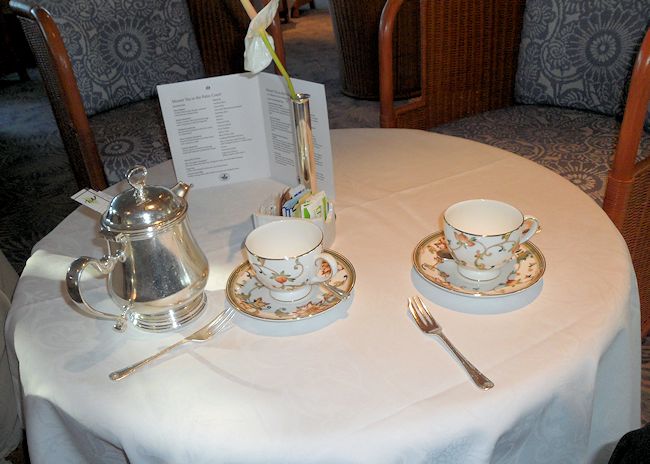 Afternoon Tea is served daily in Palm Court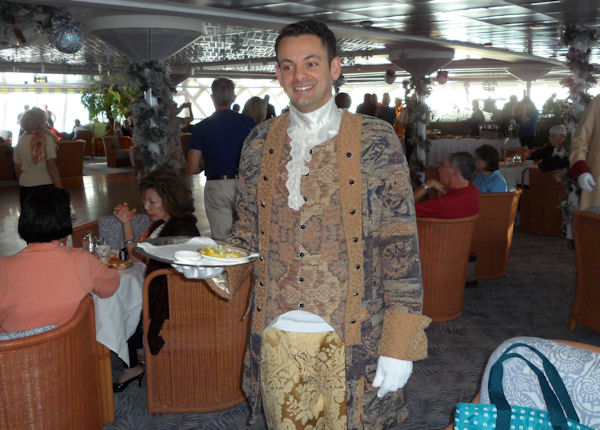 The staff dresses the part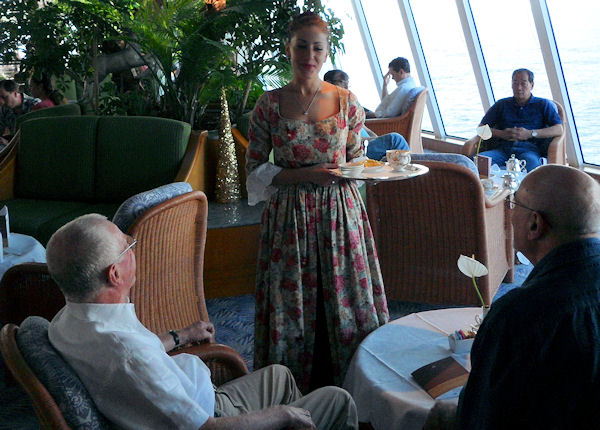 Tea and pastries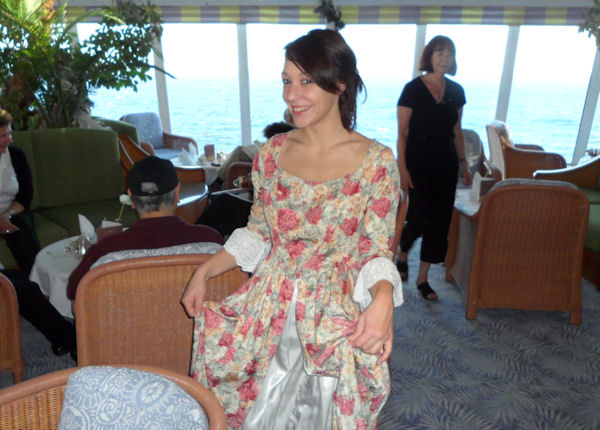 The Servers Are In Period Dress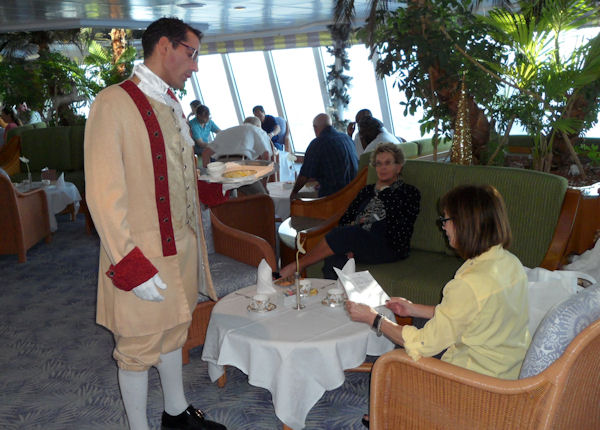 The Servers Are In Period Dress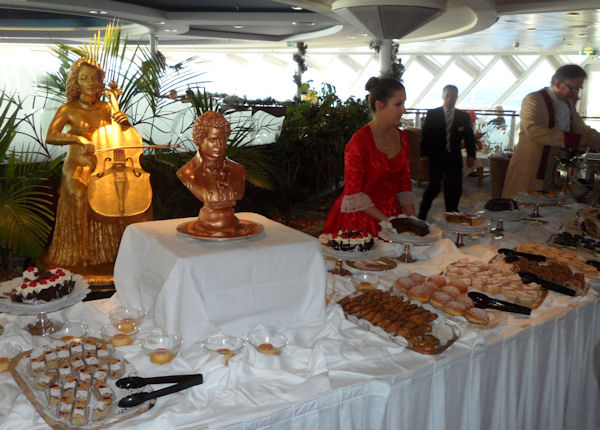 A Selection of Pastries and Snacks Are Available For Afternoon Tea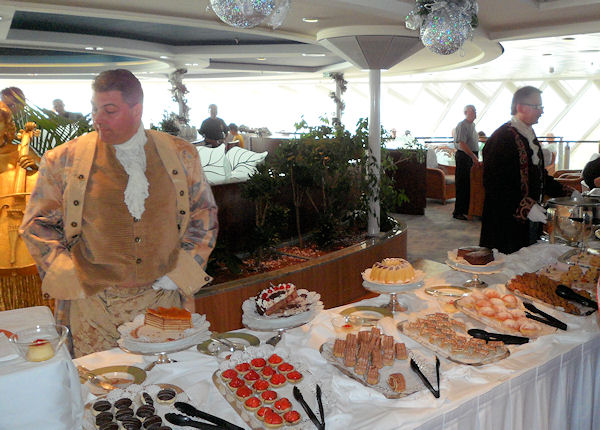 Another chance to eat is at Afternoon Tea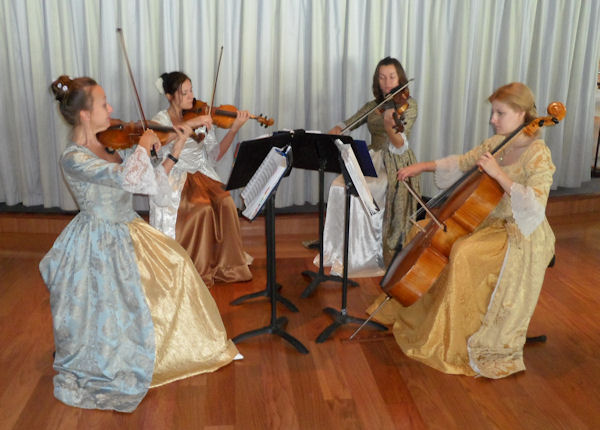 Chamber Music By The Astoria Strings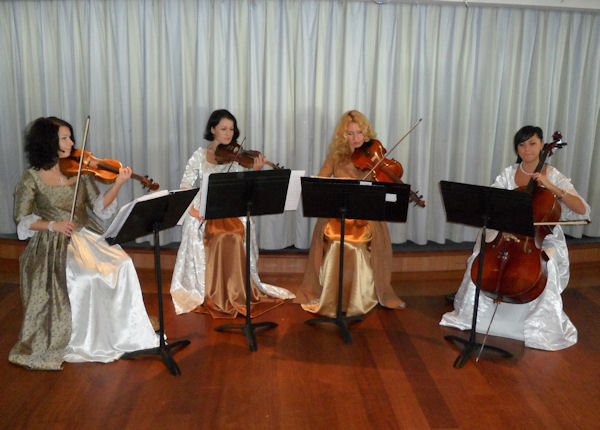 Chamber Music By The Bellisimo Strings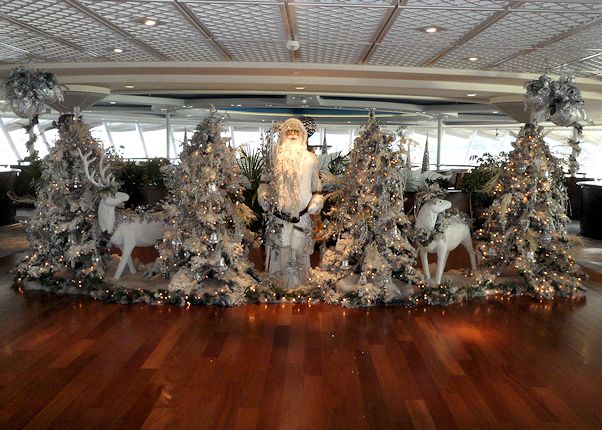 Palm Court Decorated For Christmas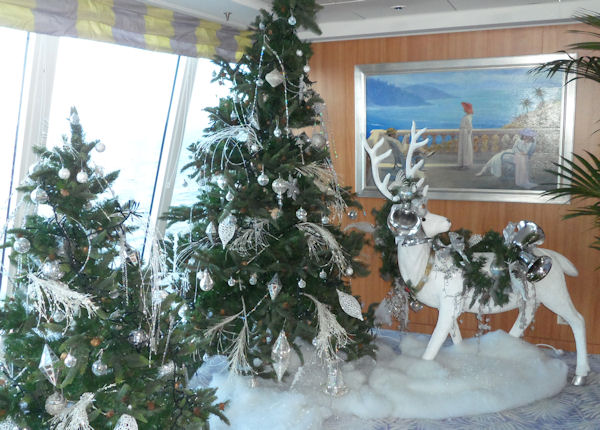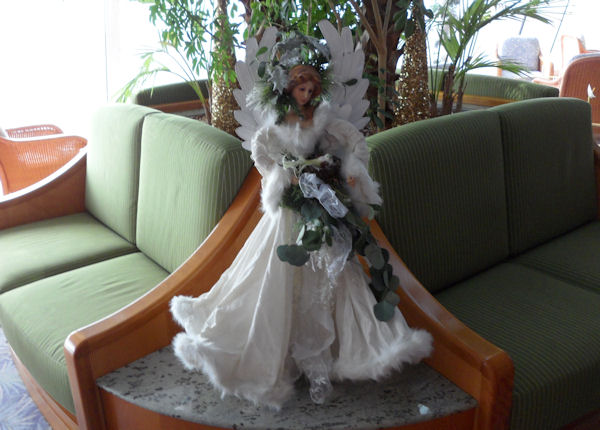 Galaxy Lounge
Shows and Entertainment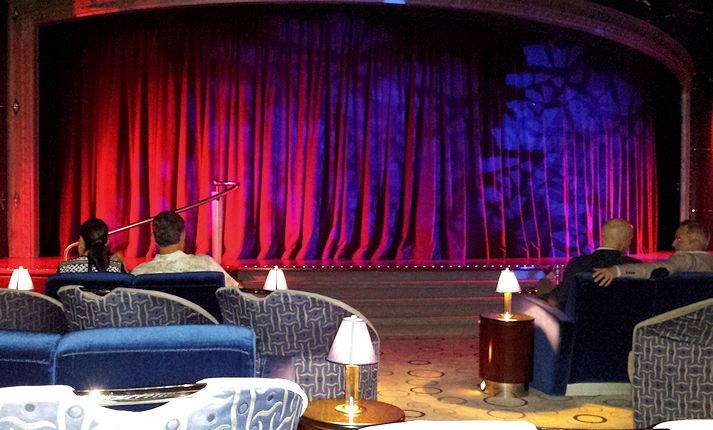 The Galaxy Lounge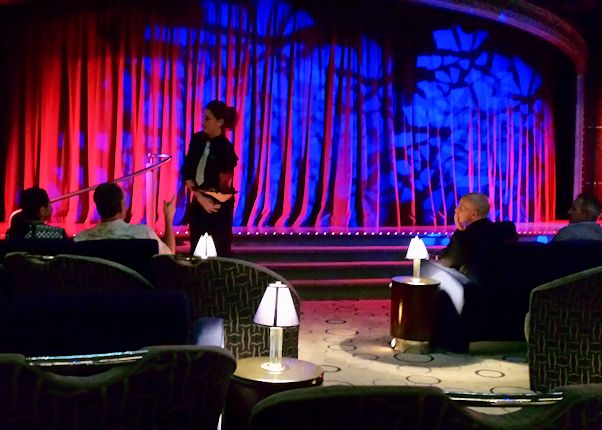 Cocktails before a show in the "Galaxy"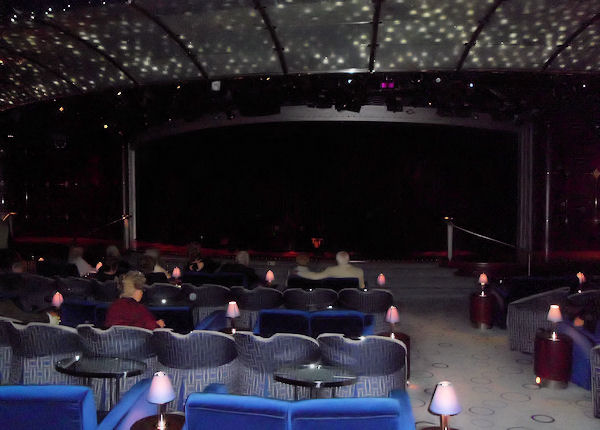 Galaxy Lounge
Great matinee and nightly shows featuring celebrity entertainers and the Crystal Singers, Dancers and Orchestra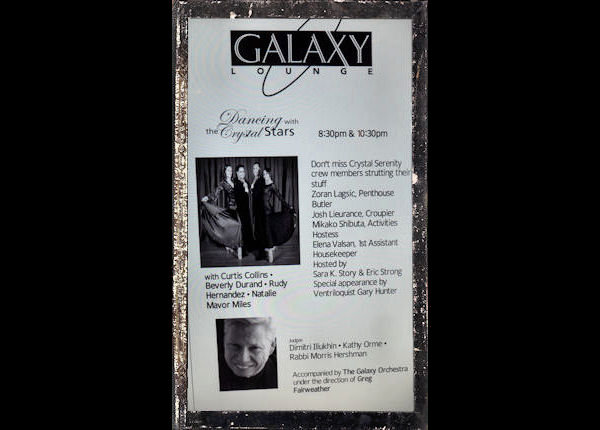 This night's performances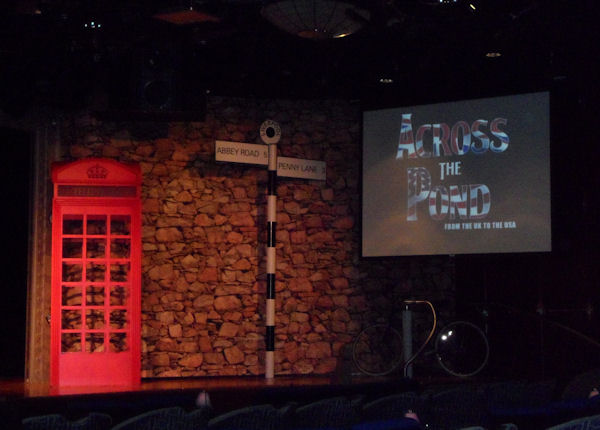 Across the Pond
Musical with the Crystal Singers, Dancers and Orchestra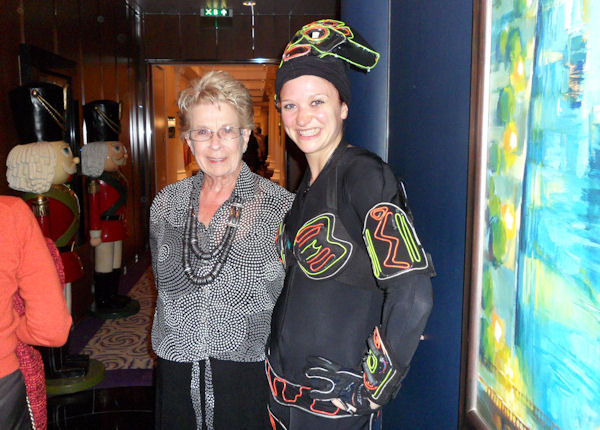 iLuminate
Performed by the Crystal Dancers
Classical Pianist Umi Garret and Cruise Director/Vantriloquist Gary Hunter (inset, Mrs. Ethel Tweed with Gary)
See the Umi Garrett video. You WILL be amazed
Stardust
Dancing, Shows and Entertainment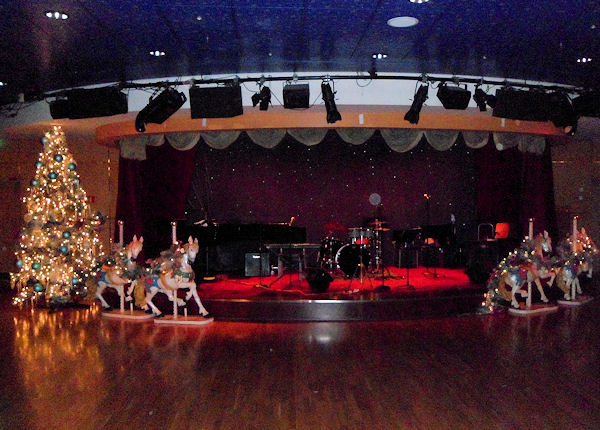 Stardust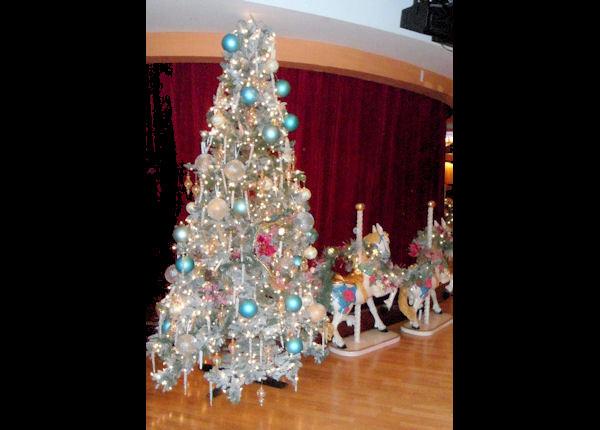 Stardust
Avenue Saloon
Piano Entertainment Nightly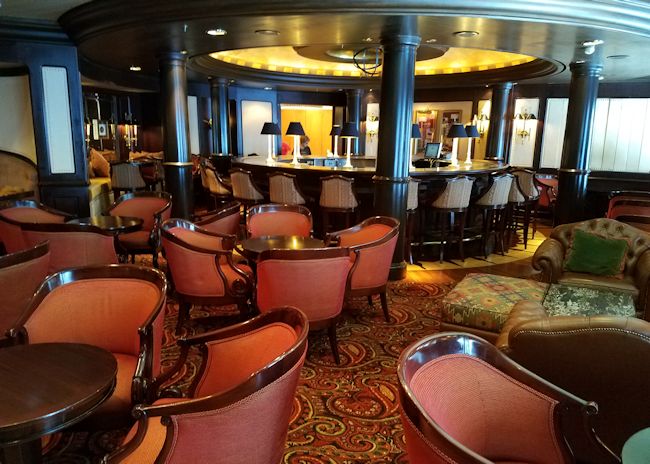 Cruise 10 - The Avenue Saloon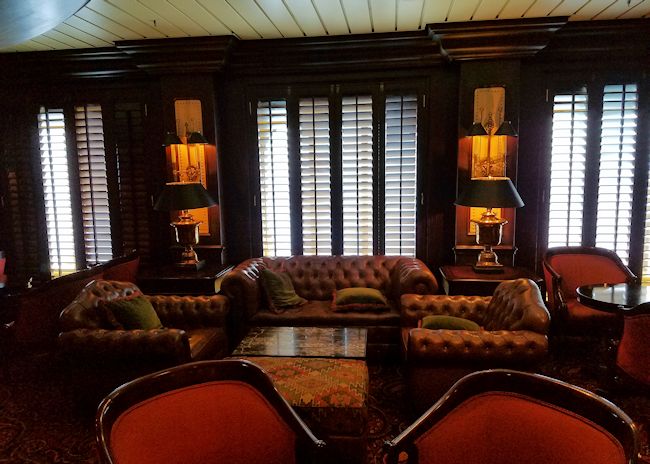 Cruise 10 - The Avenue Saloon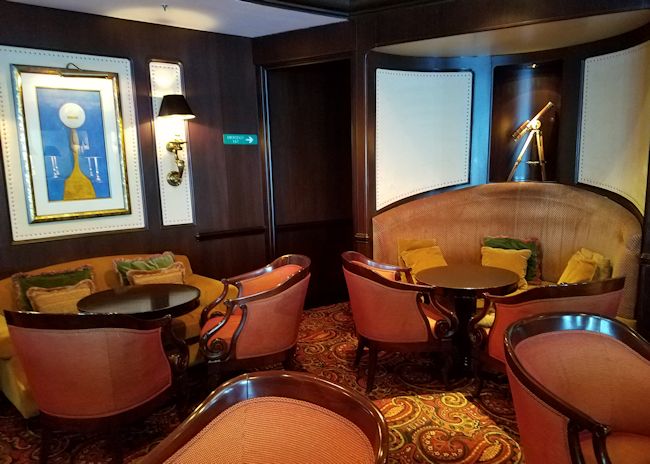 Cruise 10 - The Avenue Saloon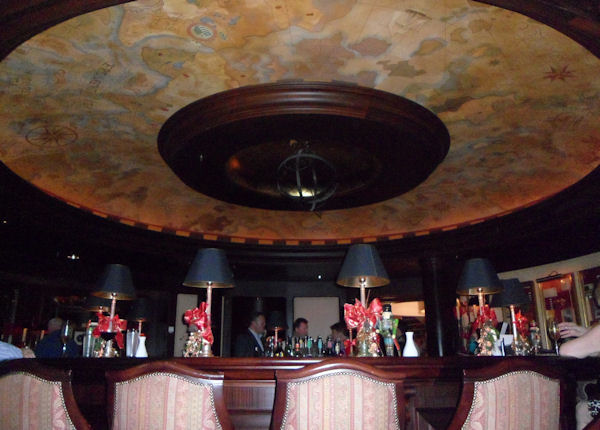 The Avenue Saloon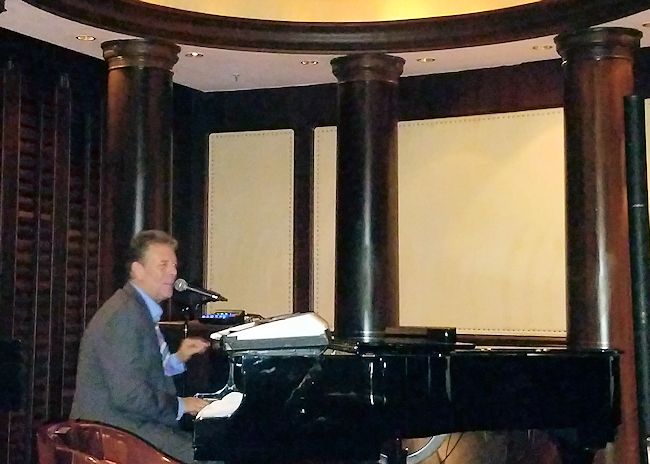 Dan Hodge at the Piano, Avenue Saloon, Cruise 10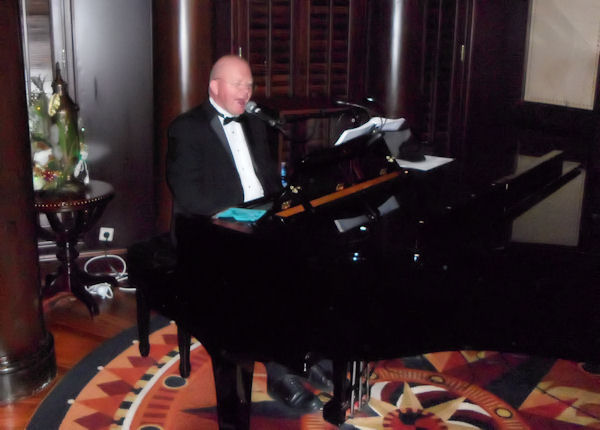 Hal Fraser at the Piano, Avenue Saloon, Cruise 5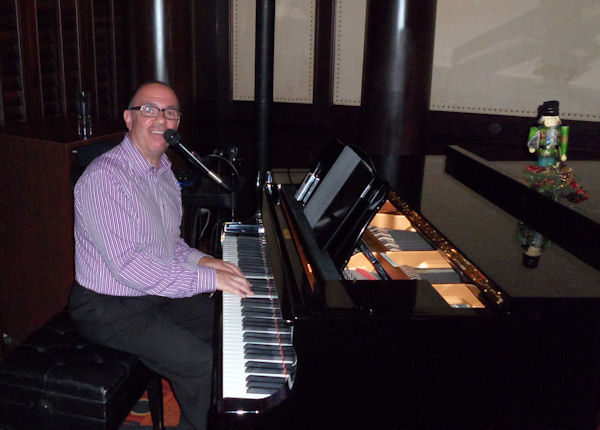 Joel Spire at the Piano, Avenue Saloon, Cruise 4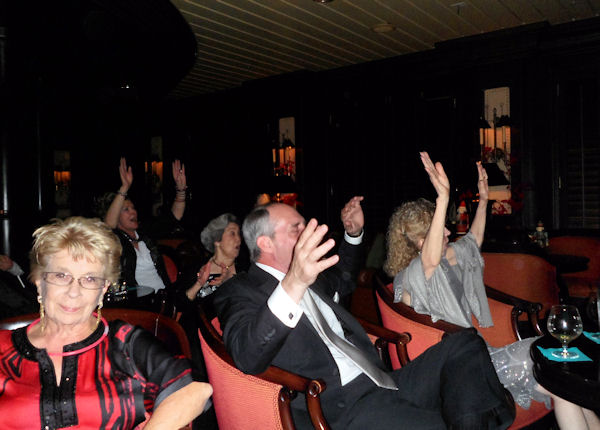 The Avenue was a popular après dance hangout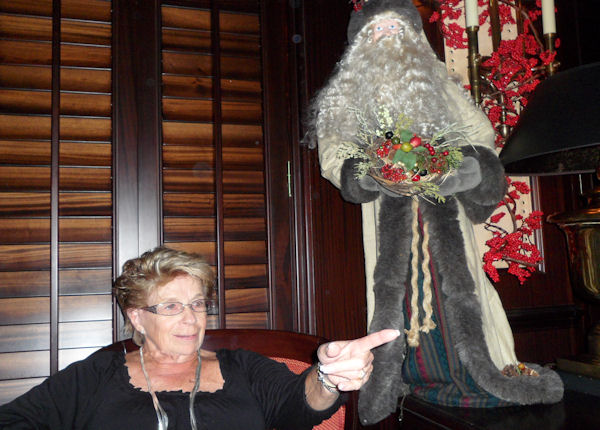 Joan wants to be sure she gets a dance with one of the Ambassador Hosts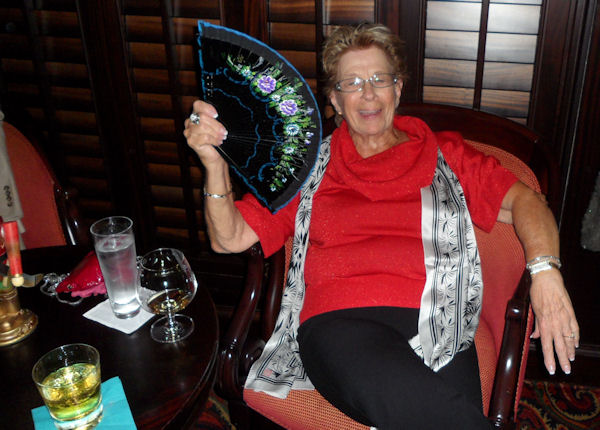 It's hot in here!
Connoisseur Club
Cigars, Cognacs, Single Malt Whiskies and Fine Liquors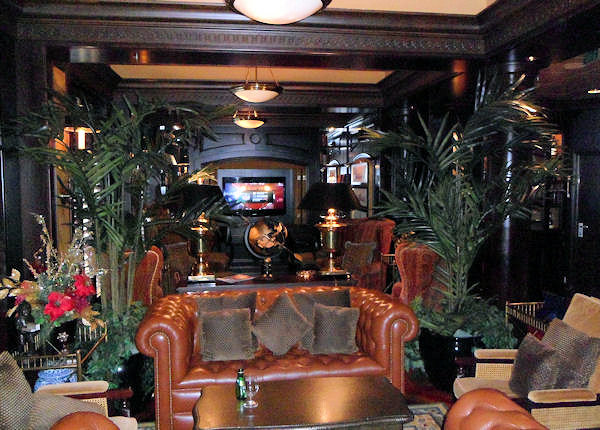 The Connoiseur Club
The most beautiful room on the high seas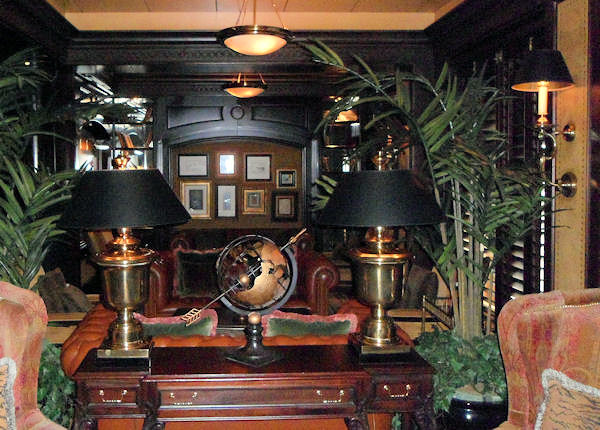 Enjoy a collection of cigars, cognacs, port wines or malt whiskies in this elegant club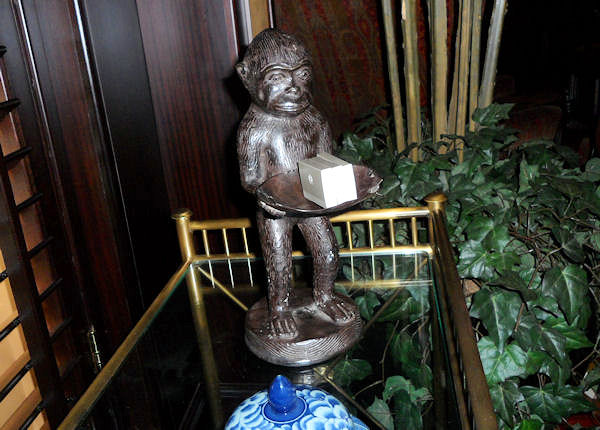 The Matchbox Holders in The Connoisseur Club
Pulse Disco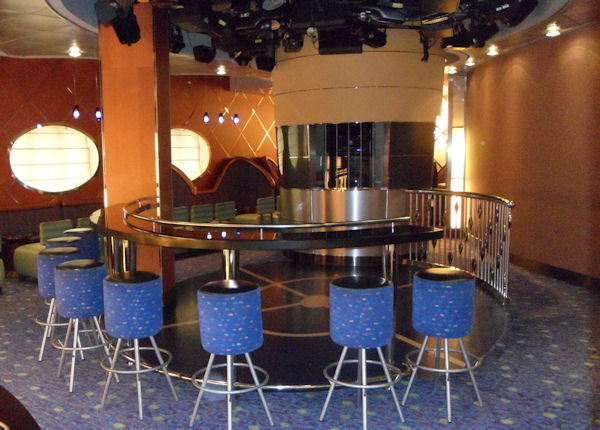 Pulse
This Disco is open all night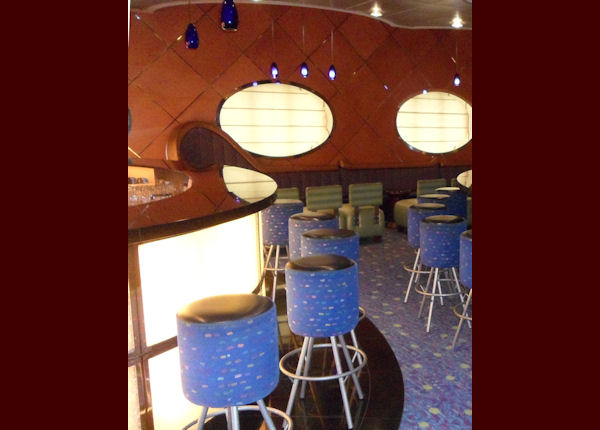 Relax at the bar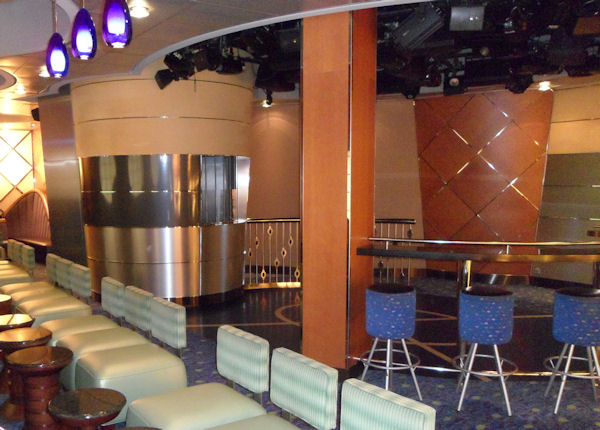 he DJ plays requests for your dancing pleasure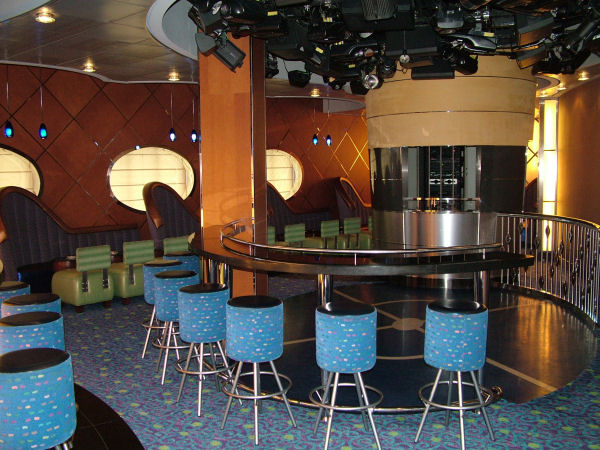 Pulse Nightclub
Joan & I came here to dance every night after the Stardust Ballroom closed
Crystal Plaza - Deck 5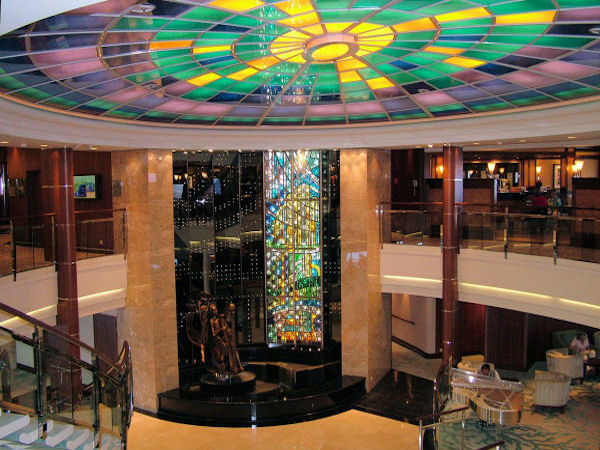 Looking down on Crystal Plaza from The Avenue of the Stars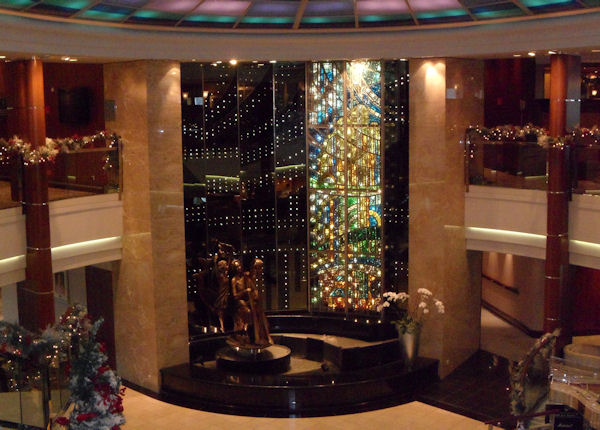 The Fountain from The Avenue of the Stars
Crystal Plaza and Crystal Cove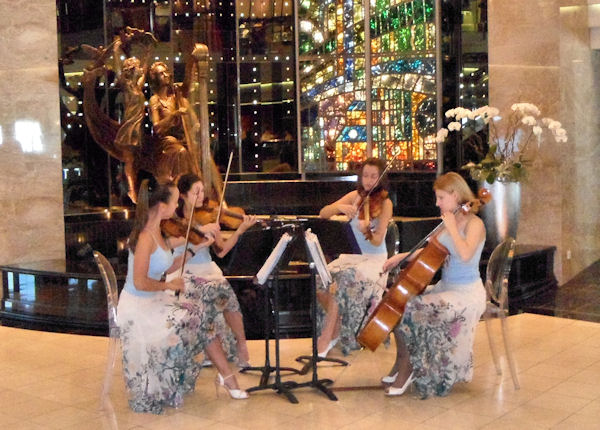 The Astoria Strings in Crystal Plaza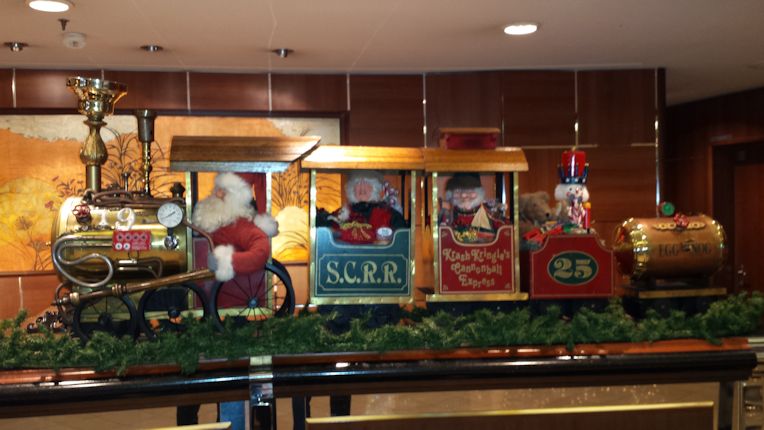 Christmas at the Conceirge Desk in Crystal Plaza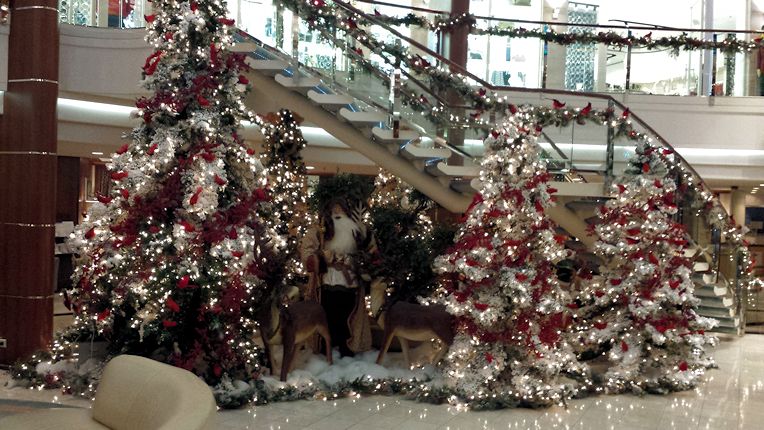 Crystal Plaza at Christmas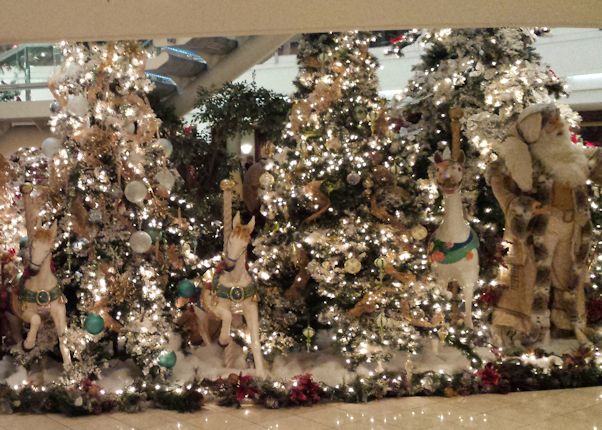 Crystal Plaza at Christmas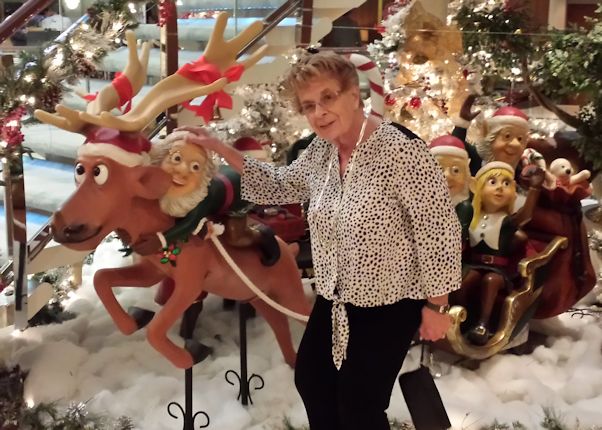 Crystal Plaza at Christmas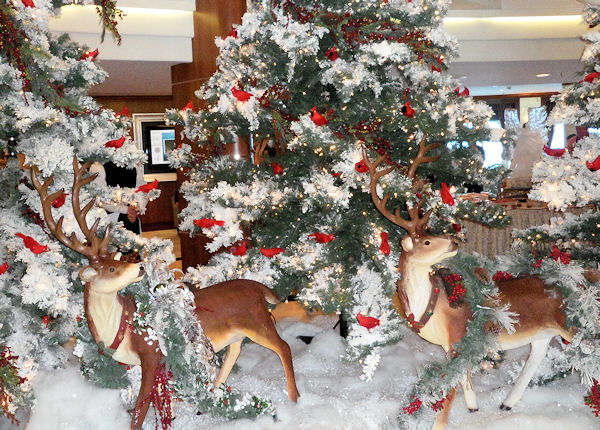 Crystal Plaza at Christmas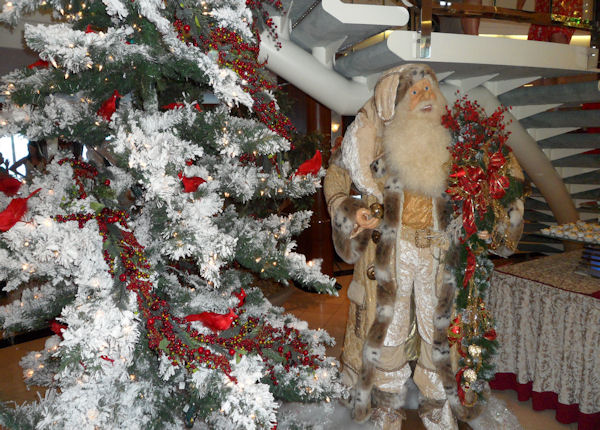 Crystal Plaza at Christmas
Mind, Body & Spirit - Deck 6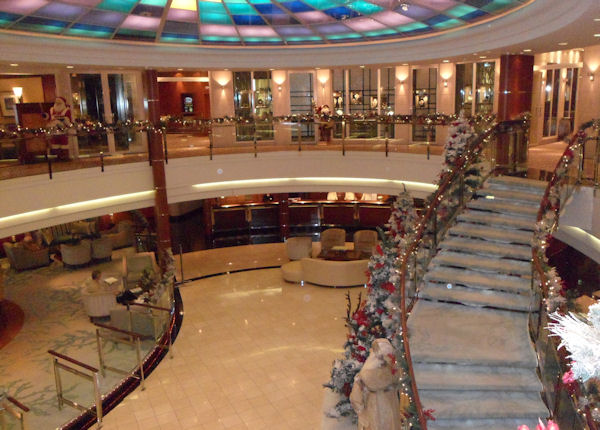 Avenue of the Stars is home to three beautiful botiques located above Crystal Plaza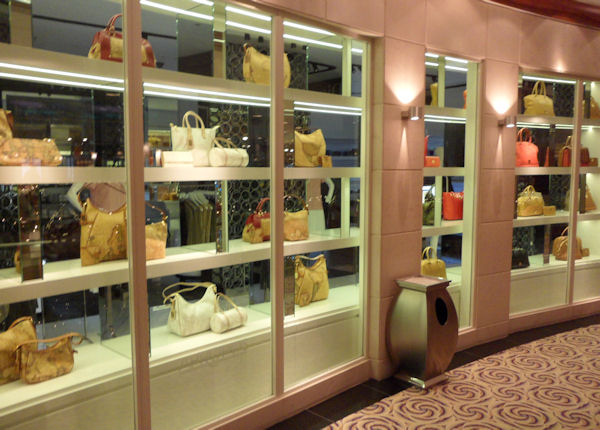 Apropo - Apparel and accessories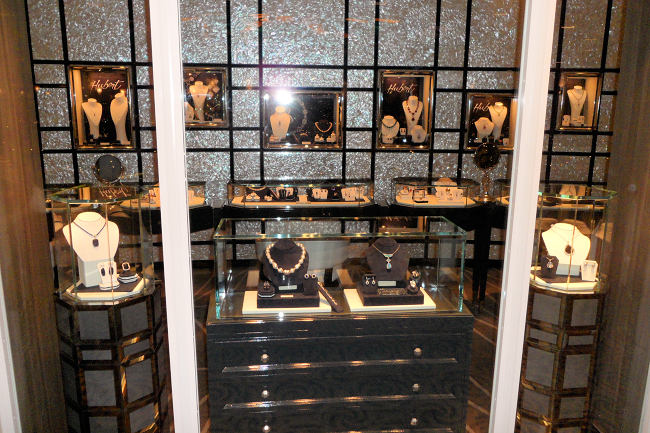 Facets - Fine Jewelry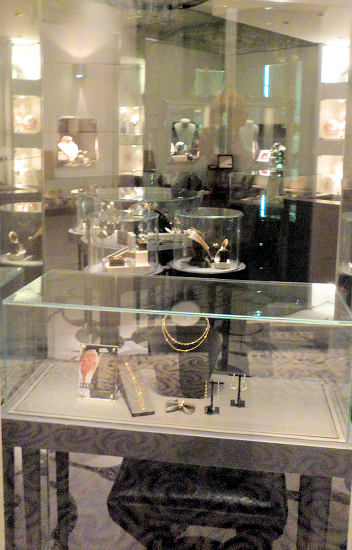 Crystal Collections - There was a pair of diamond cufflinks in this shop for $6,600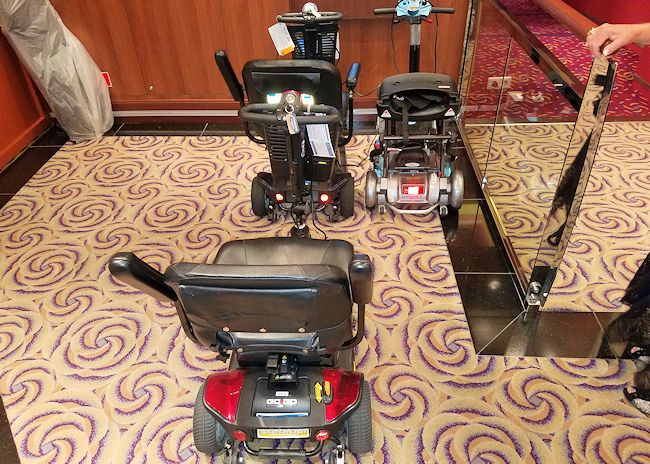 Stored for the night on the mezanine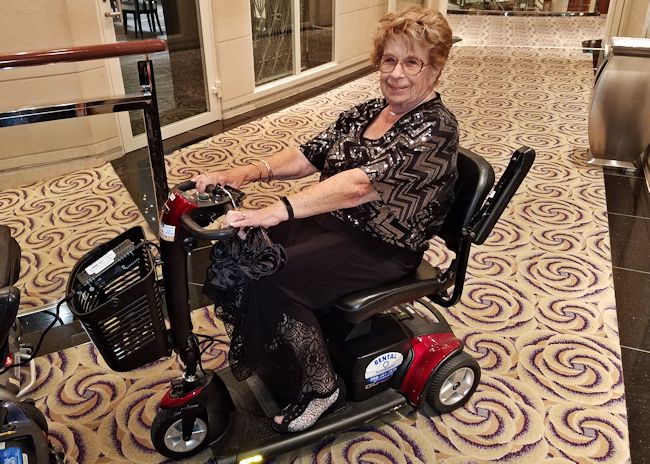 How fun would it be to take these on late night spin around the Avenue of the Stars?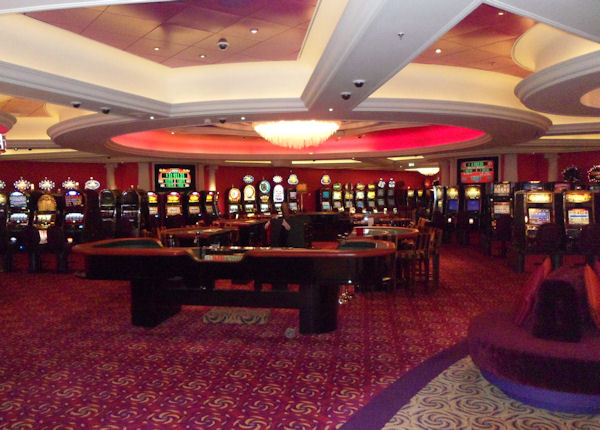 The Casino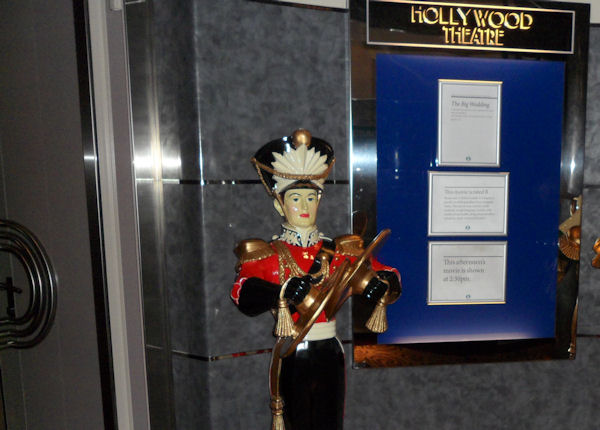 Hollywood Theater - Daily movies and lectures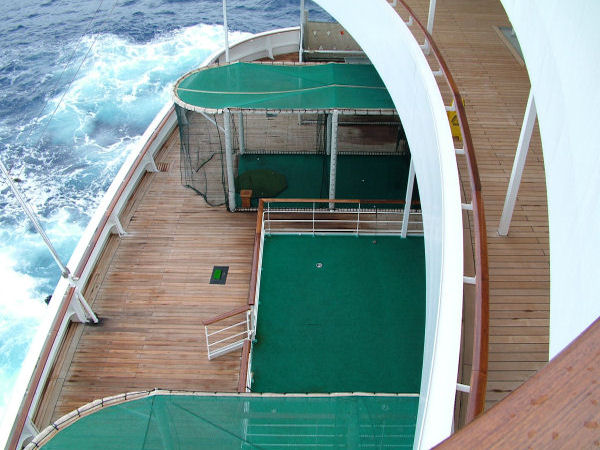 Golf nets and putting green are located aft on Deck 6. Free instructions are offered daily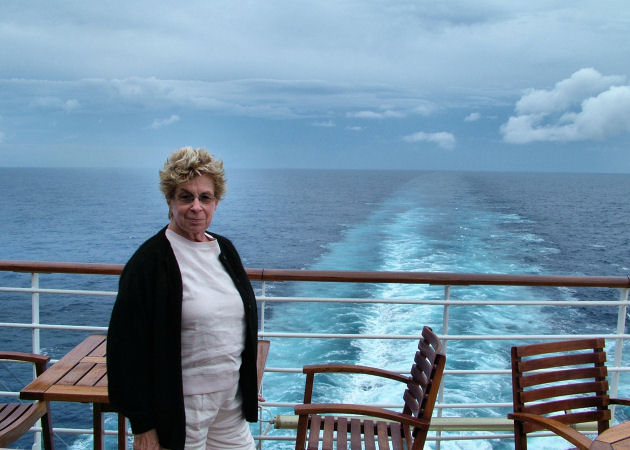 Joan just hanging out enjoying the ocean view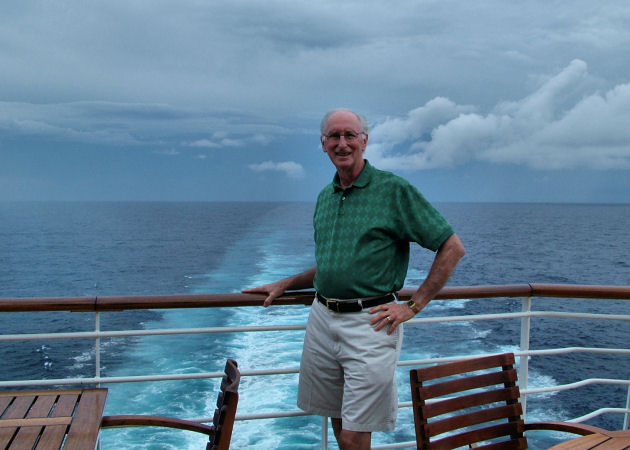 Looks like someone's been eating too much. Pull that gut in!
Promenade Deck 7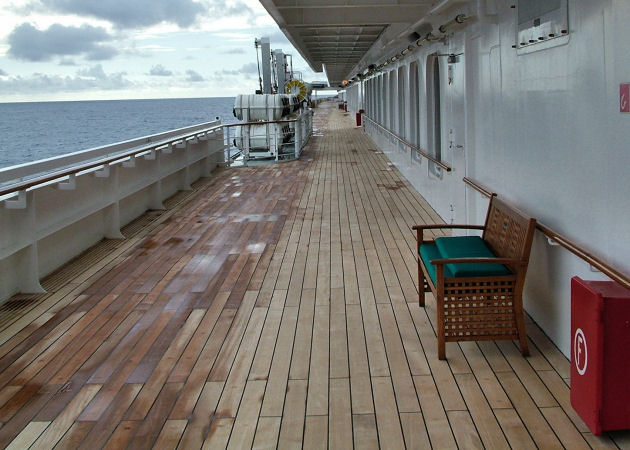 Crystal ships still have a 360º Prominade Deck - deck 7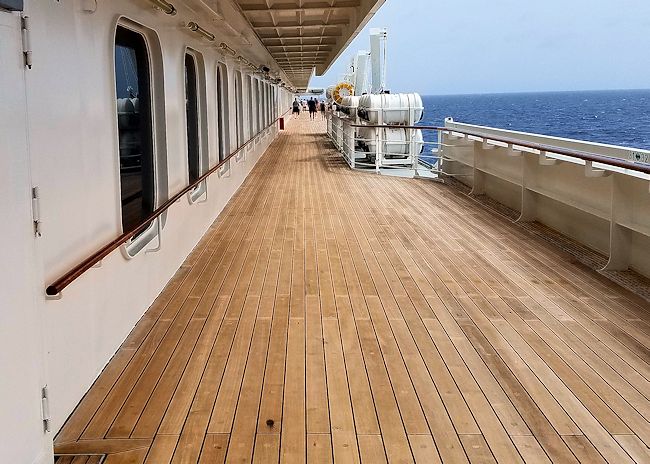 Crystal ships still have a 360º Prominade Deck - deck 7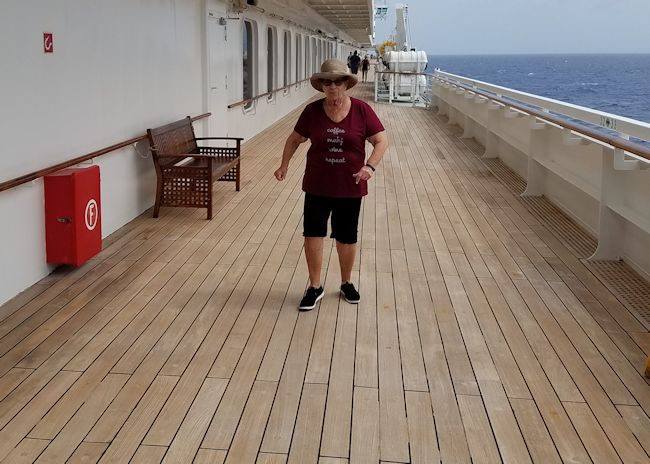 Count your laps around the Promenade Deck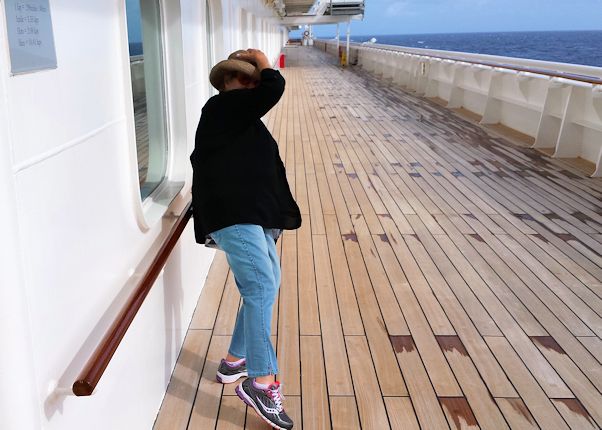 What it's like on the Promenade Deck with a 17.8 knot wind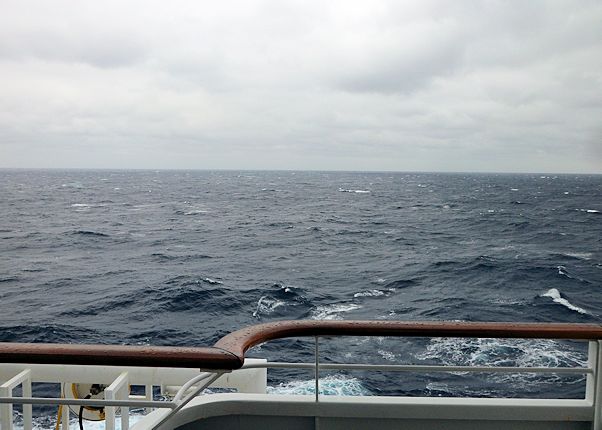 The ocean at 17.8 knots (Beaufort 7). The waves look small from our veranda on deck 8 but they are 8 to 10 feet high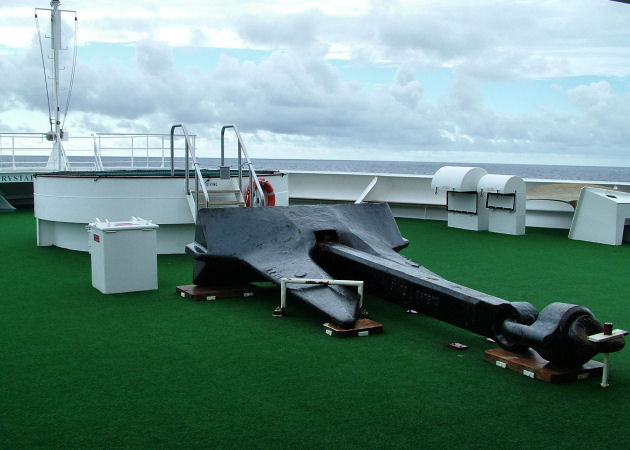 An old anchor lies in the bow area on deck 7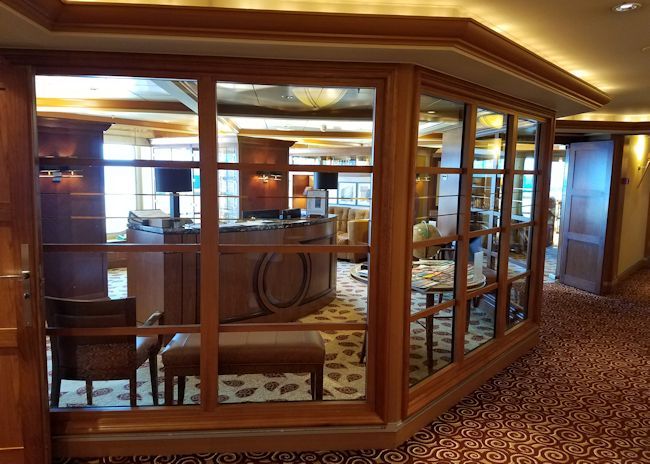 The Library is on Deck 7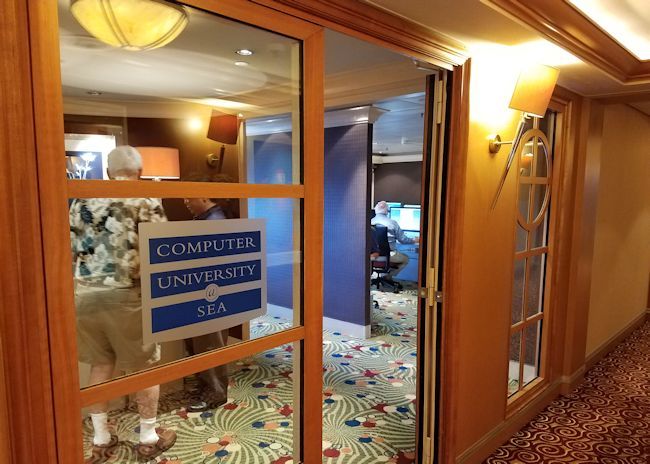 Computer University, Deck 7. Go online for emails and games or take lessons on just about anything you can do with a computer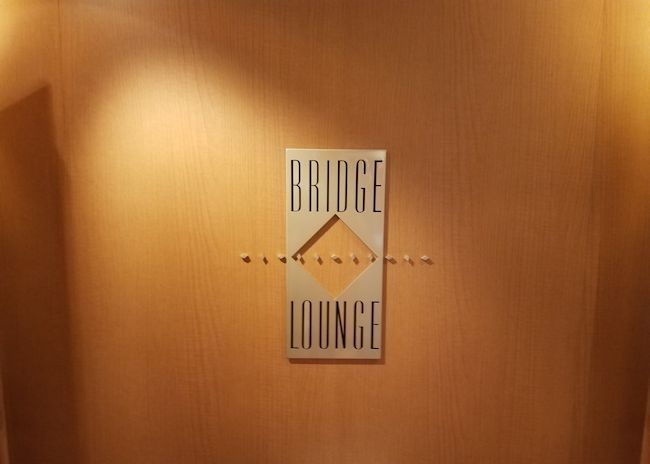 The Bridge Lounge is on Deck 7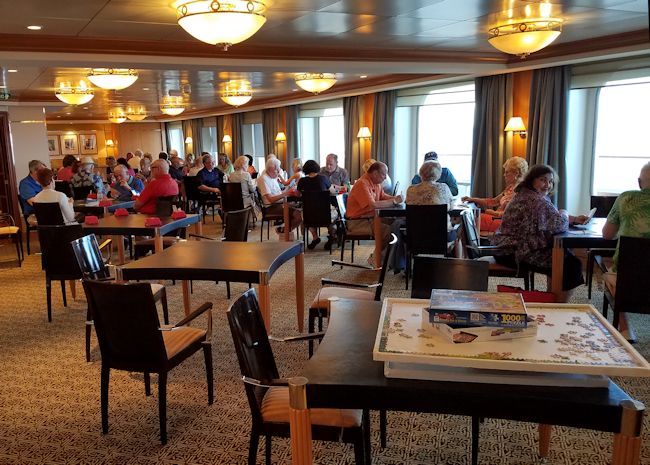 Play Bridge and even take lessons
Pool & Jacuzzi Deck 12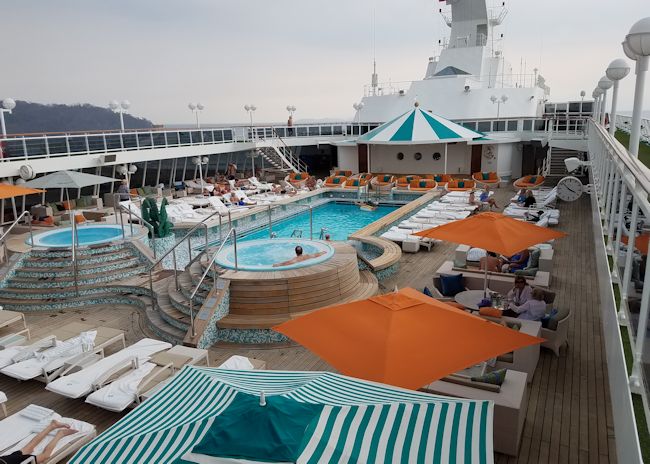 Enjoy the Water, Sun, Lounging, Music, Cocktails and Beverages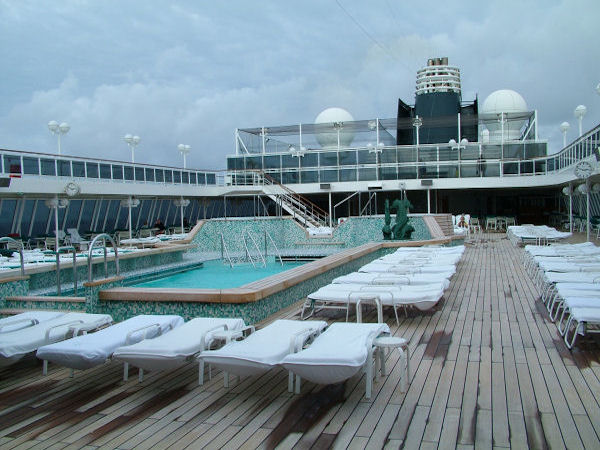 The pool is pretty quiet during chilly or stormy days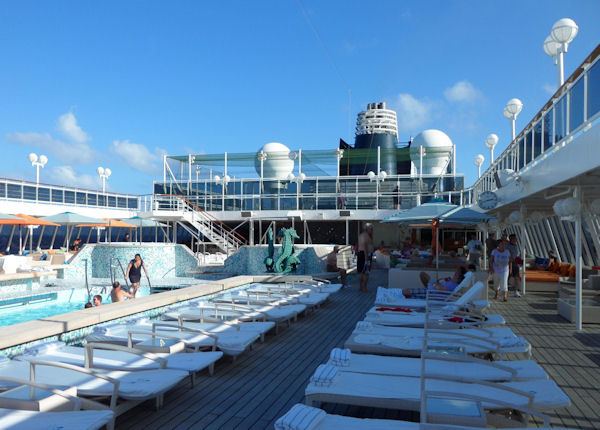 The pool becomes more inviting on calm, sunny days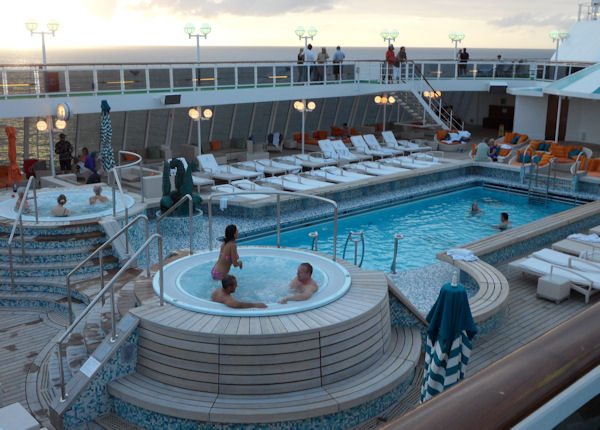 Pool and jacuzzies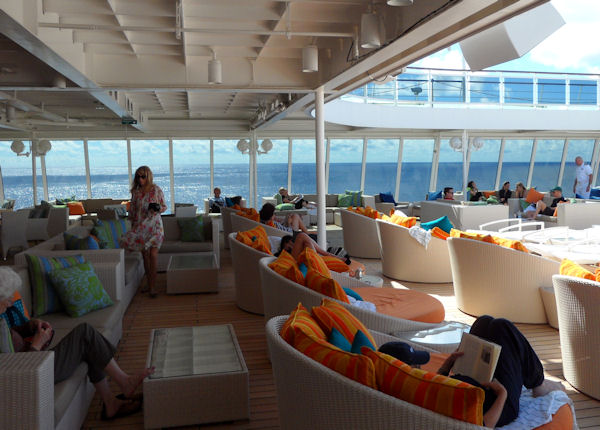 There is plenty of room to relax on the Pool Deck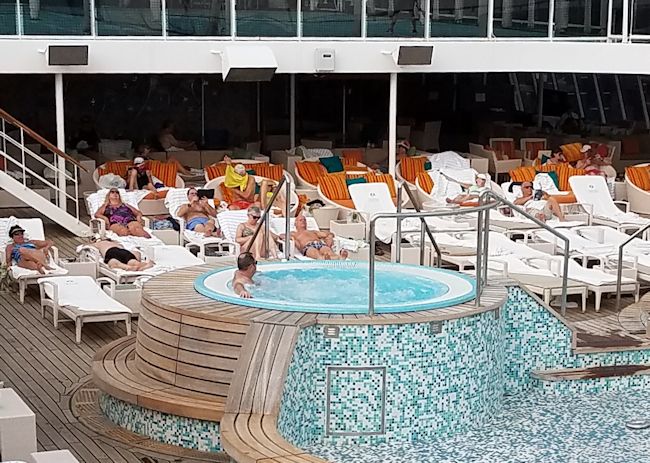 Enjoying the Jacuzzi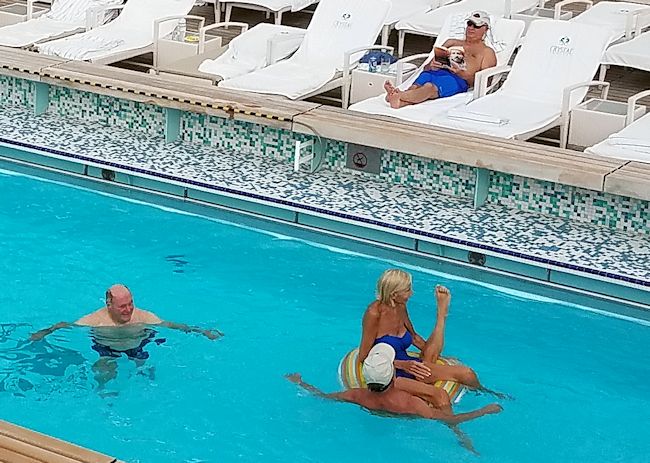 Enjoying the pool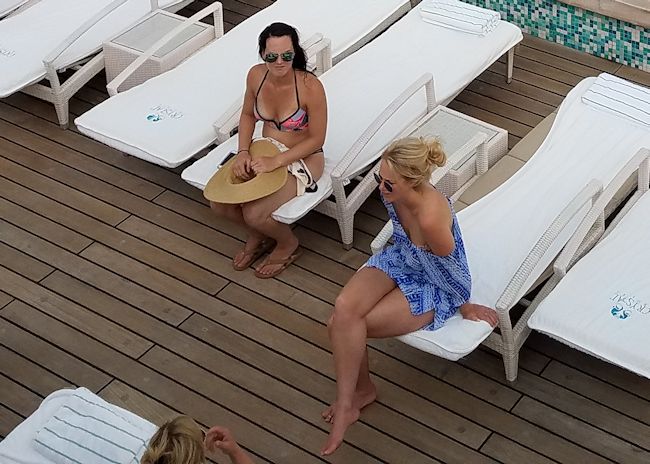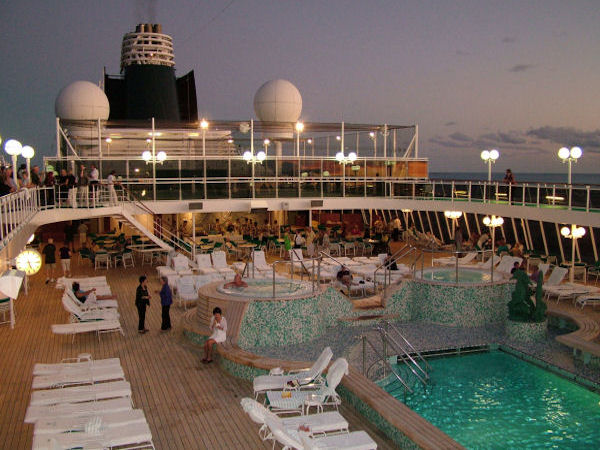 Outdoor on Deck 12 on a warm evening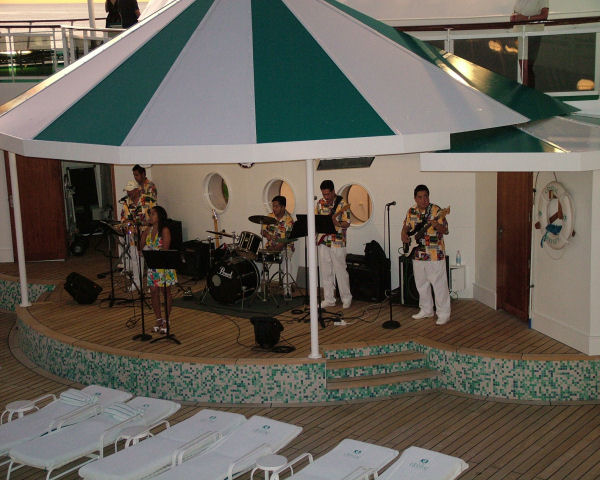 There was always music somewhere, even at the pool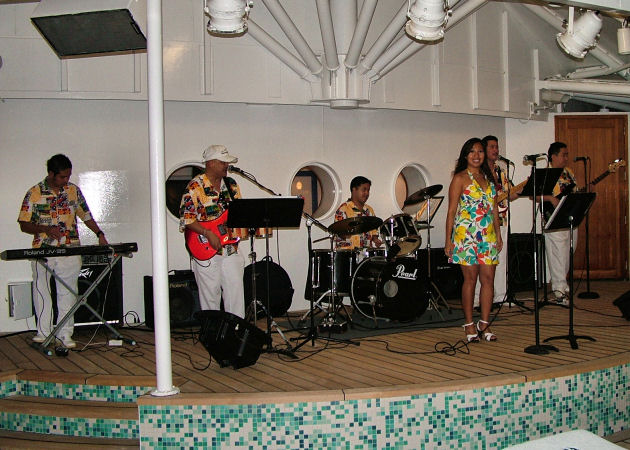 The Crystal Sextet
Paddle Tennis Deck 13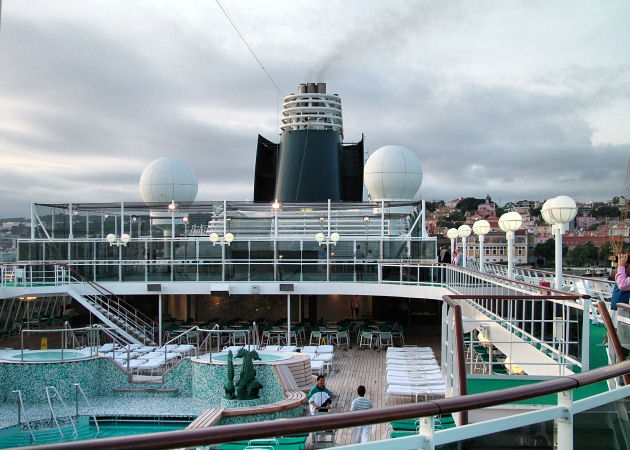 Looking aft on Deck 13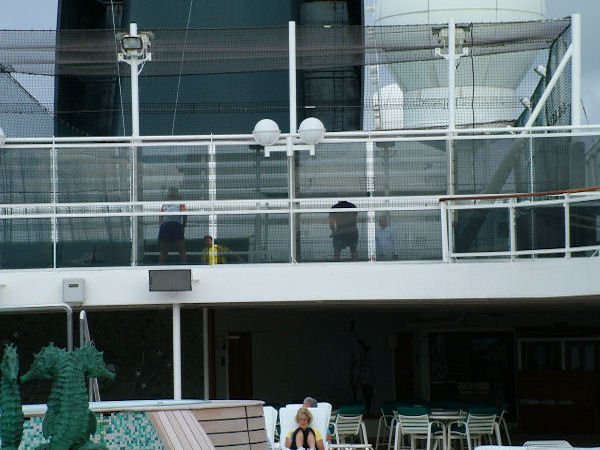 Paddle Tennis courts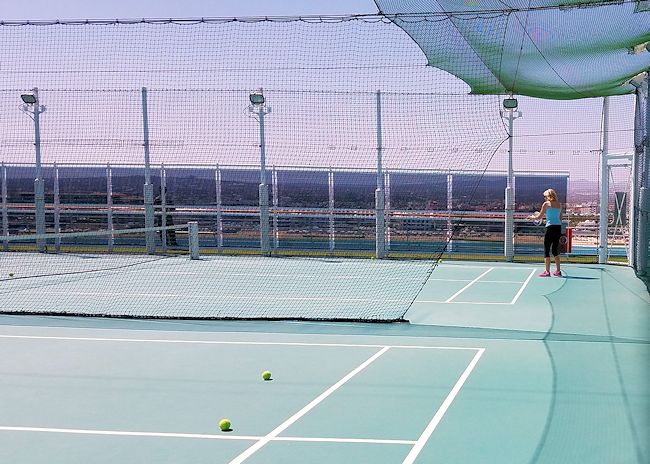 Paddle Tennis is a very popular sport on board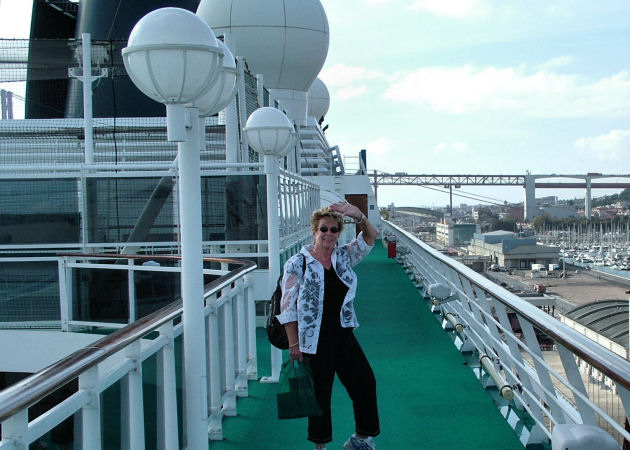 Deck 13 is a great place to be during the
sail away
parties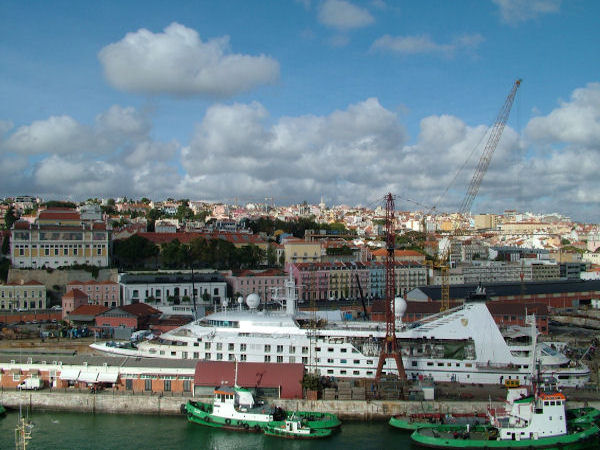 View of Lisbon from Deck 13. Joan has sailed many times on the
Seaborn
ship dry docked here Lisbon
Touring The Galley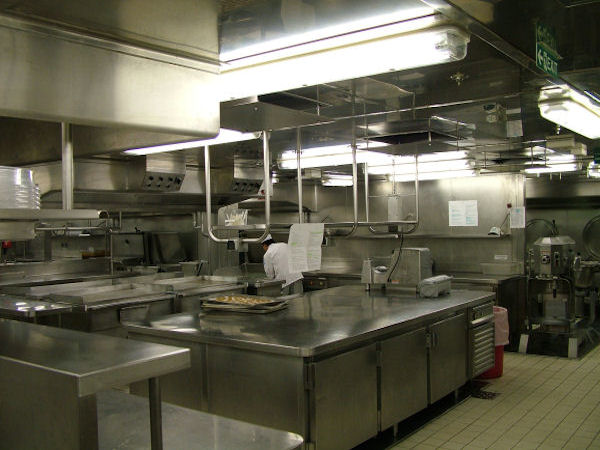 The Galley. It takes amazing technology to keep fish, meat, fruit and vegetables fresh for two weeks without freezing them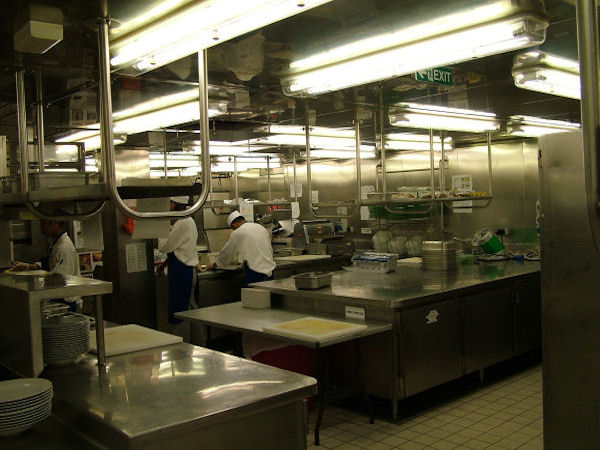 The food and service on Serenity was outstanding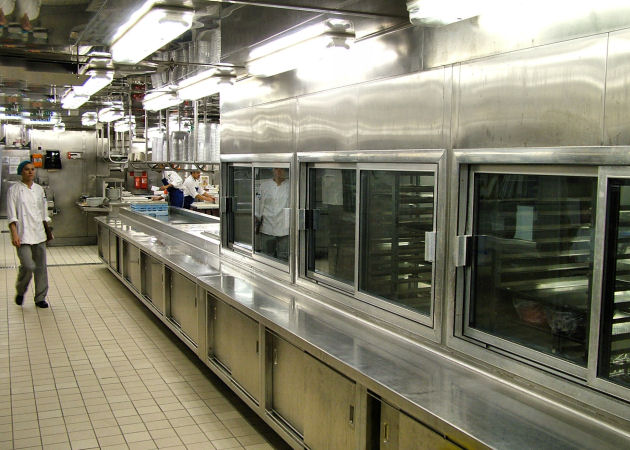 The Galley
The Grand Buffet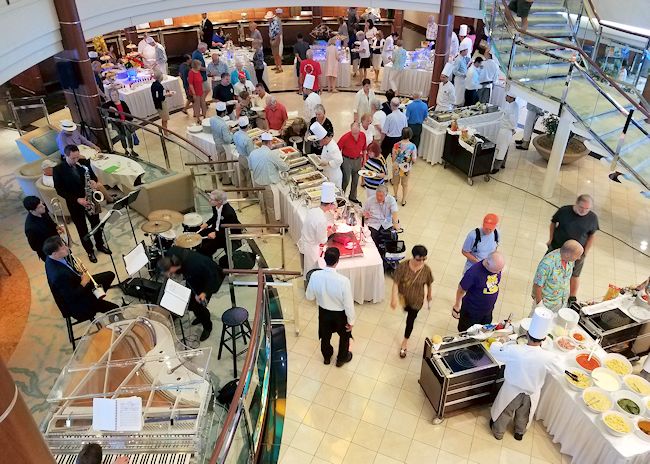 Grand Buffet lets Crystal's amazing chefs show off their culinary expertise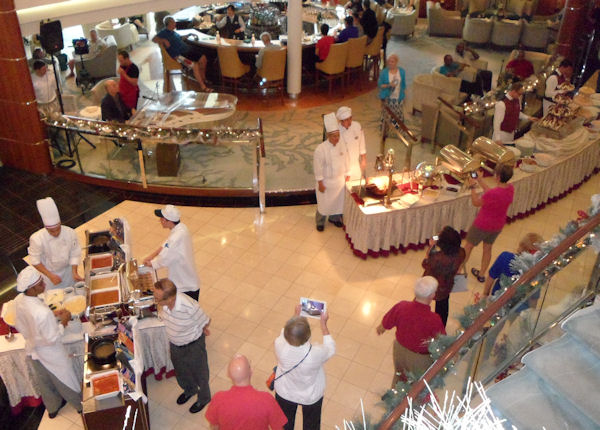 The Grand Buffet is set up in Crystal Plaza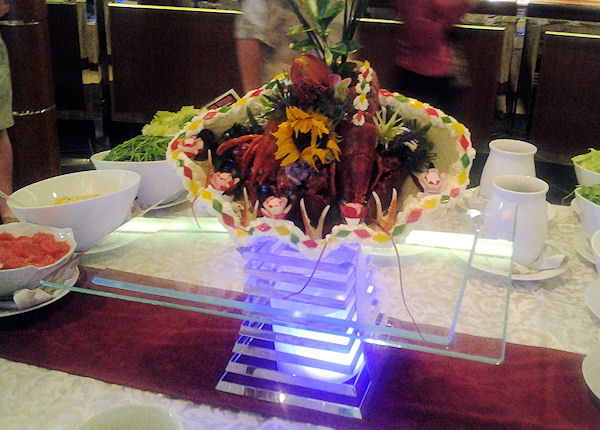 The once-popular "Midnight Buffet" is now Crystal's Grand Buffet served for lunch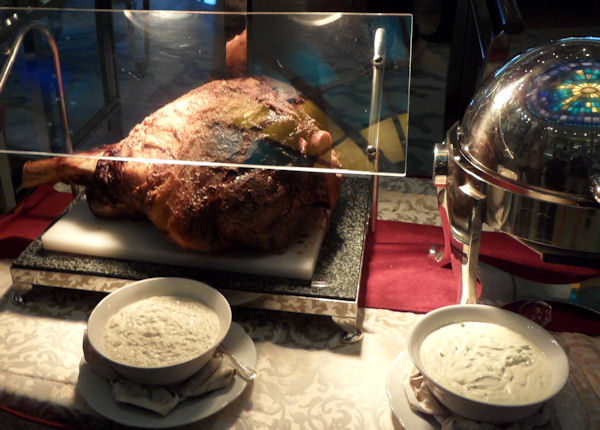 Meat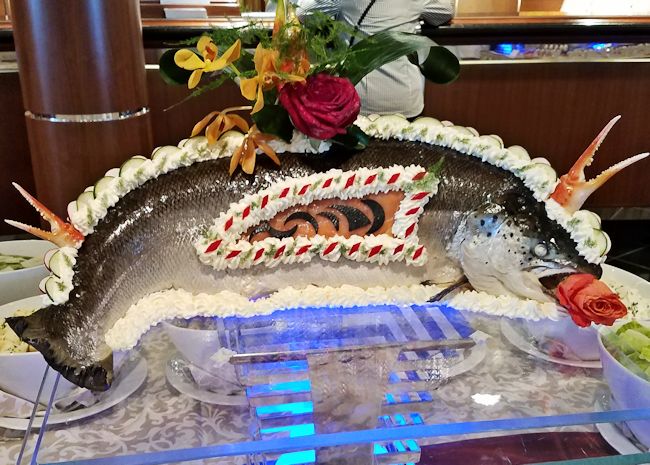 Fish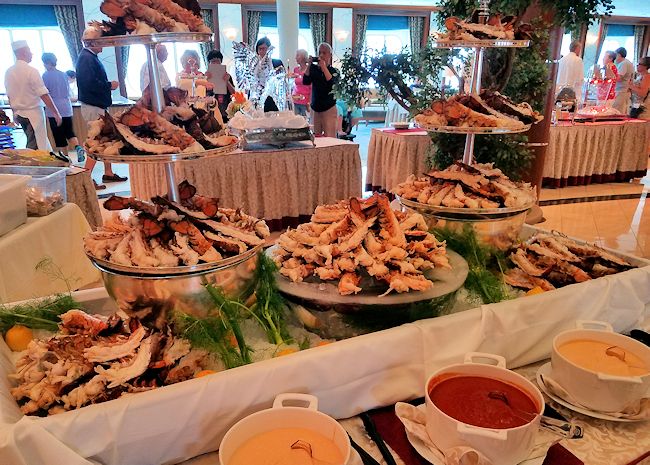 Crab legs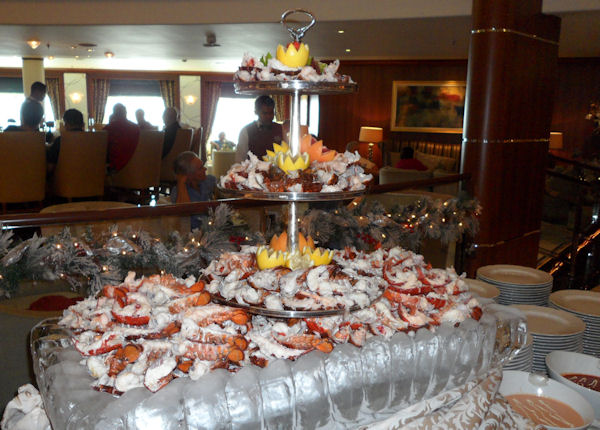 Lobster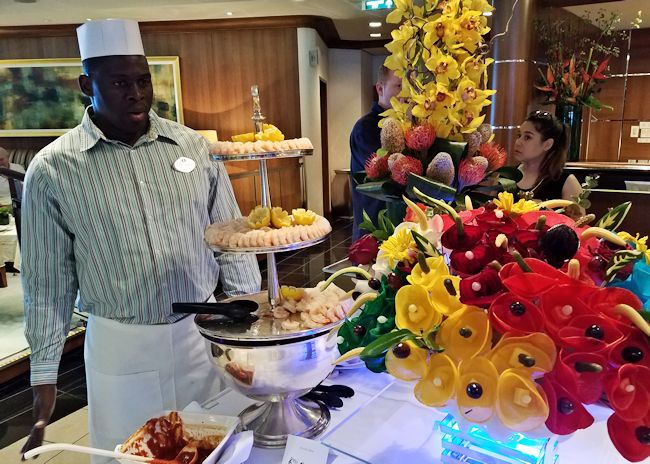 Shrimp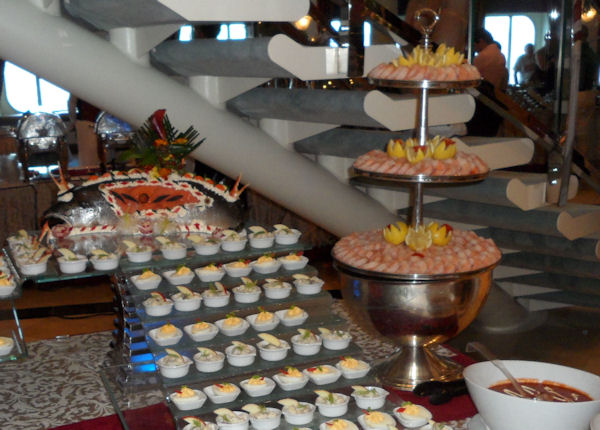 Shrimp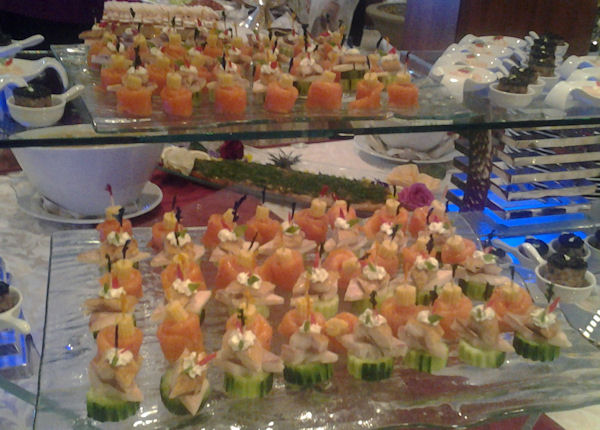 Appetizers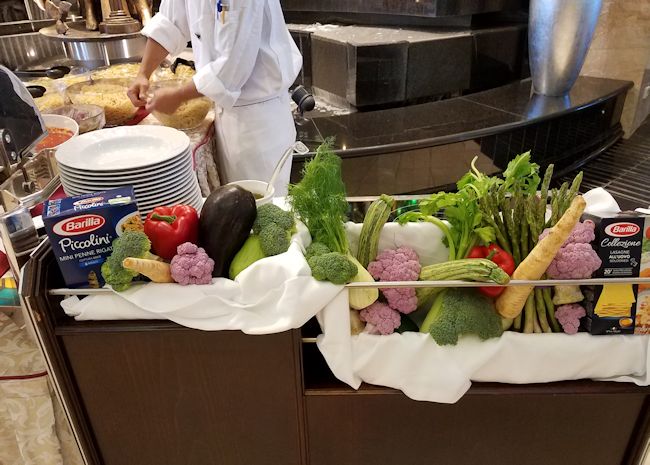 The pasta bar
Bread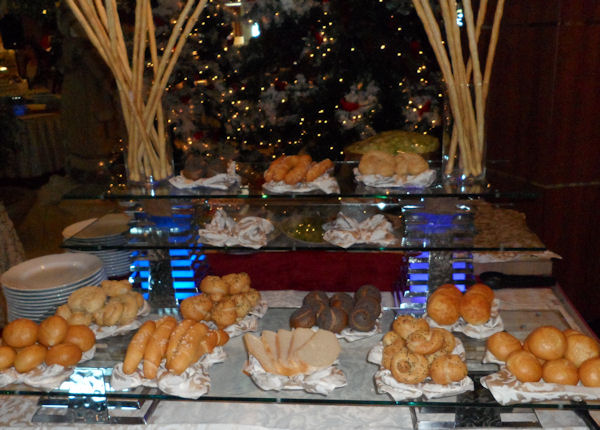 Breads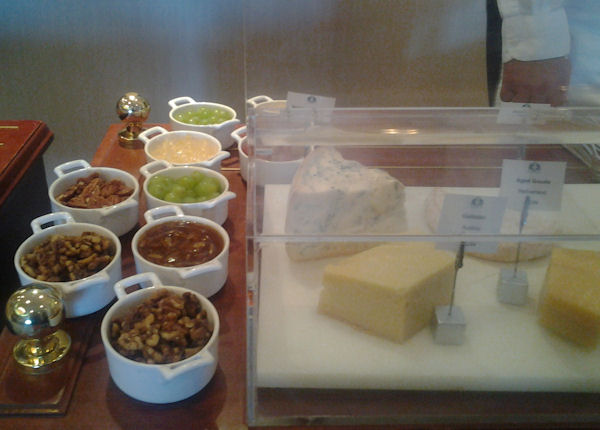 Cheeses and nuts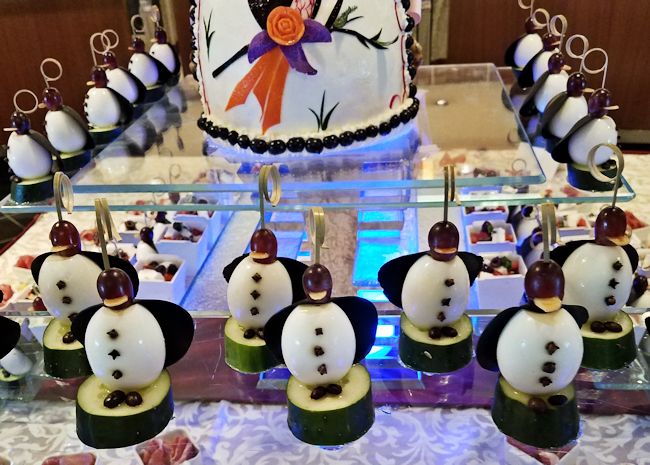 Their now-famous boiled egg penguins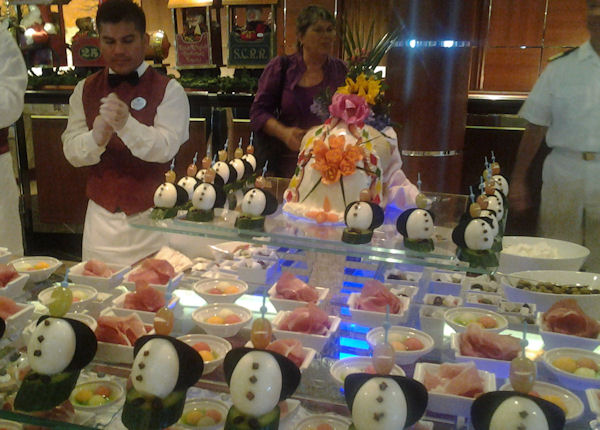 These hardboild egg penquins are pretty, pretty, pretty clever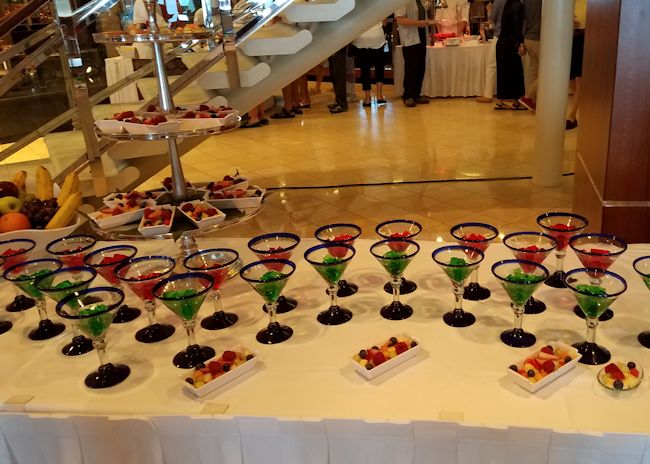 Jello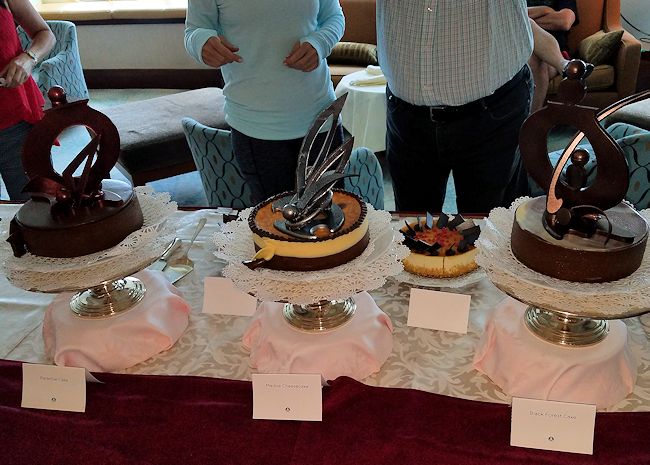 Cake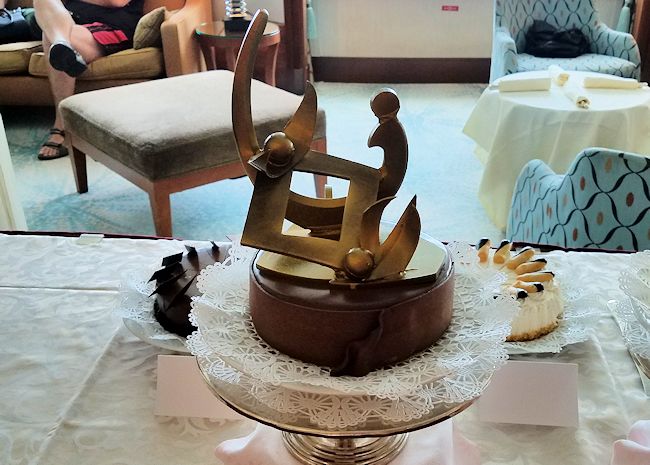 Cake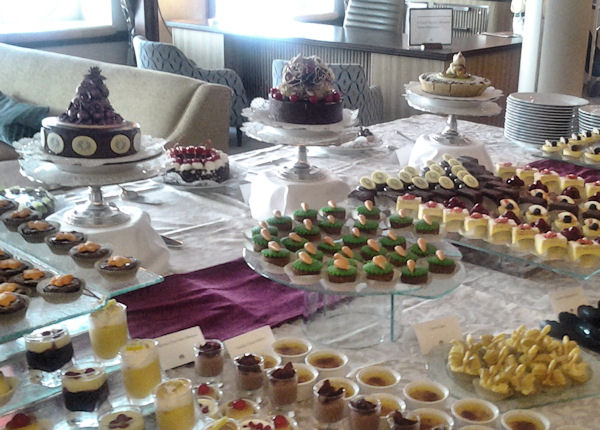 Pastry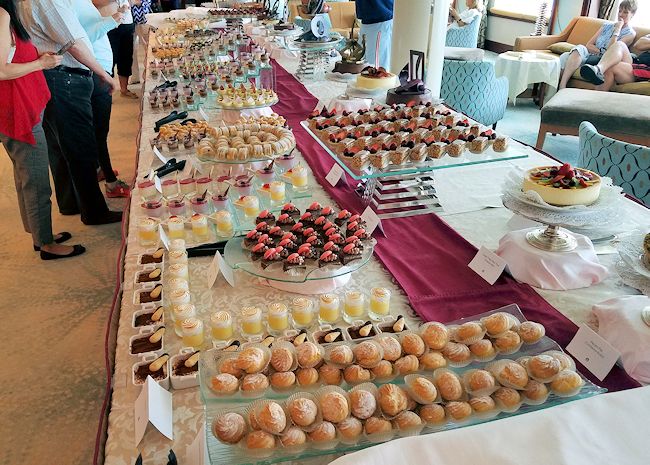 Pastry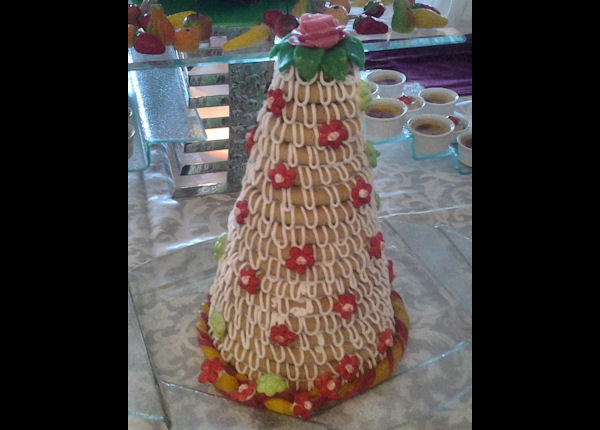 Pastry
Pastry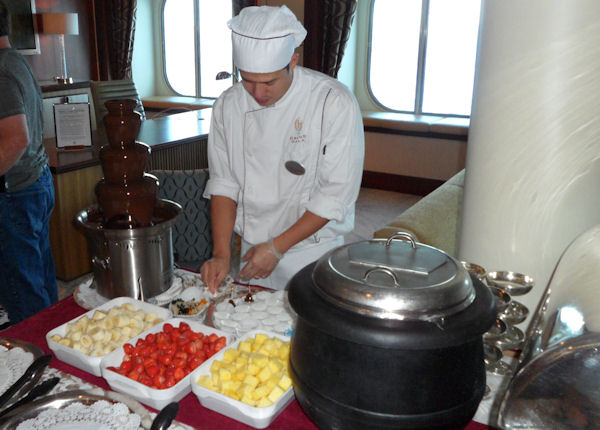 Chocolate covered fruits
Fruits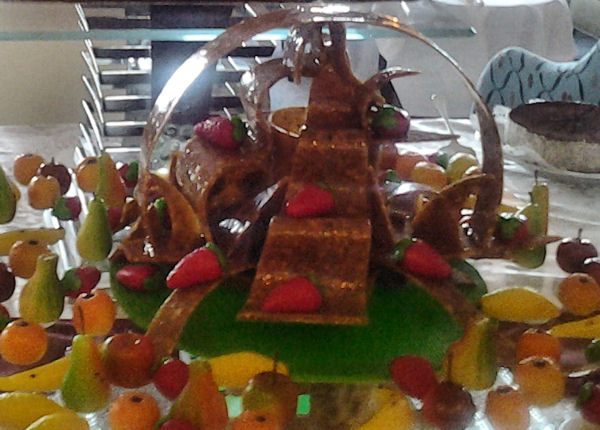 Fruit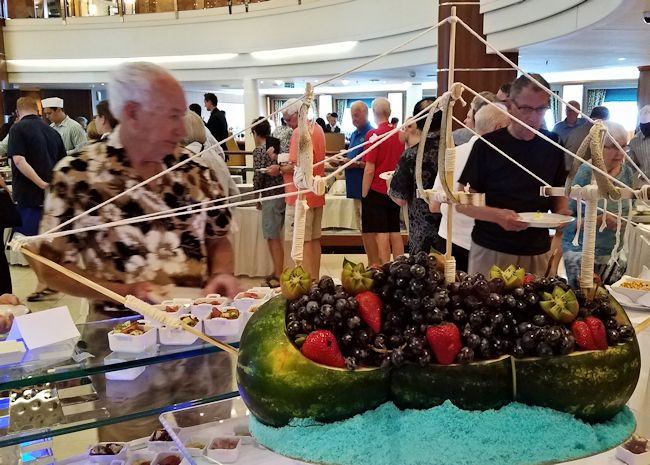 Fruit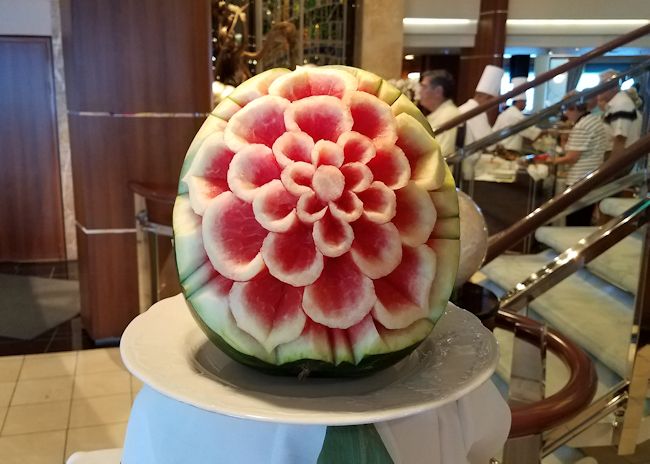 Carved watemellon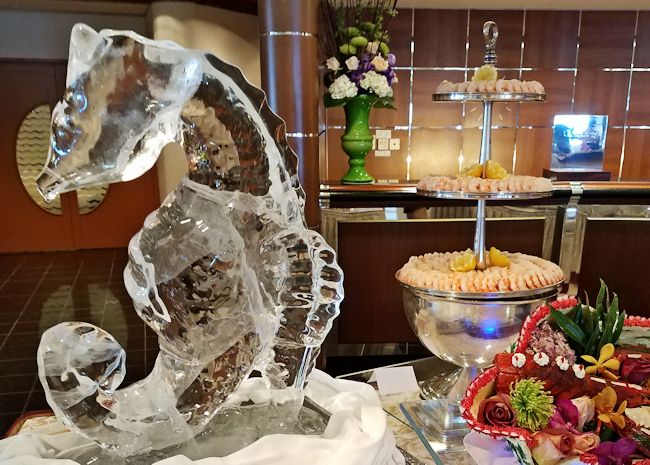 Ice carving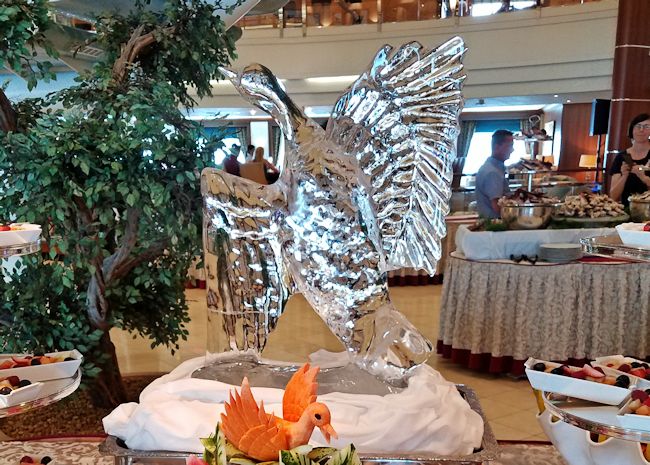 Ice carving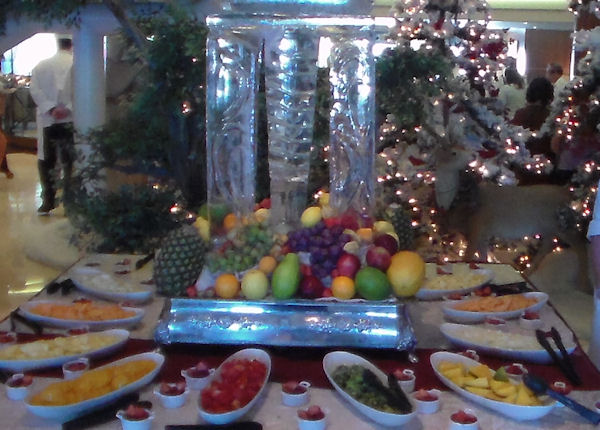 Ice carving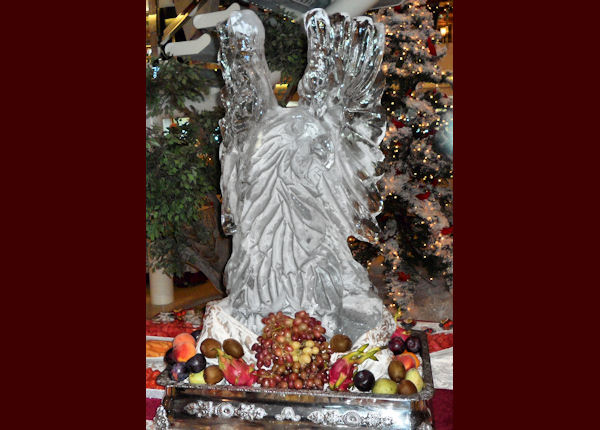 Ice carving